stance

Cadillac Seville SLS Northstar V8 | HRE Wheels
2019.11 | Photoshop Chop | Northstar V8
---
Read More

»

Citroën CX 22 TRS
2019.08 | Photoshop Chop | Tuning
---
Growing up at the French border gave me the opportunity to enjoy the weird and quirky French cars. At a very young age, I was fascinated by the sheer elegance of the big Citroën cars parked in the lowest position of the hydropneumatic suspension. Seeing them sink into or rise from their "sleep" position always was the icing on the cake and put a smile on my face. These days now, air suspension setups are the norm, but for me it will always be a reminder of days long gone, when the French engineers' ingeniuity and driving comfort was more important than the bean counters interference in vehicle development. This photoshop depicts a dream of my younger self: being able to actually drive the Citroën CX in the low position and fit larger multipiece wheels. Ça c'est une voiture très belle.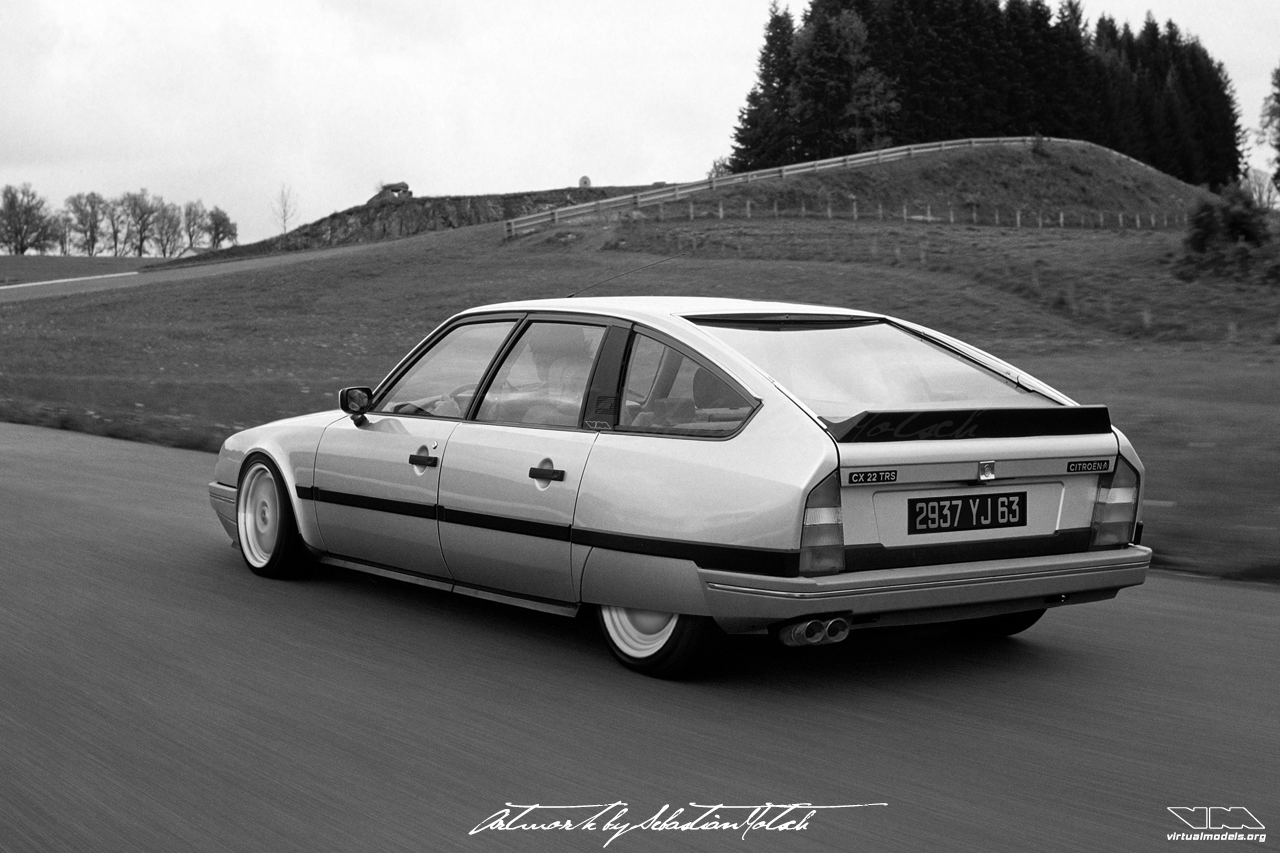 Click here to see the original picture.

Jaguar E-Type Zero
2019.08 | Photoshop Chop | Electric Vehicle
---
Yes, there is something missing in this picture. No, I didn't photoshop it out. This Jaguar E-Type doesn't have exhaust pipes because it has an electric drivetrain. Jaguar unveiled a modern revival of the E-Type roadster with an all-electric, zero-emission powertrain in 2017. The vehicle is called the E-Type Zero and has a 40 kWh battery-powered electric motor. It can accelerate to 60 mph in 5.5 seconds and has a range of 168 miles (270km) on a full charge. The battery pack is designed to fit in the space occupied by the original six-cylinder motor without any modifications, and will fit in any model Jaguar using the same motor. The single-speed transmission replaces the original gearbox. In August 2018, Jaguar confirmed it will offer all-electric E-Types for sale starting in summer 2020. You can order yours now. To wet your appetite, I lowered the E-Type for an improved stance and fitted a more contemporary wheel and tire combination.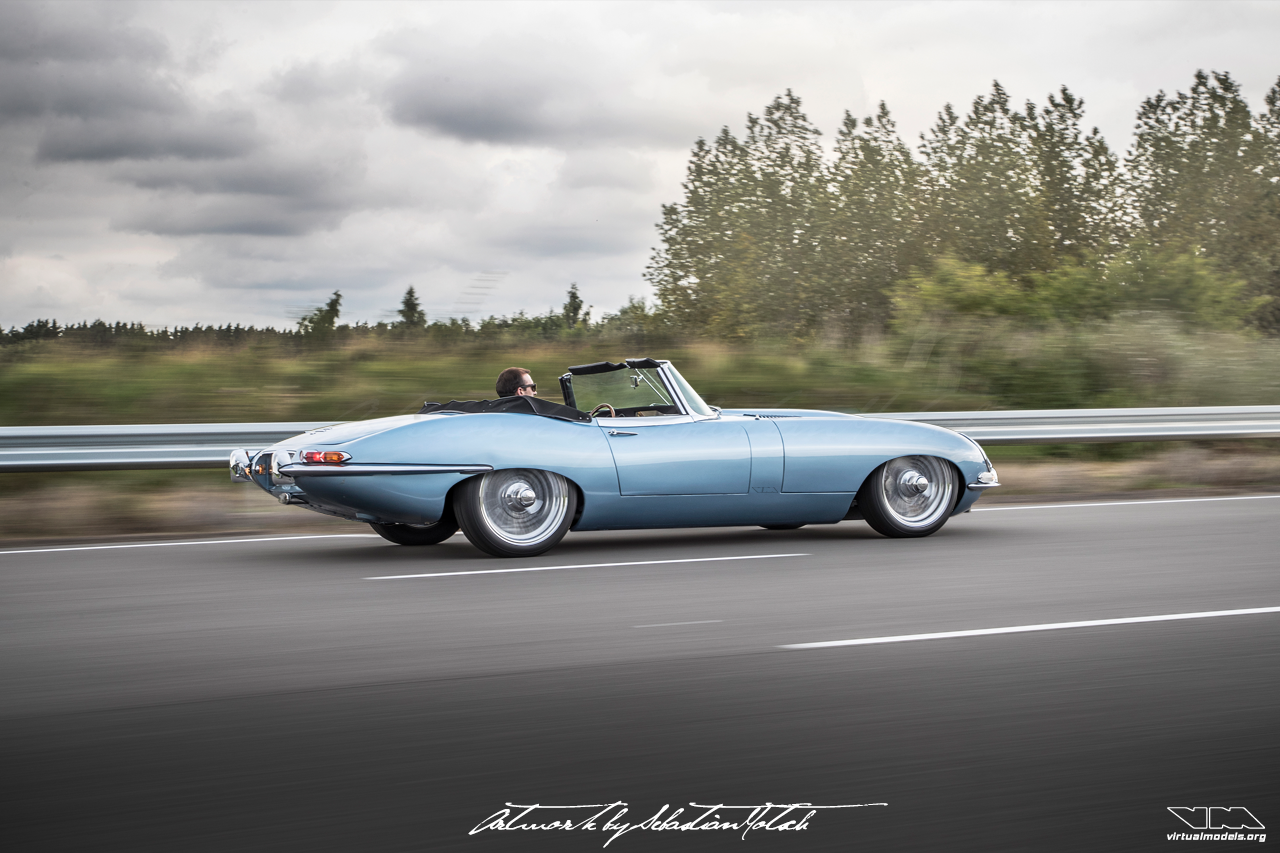 Audi 100 C1 2-Door USDM
2019.08 | Photoshop Chop | Stance
---
A quick lunchtime photoshop chop once again. A friend complained that I hardly ever photoshop Audis. Well, there's a reason for that, but I made an exception and went creative on a classic Audi 100 C1. Found this tracking shot of a USDM model and modified it. Obviously the car was lowered and the steelies have a larger diameter now, albeit still featuring a thin white-wall line so typical for this period and location. The rear fender has been relocated because I didn't want the wheel to disappear into the fender. Quick & dirty? No. Quick and clean style just for fun.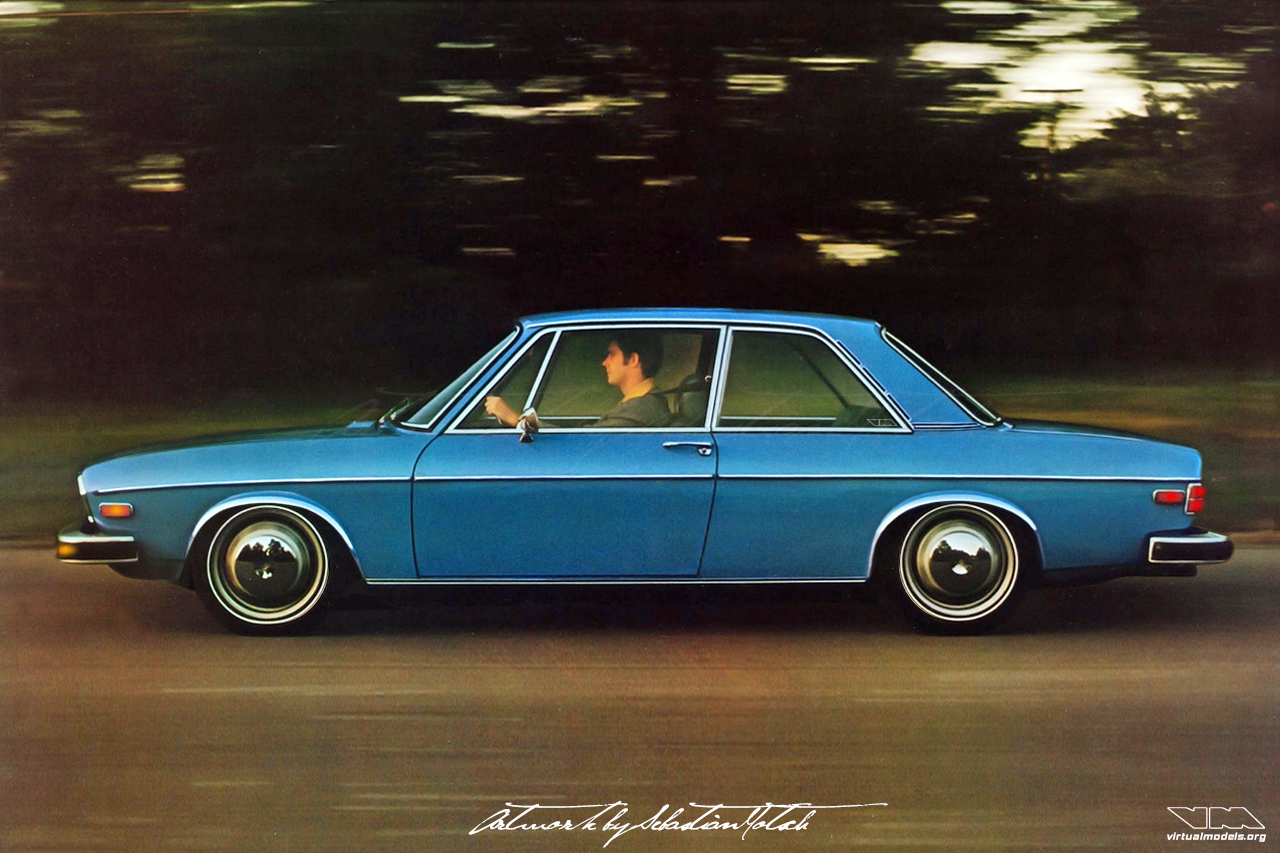 Opel Rekord C Delivery Van
2019.08 | Photoshop Chop | Retro Vibes
---
It is not often that I use an old black and white picture as a base for a photoshop chop. But sometimes I stumble upon a picture and immediately know what to do with it. Subtle, clean and simple, but with great impact was the idea this time around. The Opel Rekord C delivery van (Lieferwagen) has been lowered, the rear fenders have been widened and the grille has been modified. This gives it a muscle-car-like look and certainly more presence, doesn't it? Just the right amount of lowering to give it a proper stance adds to the presence. Larger diameter and wider steel wheels with dog dish hubcaps go well with the classic overall look and keep the retro vibes.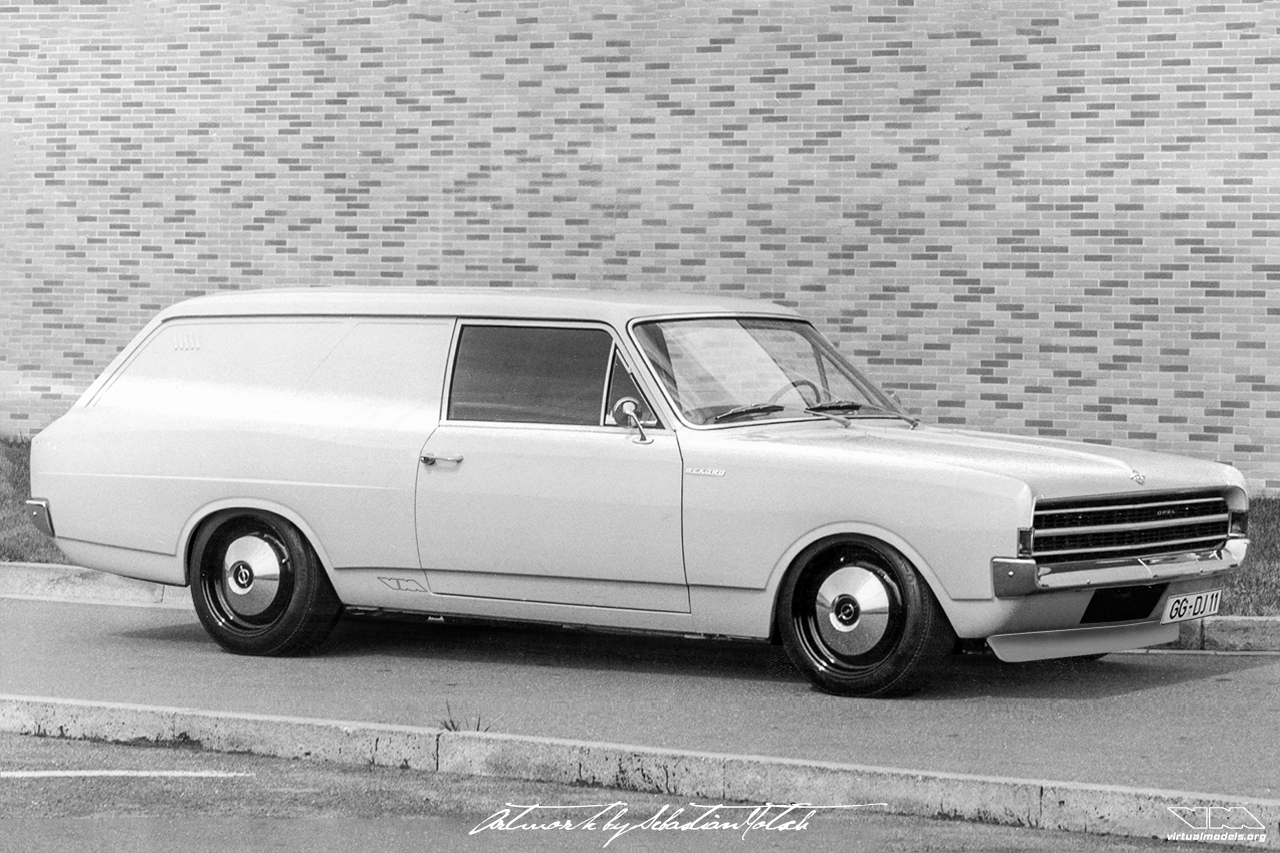 BMW 2002 ti Garmisch Concept
2019.07 | Photoshop Chop | Concept Car
---
The BMW 2002 ti was a proposal designed by Marcello Gandini and built by Bertone. It was displayed at the 1970 Salon d'Automobile in Geneva and disappeared after the show ended, never to be seen again.
Read More

»

A good friend of mine recently complained that most of my photoshop chops are side-view only. That is true, because I have more ideas than time and 3/4 view pictures need a lot more time to finish properly than the simpler side-view pictures.
Read More

»

Car Meeting in Muizenberg
15.04.2012 | Day 05 | Muizenberg
---
Read More

»
Even the most mundane cars can be transformed into something fun to drive. Driving a Daihatsu Sirion rental car in South Africa inspired me to modify one virtually. A more aggressive front, a bodykit and a set of larger wheels help this little car to look more grown-up.

This is part one of the Ford Focus ST chops. The car has been lowered over a set of nice wheels. The body has been cleaned and some details have been added to the bodykit. However, there was no need to change the bright orange color.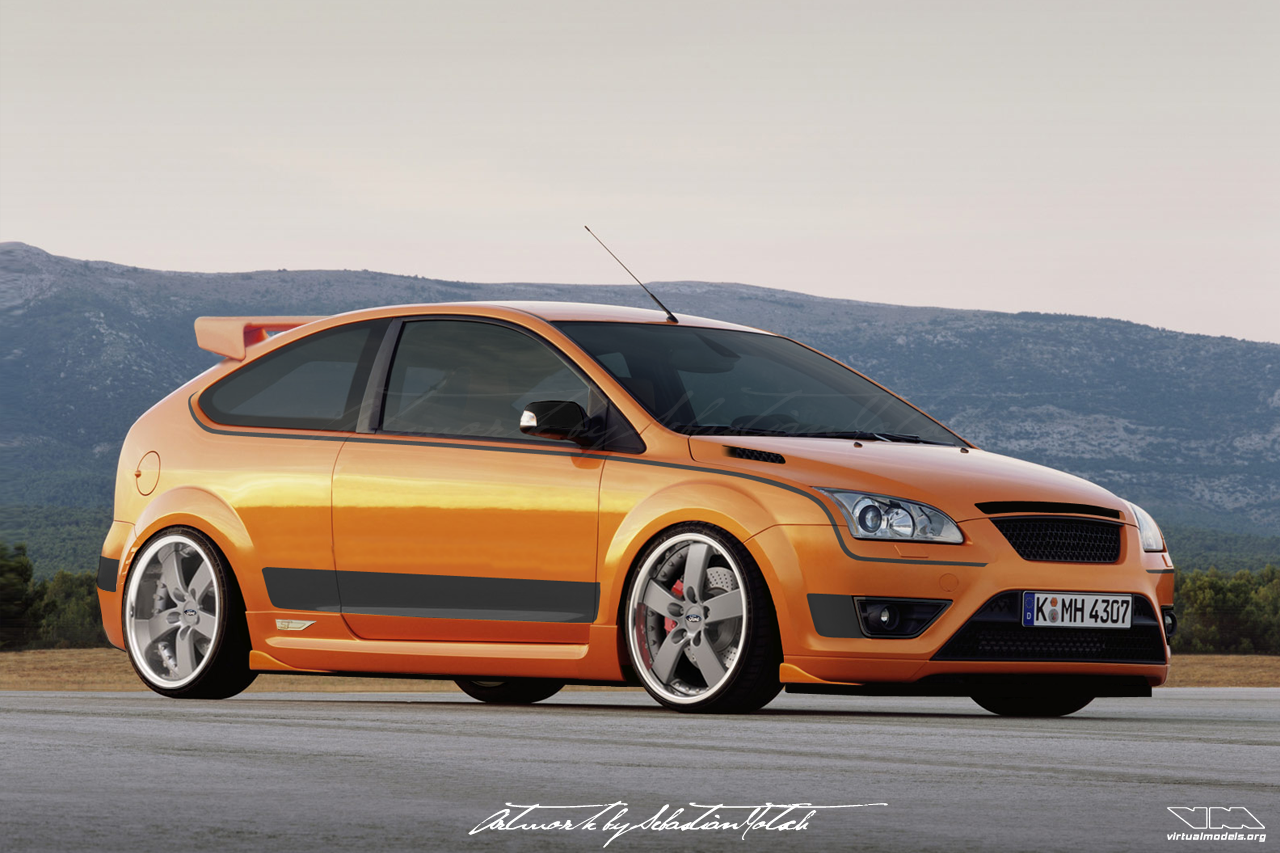 Having spent considerable time of my youth on holidays in France, French cars always remind me of those days. This Renault 5 has been transformed into a little pocket rocket with a turbocharger and intercooler. I have tried a new technique on this one to make body panels look like they have holes.