van

BMW 600 Microbus
Read More

»

SAAB 95 Van
Read More

»

Opel Rekord C Delivery Van
2019.08 | Photoshop Chop | Retro Vibes
---
It is not often that I use an old black and white picture as a base for a photoshop chop. But sometimes I stumble upon a picture and immediately know what to do with it. Subtle, clean and simple, but with great impact was the idea this time around. The Opel Rekord C delivery van (Lieferwagen) has been lowered, the rear fenders have been widened and the grille has been modified. This gives it a muscle-car-like look and certainly more presence, doesn't it? Just the right amount of lowering to give it a proper stance adds to the presence. Larger diameter and wider steel wheels with dog dish hubcaps go well with the classic overall look and keep the retro vibes.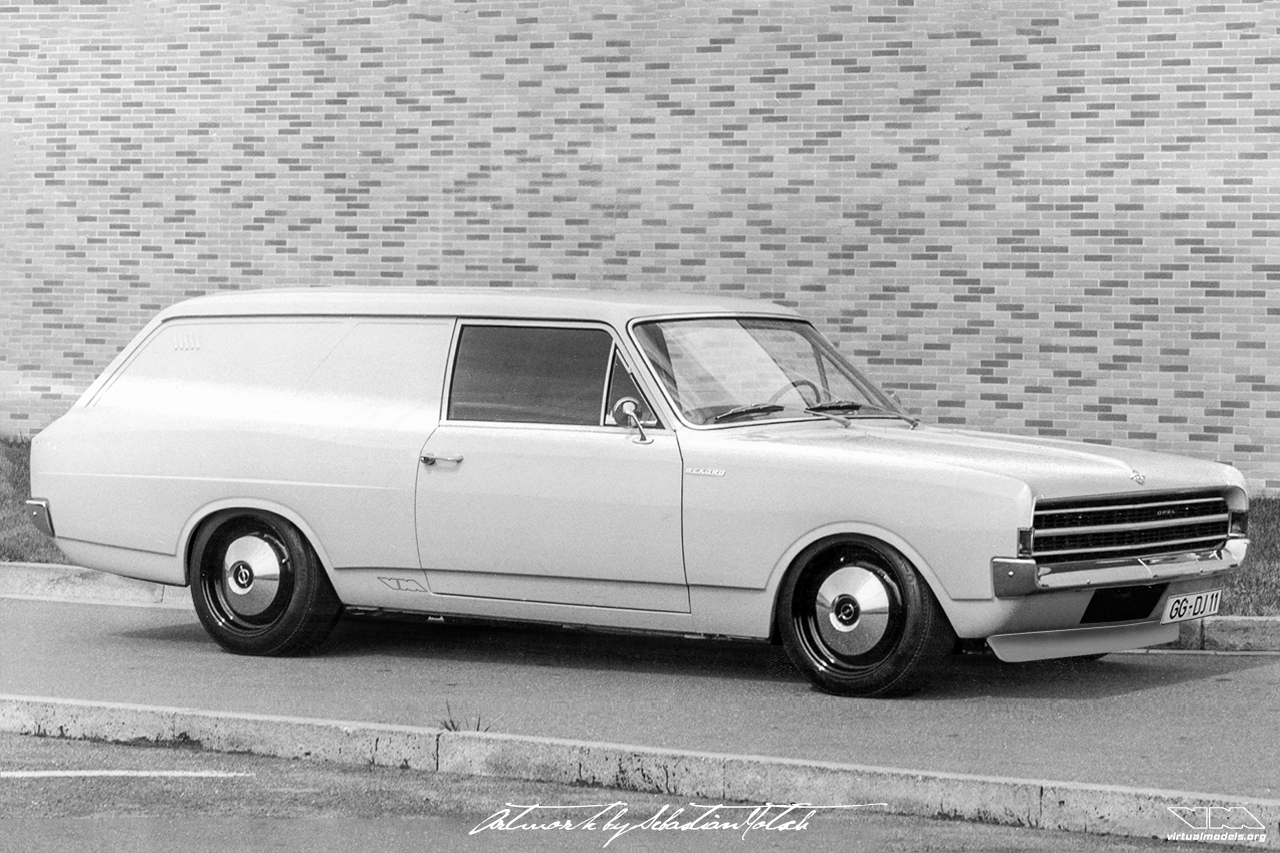 Click here to see the original picture.
---
Sebastian Motsch | instagram @photoshopchops

Day 02 | Tokyo
02.05.2019 | Sumida | Tokyo Skytree
Read More

»

Lamborghini LM002 4×4 Camper
Automotive Art | Photoshop Chop | Campervan Concept
Read More

»

Alfa Romeo 159 ti Furgone Assistenza Servizio
Read More

»

Winnebago LeSharo | A grey morning in September
RD 6089 near Terrasson-Lavilledieu, on a grey morning. Cruising along with the local traffic… I spotted something based on the Renault Trafic on the side of the road: the Winnebago LeSharo. I have always liked how the French design of the base vehicle integrates well with the American style camper body. If you look at other Winnebago motorhomes of the same period, you can even see a familiar resemblance. Being flanked by a US-spec Peugeot 504 Break was a nice coincidence. The dealer had many other interesting vehicles for sale, some of which you will sooner or later find here at Drive-by Snapshots.
Read More

»

Range Rover Mk1 2-Door | Delivery Vehicle
Automotive Art | Photoshop Chops | Featured in MotorPunk Magazine Issue 4 2019

Read More

»

Volkswagen T2b | This is not an abandoned vehicle
This was one of those 'by chance' finds. While trying to find a good vantage point to take a few pictures of Biarritz, I turned into one of those dead-end alleys you often find near the beach. Out of curiosity I followed the tiny road around a bend – and found this Fuchs equipped Volkswagen T2 hiding there. Quite clever actually: park where it's free of charge, grab your surfboard and head for one of the famous surfing spots. I really like the sticker on the windscreen, because it somehow fits the overall theme of the van.
Read More

»
Volkswagen T3 Syncro | The perfect travel companion
The perfect travel companion? Should be able to go anywhere while carrying all the things you might need there. Oh… and providing ample sleeping space and a fridge to keep the drinks cool wouldn't hurt either. This immaculate Volkswagen T3 Syncro Westfalia camper ticks all the right boxes and comes quite close to being the perfect travel companion, doesn't it?
Read More

»

Ford Transit Mk1 | Forwards ever – backwards never!
There are a number of songs with that or very similar titles that instantly came to my mind while sorting pictures from a 2009 trip to the French Atlantic coast. We spotted this Ford Transit Mk1 camper van in Hossegor.
Read More

»

Dinosaur scares Willem Lambretta
"Whoa! Watch out! There's a dino on the roundabout!" – Diana Tischler
My girlfriend tried to scare me while pointing out the obvious. Oh well I thought and pretended to be calm and totally in control of the situation – while flicking on the high beams of my Impala brown 190E. Remember the day in driving school, when they told you that deer and many other animals freeze and subsequently don't move, due to temporary blindness? Gotta tell you – it works mighty fine to stop a French dino in its' tracks. Just look at his eye.
Read More

»