BMW 600 Microbus
Automotive Art | Photoshop Chop | Physical Distancing
---
2020 has certainly been a different year for everybody. Many things we love and took for granted have been canceled or postponed. Travel restrictions, lockdowns and many other influences changed our daily routines and way of life. More time spent at home also meant more time to let the creative mind wander around aimlessly. Sometimes this translated to artwork that I eventually decided not to publish and likely never will. However, one of these works is the BMW 600 Stretch Limousine (micro bus) you see pictured below.
Hollywood Sightseeing Vehicle
Sometimes it's strange how things go full circle due to circumstances nobody anticipated, much less yours truly. I kicked off 2020 with a very special, motorsport-inspired BMW Neue Klasse, dubbed the 2800 TI/SA. Initially created in April during the first CoVid-19 pandemic triggered lockdown, the BMW 600 is now the last photoshop chop to be posted in 2020. Completing the circle with two cars sharing the same round logo (roundel) happened only because I didn't want to post the tourism-themed vehicle when I finished it in May.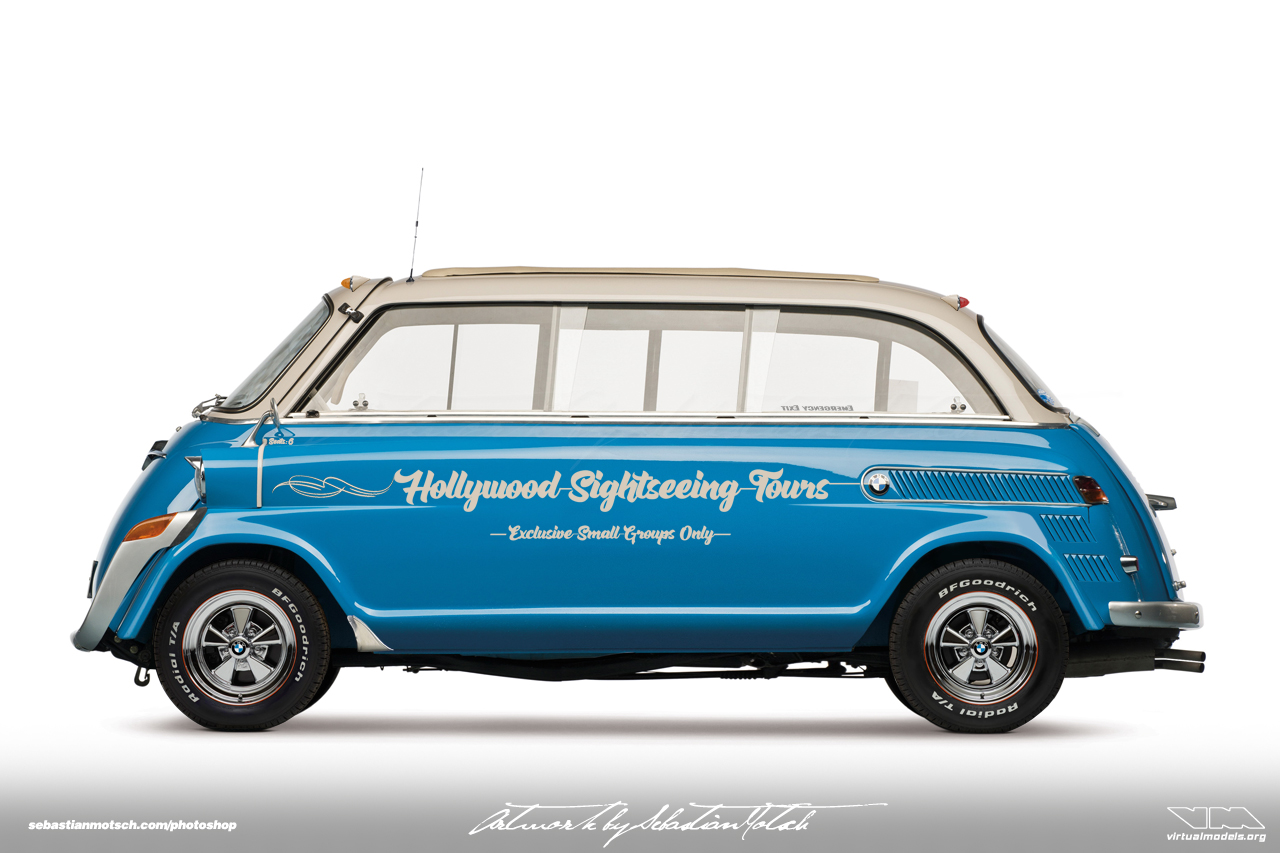 While listening to the news and live press conferences, I fired up Adobe Photoshop and went ahead to chop a BMW 600 in half and stretch it. The puny 975 cc engine has been replaced with a much bigger boxer unit from a BMW motorcycle to conquer the steep hills in Hollywood. Twin exhausts muffle the sound, so the tour guides voice can be heard without a PA system. Weather permitting, the large sunroof provides nice views of the famous Hollywood sign and the stars villas and mansions. Eagle-eyed viewers may already have spotted that the vehicle is suitable to seat six. Let's say four for the time being and six for post-pandemic times, when everything is back to normal.
Stay safe and negative, think positive and always keep in mind: physical distancing is not social distancing!
---
Sebastian Motsch | instagram @photoshopchops