coupé

Jaguar XJ-S Notchback Hot Rod
Building the Hasegawa Jaguar XJ-S kit in 1:24 scale, I noticed that it is virtually impossible to lower the car properly without modifying the wheel arches. Bolt-on overfender are always an option, but it didn't feel right with the lines of this classy coupé. Instead of cutting up the body of the plastic model, I put it back into the box and switched to Adobe Photoshop. After many failed attempts to relocate the wheel arches, I decided to hotrod the sled just for fun. This is entirely fictional for now, but could be done in reality. XJ-S prices are low and it isn't exactly a rare car nobody dares to cut apart and weld back together in a different way.
The frame was extended to get the proportions right and to make it less butt-heavy than the stock design, I reshaped the C-pillars. Inspiration for this mod came, believe it or not, from the foxbody Mustang notchback. I think it improves the proportions of the car, but at the same time takes away one of the design quirks that make the XJ-S so unique and instantly recognizable. In order to keep with the classic hot rod theme, I didn't use the Jaguar V12, but added four cylinders to a Ford V8 just for the heck of it. Open headers should provide an adequate soundtrack to match the visual impact.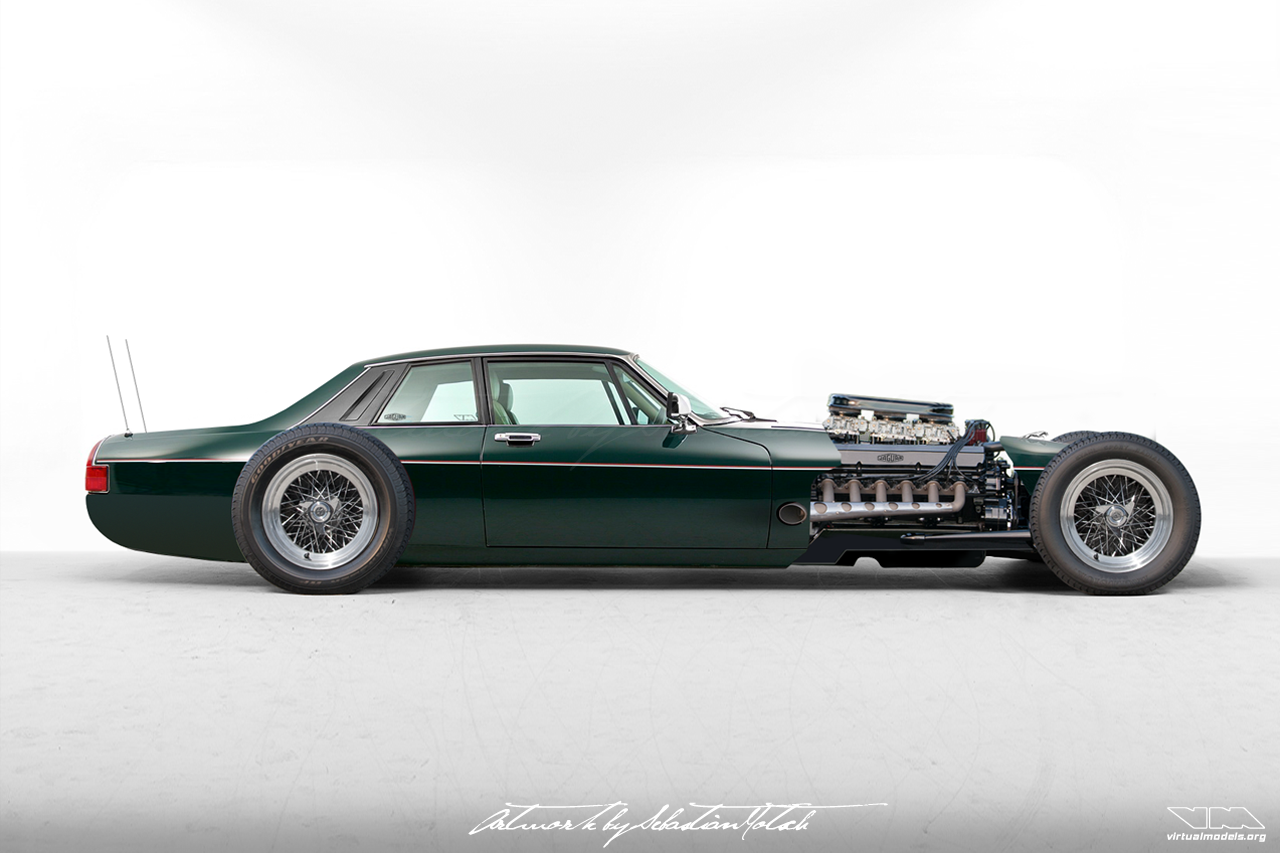 Morris Marina Coupé (ADO28) | Brexit
The Morris Marina was never known for bullet-proof reliability. In fact, it was widely known as one of the worst cars ever produced. Bad image, rust issues and questionable quality caused prices to drop and vehicles to be scrapped as a result.
Read More

»

A good friend of mine recently complained that most of my photoshop chops are side-view only. That is true, because I have more ideas than time and 3/4 view pictures need a lot more time to finish properly than the simpler side-view pictures.
Read More

»

What if downsizing the US land yachts went a little different?
Every car enthusiasts knows that the oil crisis in the early 1970's eventually spelled the end for the gas guzzling land yachts. Cars from Europe and Japan with much better fuel economy flooded the US market and created a situation the big three had to face. They tried frantically to build something suitable. However, most cars they came up with were great achievements horrible miniature caricatures of the bygone era of dinosaurs. You fondly remember the downsized barges and new designs like the Ford Pinto, AMC Gremlin amongst others. Especially the shrunken Cadillacs and Lincolns put a sad expression on most peoples faces. But hey… what if they had approached the whole downsizing trend with a little bit of humor and left the interiors of the cars full-size and only compromised on the outside of the body and the drivetrain? They might have come up with something like this 1959 Plymouth Fury Hardtop Coupé Shorty concept I created. It puts a smile on your face, doesn't it? 😉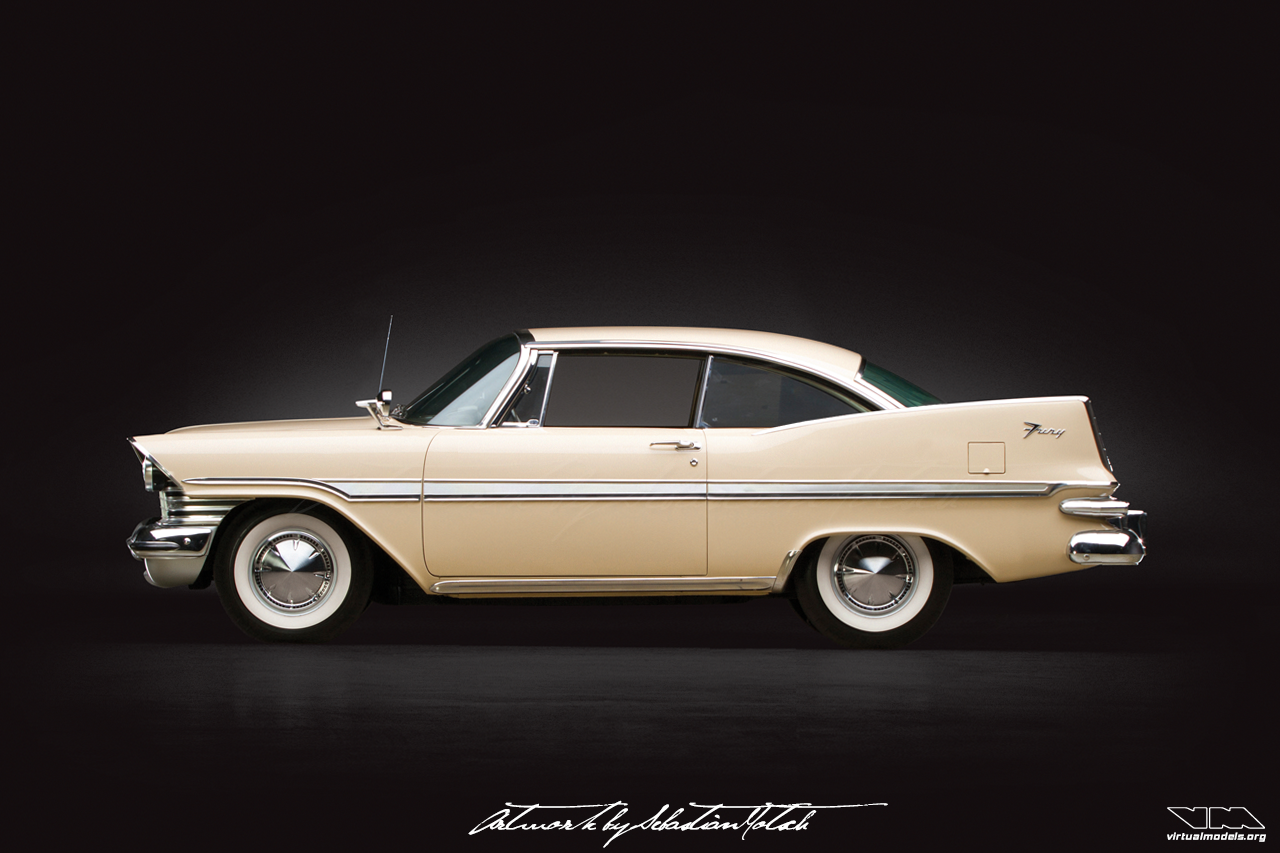 A friend of mine built a scale model of a Chrysler 300C Coupé. This inspired me to create this virtual model when the SRT8 version was unveiled. The body has been cleaned, bigger wheels and exhaust tips have been added. Even though it might look like – but the roof is not chopped.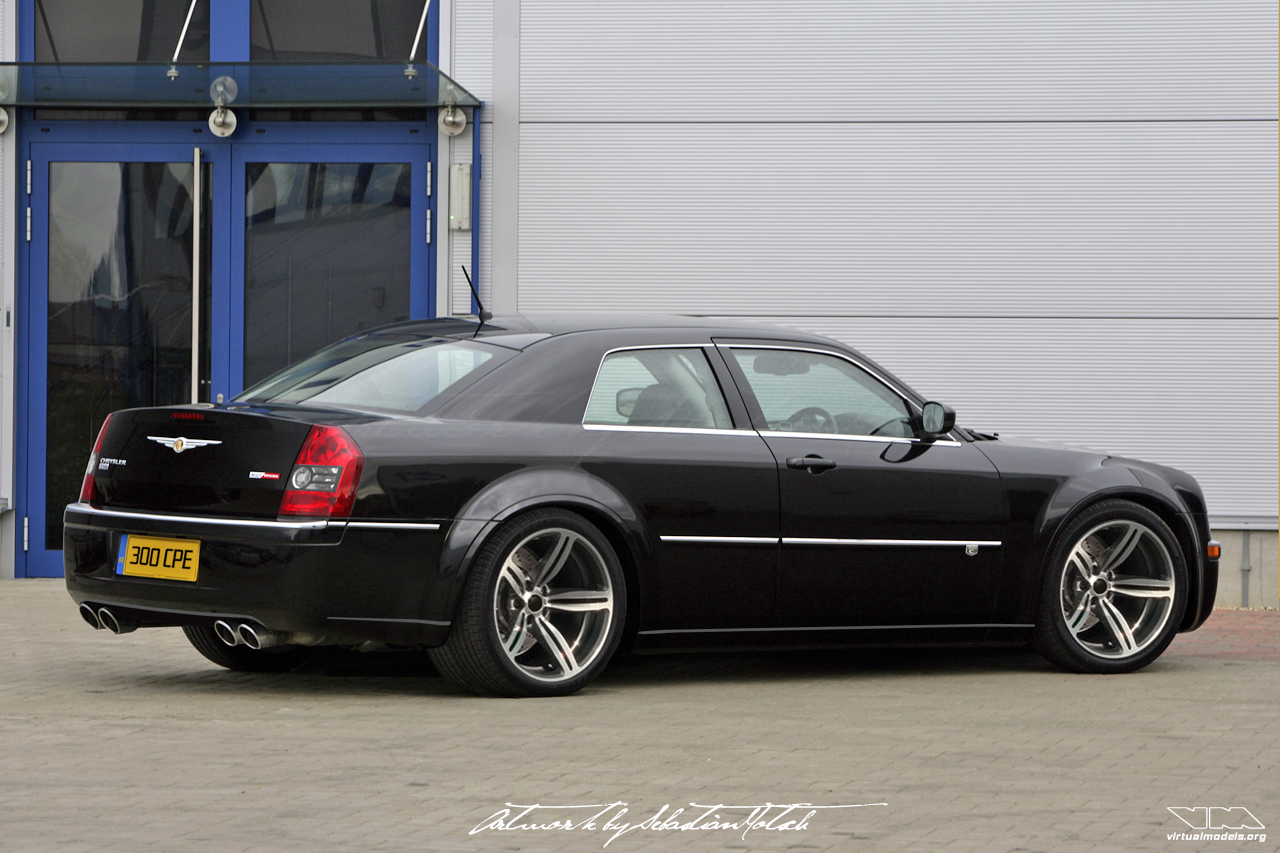 La Bretagne est magnifique
Discovering the Bretagne region in France is always a stunning experience: the wild coast, the important landmarks, unique rock formations and then some more. Driving from one interesting spot to the other never gets boring. Around every corner you turn, there is something of historical significance waiting to be looked at. Being a car aficionado that loves to take Drive-by Snapshots, I always make sure to look out for interesting vehicles. However, sometimes the interesting stuff is not around a corner at all, but rather right within your focal vision.
Read More

»

Mercedes-Benz C123 | A Comet coupled to a Coupé
Surfing makes hungry and supplies don't last forever. Coming back from shopping groceries at the local supermarket in Lit-et-Mixe, we found this period-perfect car and trailer combination: A shiny blue Mercedes-Benz W123 Coupé with a Constructam Comet 6T caravan in tow.
Read More

»