DBS Japan

Day 03 | Tokyo
03.05.2019 | Azabu-Bujan | Minato | Tokyo Tower

Read More

»


Day 03 | Tokyo
03.05.2019 | Gotanda | Meguro | Azabu

Read More

»

Day 02 | Tokyo
02.05.2019 | Asakusabashi | Akihabara
---
Seiichiro and I took the Asakusa Line from Oshiage Station to Kuramae Station, bought snacks and drinks at a corner store and headed to the bank of Sumida River. We walked at a leisurely pace and found a bench under a powerline, decorated with Koinobori. Munching on delicious JDM snacks and looking at all the ships cruising past is a great way to spend time with a friend.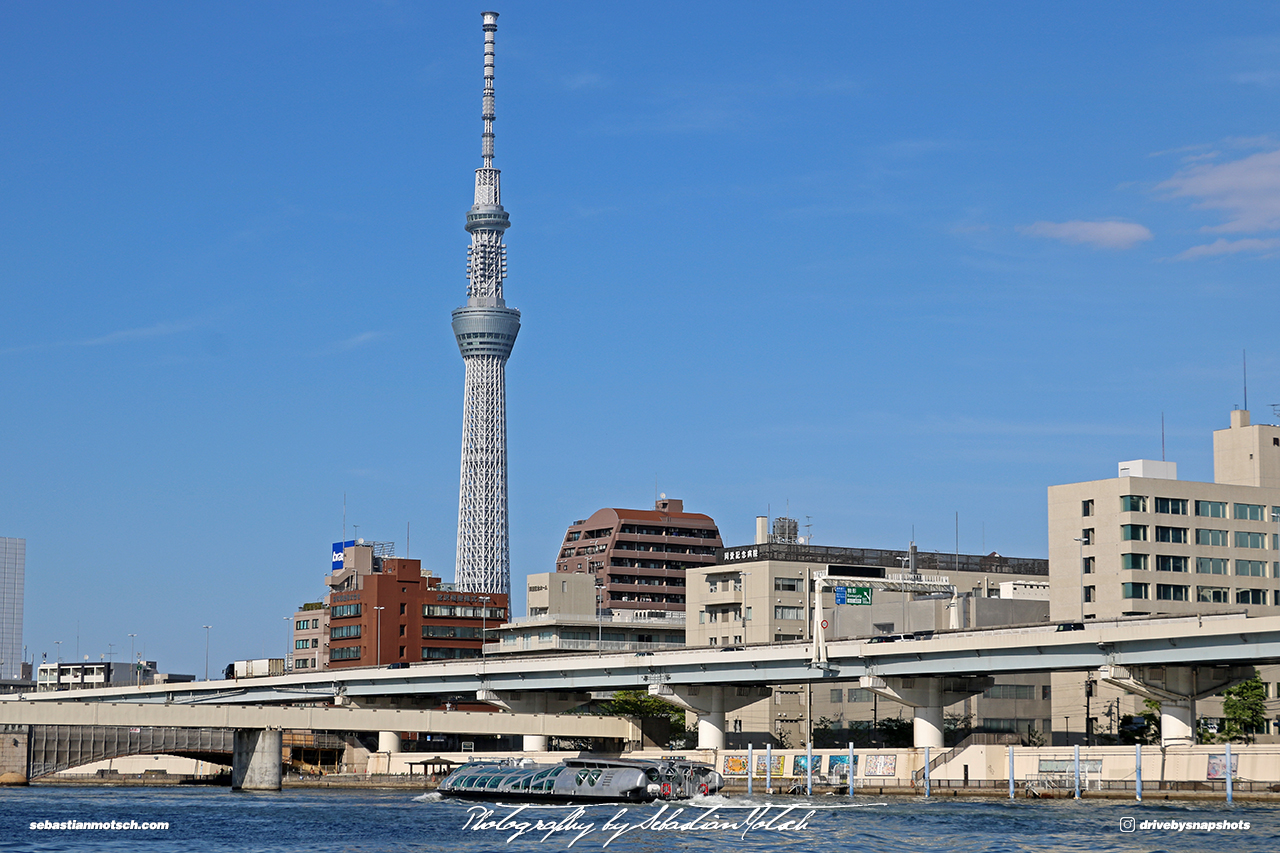 It was the perfect place to admire the futuristic looking cruise ships Himiko, Hotaluna and Emeraldas, designed by comic art legend Leiji Matsumoto. I take my hat off to the top management at Suijobus Tokyo for greenlighting this crazy idea when it was proposed. These are the most interesting and amazing ferries I have ever seen anywhere.
Asakusabashi
Leaving the river bank at Yanagibashi, we strolled through the neighborhood of Asakusabashi towards Akihabara. You can find all the Drive-by Snapshots in the last chapter of this post.
Akihabara
Mini-Z Shop and Racing Track
While waiting for a green light at a pedestrian crossing I looked up and spotted a Kyosho flag in one of the windows of the Motherhouse. A sign with various stickers next to the entrance invited us to enter and check it out. More stickers at the door confirmed that we had found a place for R/C and Mini-Z ōtaku. We watched a race and decided to move on, because I wanted to visit some second hand scale model shops before they closed.
Entering Akihabara via Kuramaebashi Dōri Avenue and peeking into a side street while walking past, an old school Dunlop sign triggered my speedhunting instincts. Onca again, I found a jackpot by being curious and taking a few extra steps.
Dunlop チシロ
The motorcycle tire and accessory shop チシロ is a time capsule and there is no way of telling if the business is still operating or not. It looks a little out of place amidst the much more modern buildings sourrounding it. Decades of history give it the typical unmolested charm of a true survivor that can't be replicated even when trying hard. I sincerely hope that it will stay like this forever. Maybe it will be turned into a museum at some point in the future. Who knows? To petrolheads it sure is a treasured and special place.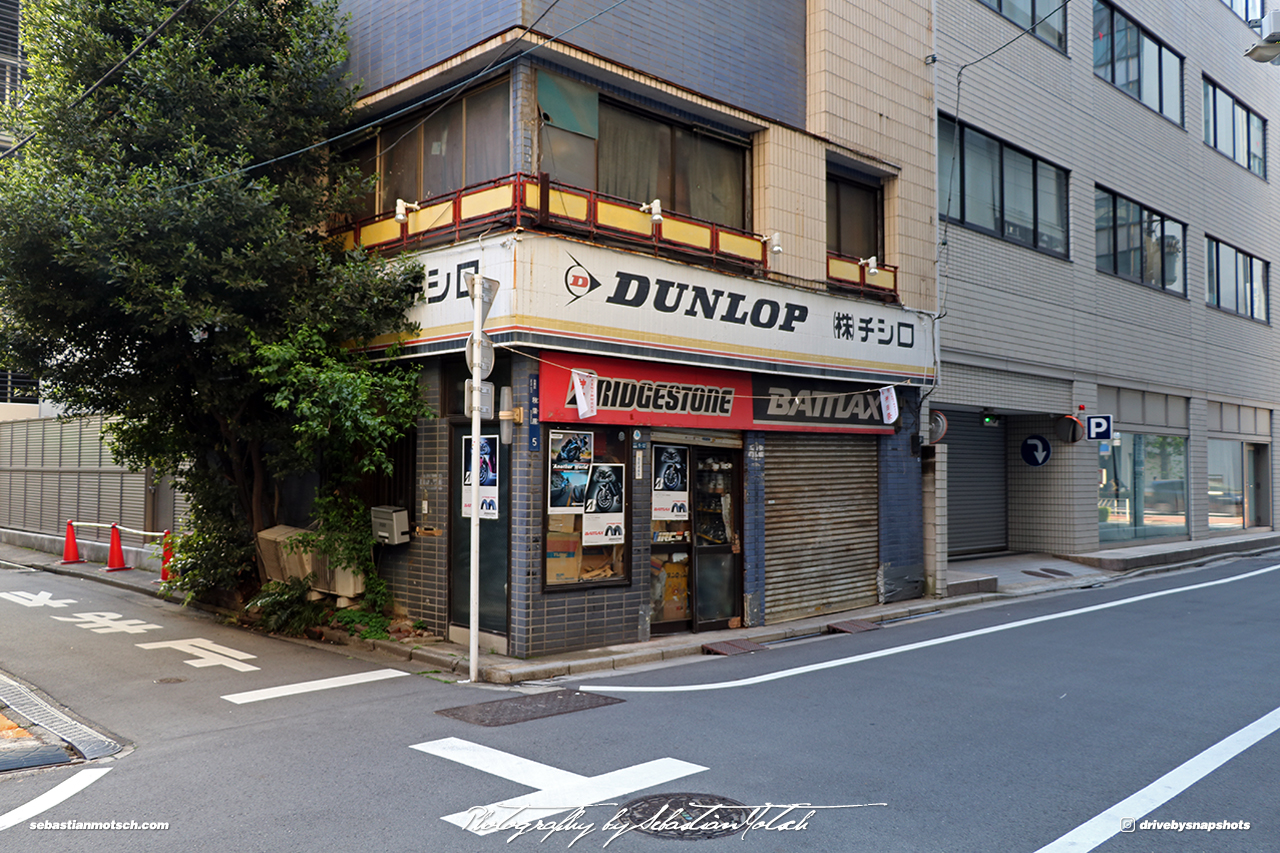 Second Hand Scale Model Shops
Having been in this area before in 2017, I remembered two model shops. However, I didn't have any names or adresses and had to go by geo-memory to find them. Fortunately my brain usually remembers certain key elements and waypoints that help. If I've been there before, I'll find it again. Growing up without GPS systems in the 1980's sure pays dividends every now and then.
Leonardo ET and Leonardo LG
Leonardo ET and Leonardo LG are second hand scale model shops. I've been there in 2017 and took more pictures, as it was less crowded back then. Sometimes you can find rare kits here and even if they are not to be considered bargains, it's usually a good price and/or value for money. Each time I go to such a shop in Japan I find scale model kits I have never heard of before, wondering how many manufacturers existed in the 1980's?
Searching for unobtainium makes hungry and we went on to meet Bianca at a restaurant for a delicious Japanese curry.
Drive-by Snapshots
---
Sebastian Motsch | sebastianmotsch.com

Sleepless in Tokyo
Drive-by Snapshots | Published at Speedhunters.com
---
When opening the mailbox, there is a postcard between the bills and the advertisements that I already fished out curiously on my way to the apartment door. Where was it posted and who sent it? The dim light of the cold winter day makes me want to see a holiday greeting with palms on a beach, a lighthouse amid towering waves or a sunlit attraction. I turn the postcard to the front page and see… black. The entire surface is printed in a deep black, which in some places is weathered by mail sorting machines. Printed in one of the trendy neon colors it says 'Berlin bei Nacht' next to a crescent moon and a couple of stars.
Two decades later, during a nocturnal foray through the Japanese metropolis, I am thinking of this trend of the '90s, whose remains can still be found sometimes in the back corner of a postcard shop. Who does not remember sending or receiving such postcards? Today we post status updates and Instagram stories on Facebook instead of sending postcards to family and friends.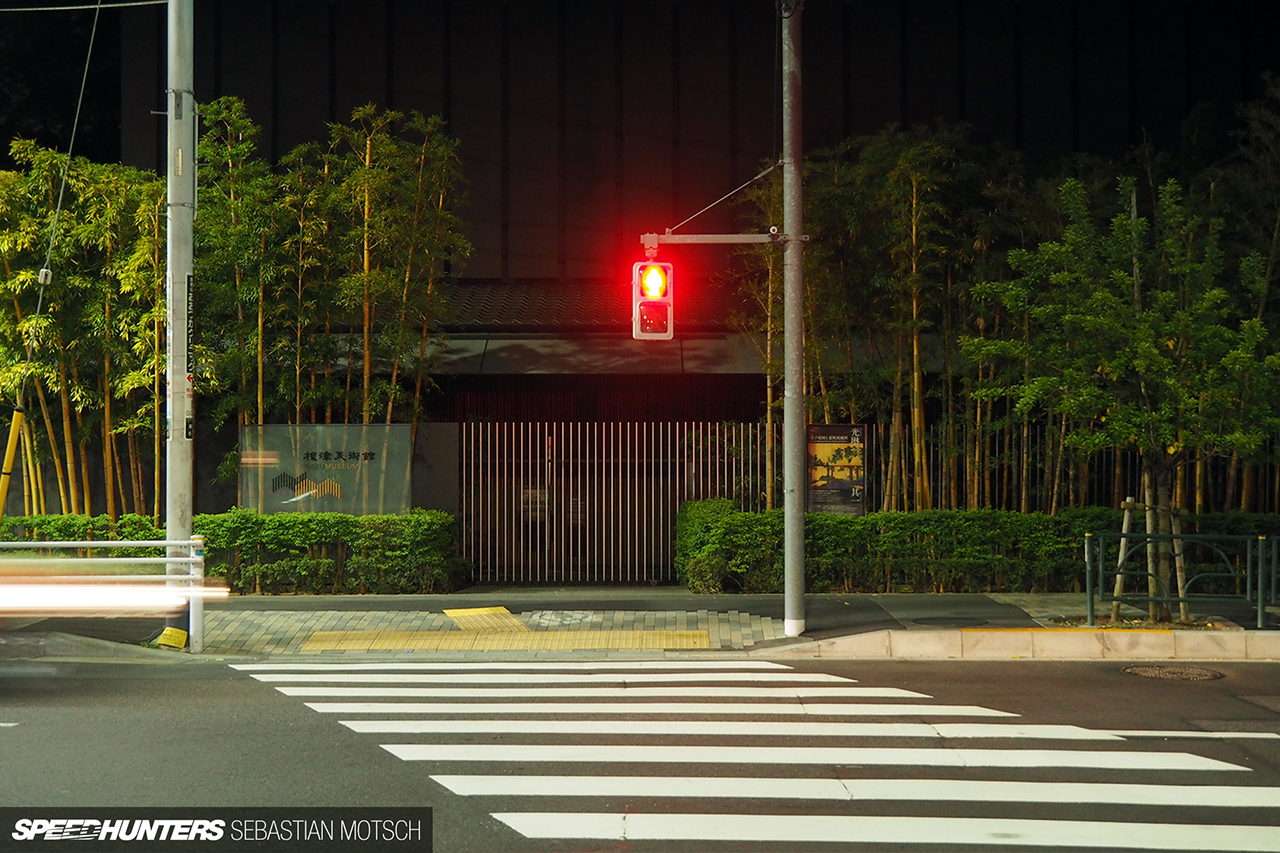 Unable to close even one eye, I lay awake in the tiny Airbnb room and quarrel with the jet lag. The inner clock has not yet adapted to the local time zone, although I have slept well during the long flight and the body is refreshed. But wait, jet lag is a good thing, isn't it? It makes it possible to explore foreign cities when the locals sleep. Who knows what waits to be discovered at this time of the night?
Before finishing this thought, I'm already dressed and stand outside the tiny house in the narrow street. Left or right? It doesn't matter. Those who have no destination will not get lost. When the lights switch to green, I start walking.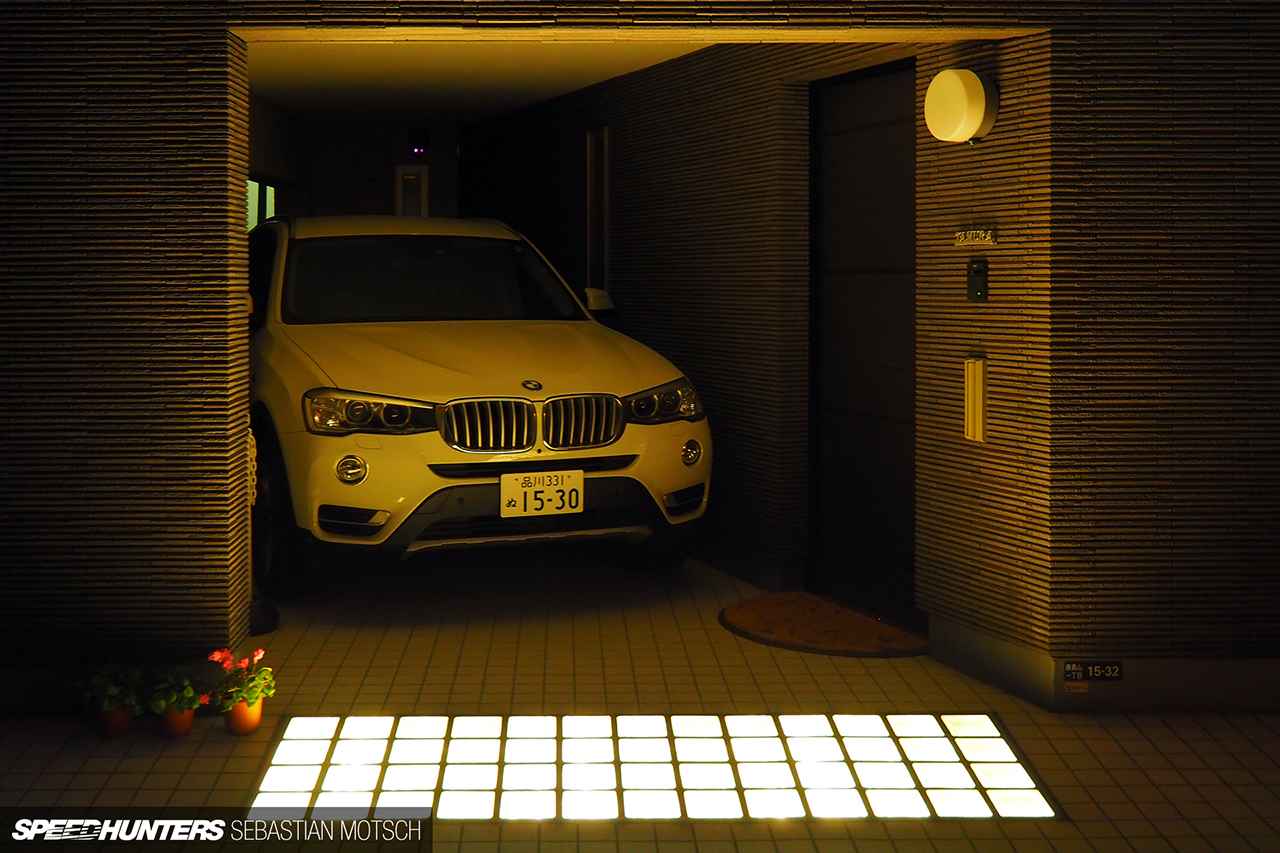 Tokyo is a huge metropolis, but contrary to many other major cities around the world, most of the inhabitants sleep at night. Moving quietly through the residential streets, I admire how close the homes are spaced. The distance often corresponds to the width of a German license plate. It is a prosperous area, judged by the amount of European cars parked in open garages and integrated carports.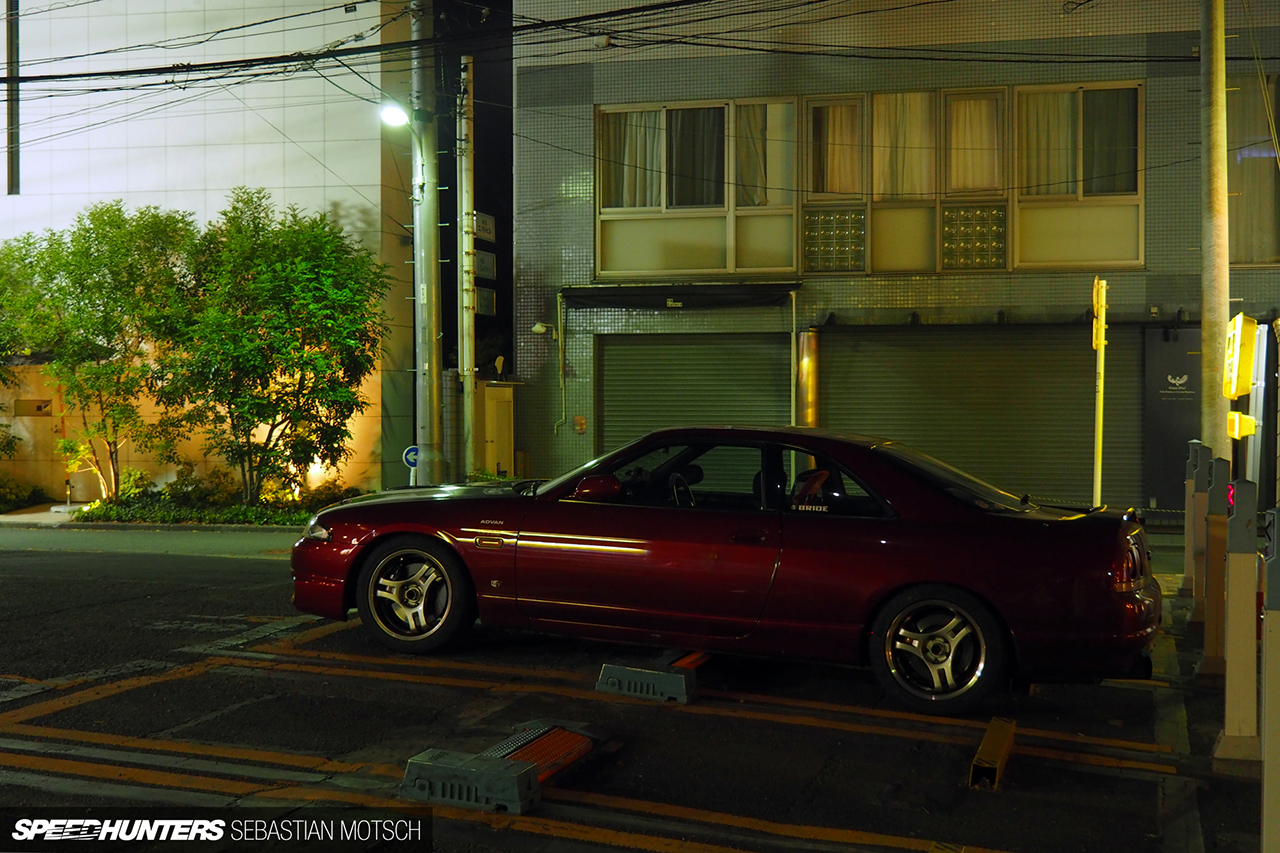 Again and again, there are little details, like the anime figures glued to the dashboard of a Volvo 850 wagon, which bring a smile to my face. While approaching the end of the alley, I can hear a sound from the crossroad. Rapidly rotating tires mingle with the silence as if an invisible DJ gently fades in a new tune. A Toyota Hiace ambulance flashes past, without sirens out of consideration for sleeping residents and the flickering red light is reflected off a parked R33 Nissan Skyline.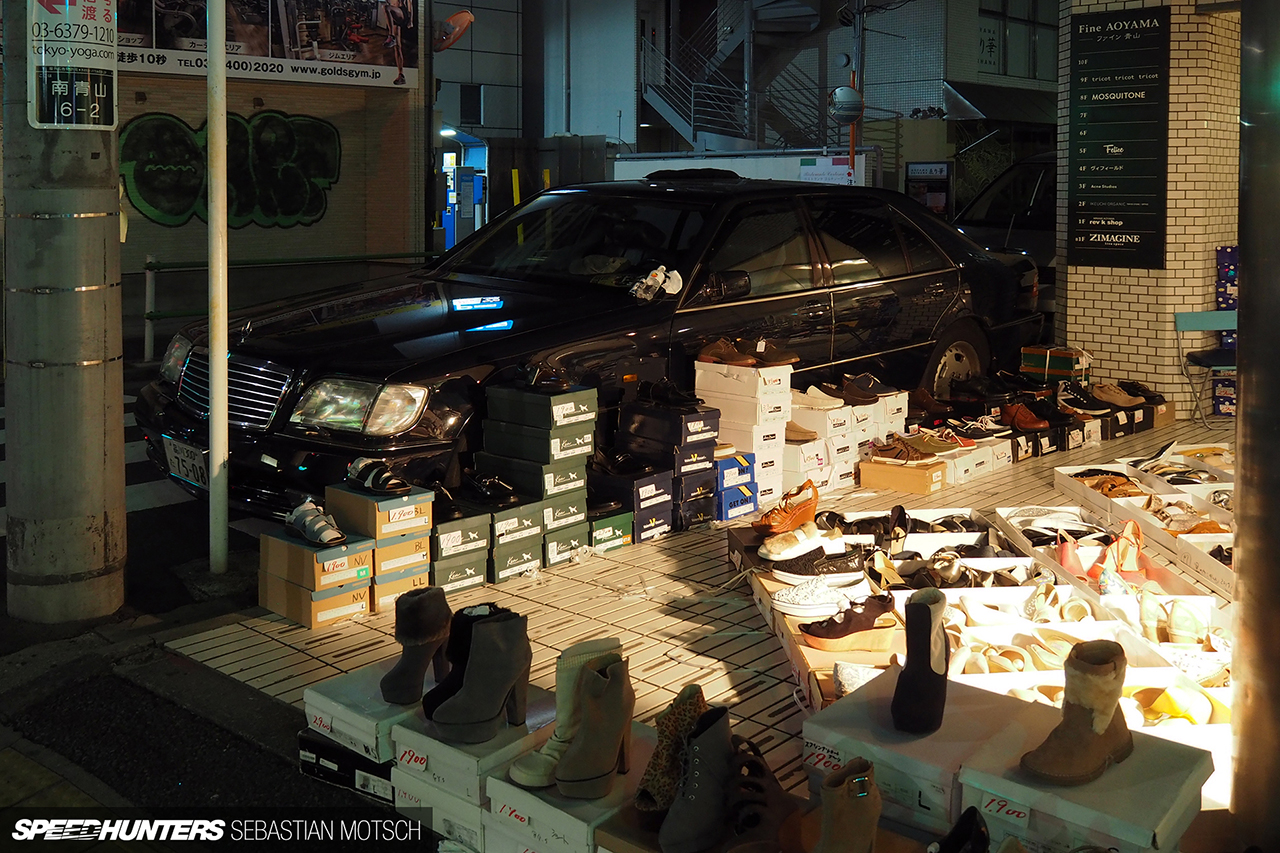 As I move on, I notice the transition from residential to a more commercial area with shops between the houses, with neon signs illuminating the parked cars. A shoe salesman has set up his goods on the covered corner of a house, which will disappear again in the trunk of his W140 before dawn. Since I'm the only passerby far and wide, I wonder who the nice elderly gentleman sells his shoes to. Unfortunately, we do not find a common language to clarify this question. When I tell him that I'm German, he smiles and directs the conversation, which consists of just a few words but many gestures, to his vehicle and we quickly agree that it is of outstanding quality and perseverance. He is really happy that I want to take a picture but doesn't want to be part of it himself.
The kind gentleman directs me to turn left while imitating the sound of a V8 engine and simulating steering movements. A hearty laugh and a polite bow to say farewell encourages one man to wait for customers and the other to continue walking. I follow the direction indicated and, crossing a fenced bridge, notice that the expensive public parking lots are mostly empty at night.
The homes give way to luxurious shops. In front of a building with spectacular architecture, I take a picture of a Nissan Cedric taxi waiting at the traffic light and muse over the beautiful picture. Otherwise, the streets in the area are empty. I have time to let my thoughts wander.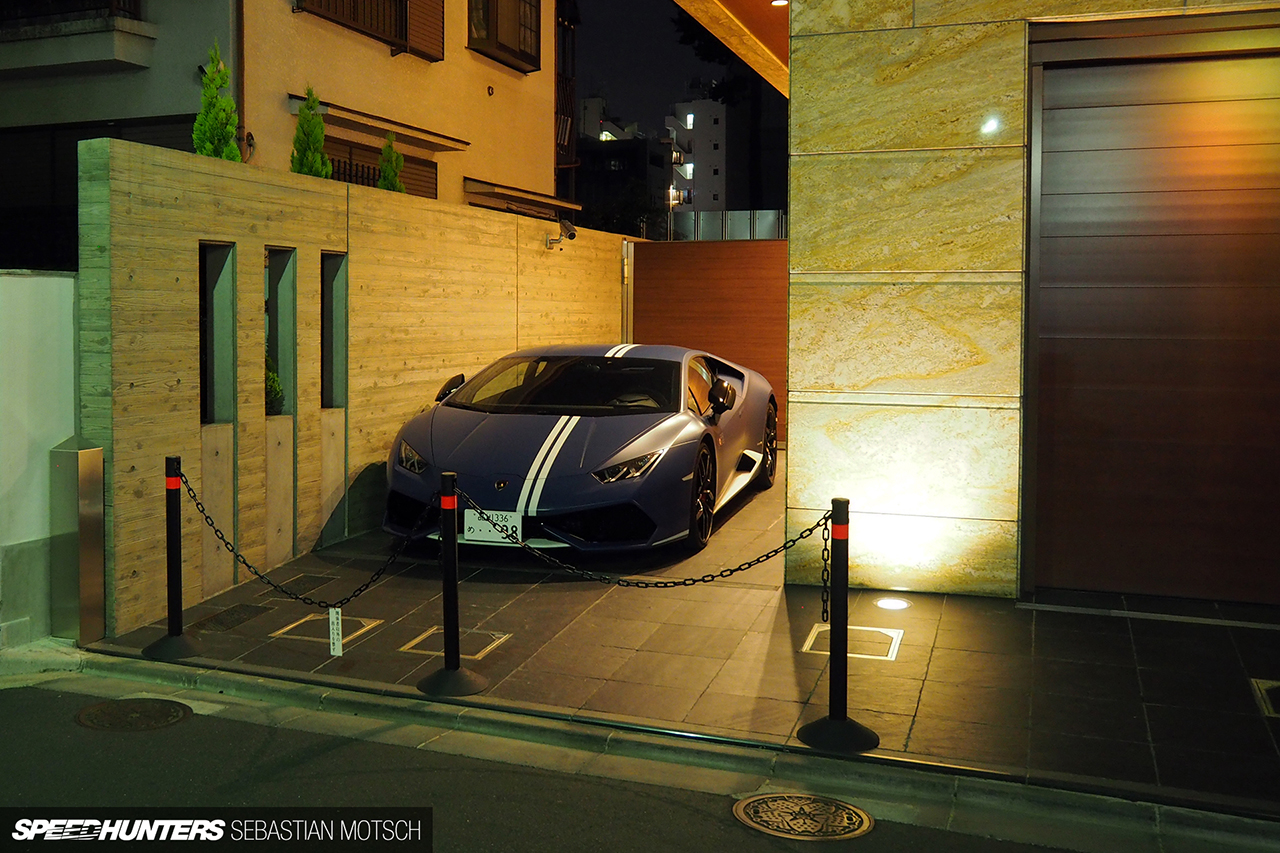 In Japan, other people's possessions are respected rather than stolen. Therefore even expensive aftermarket wheels are stored in open garages and high-value supercars are parked outside.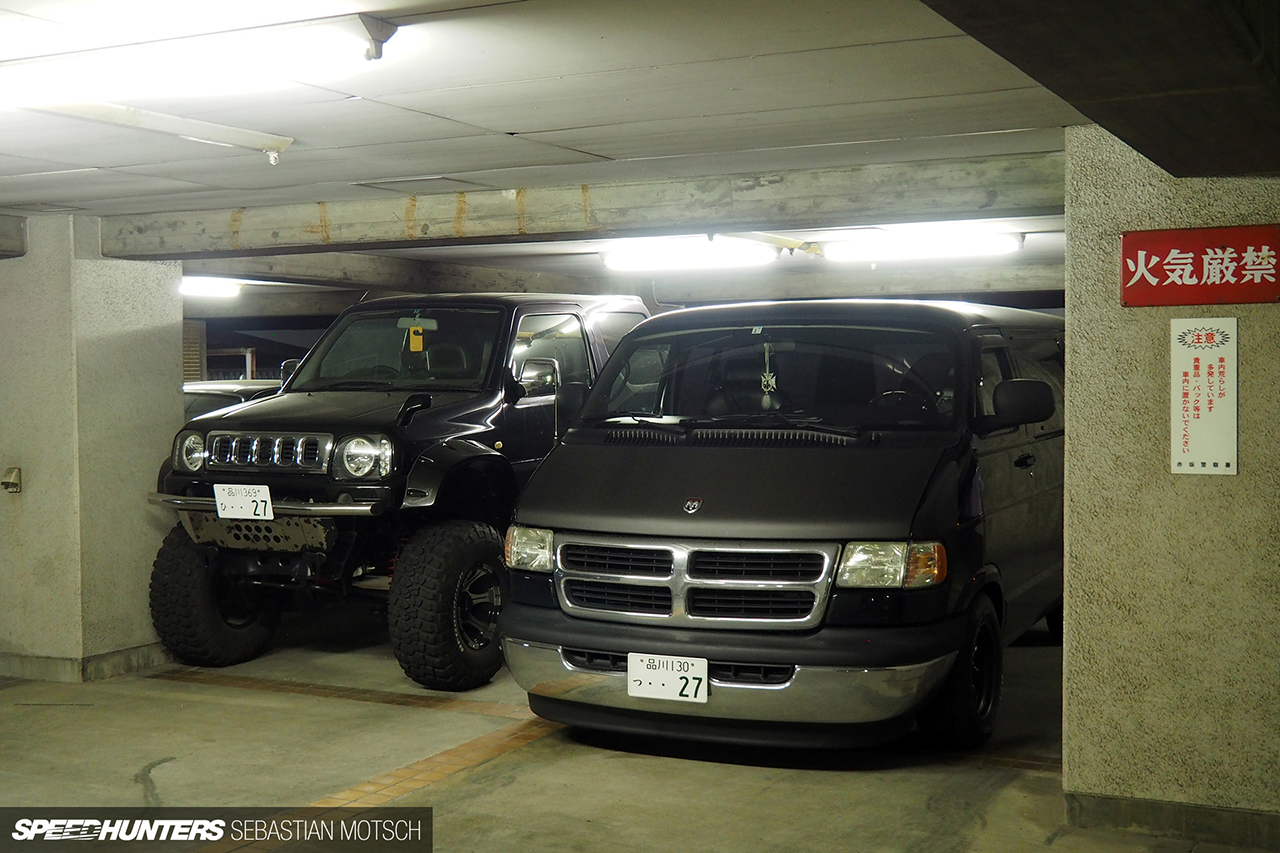 Most private underground garages are not equipped with access barriers, providing me the opportunity to take a look at the parking deck of a large apartment complex. Many new hybrid models, rows of minivans and kei cars.
But what is that? In the far corner hides what will become one of my favorite pictures of this journey. Peacefully, a lowered full‐size Dodge van and a lifted Suzuki Jimny share a niche. The contrast couldn't be bigger. Only in Japan.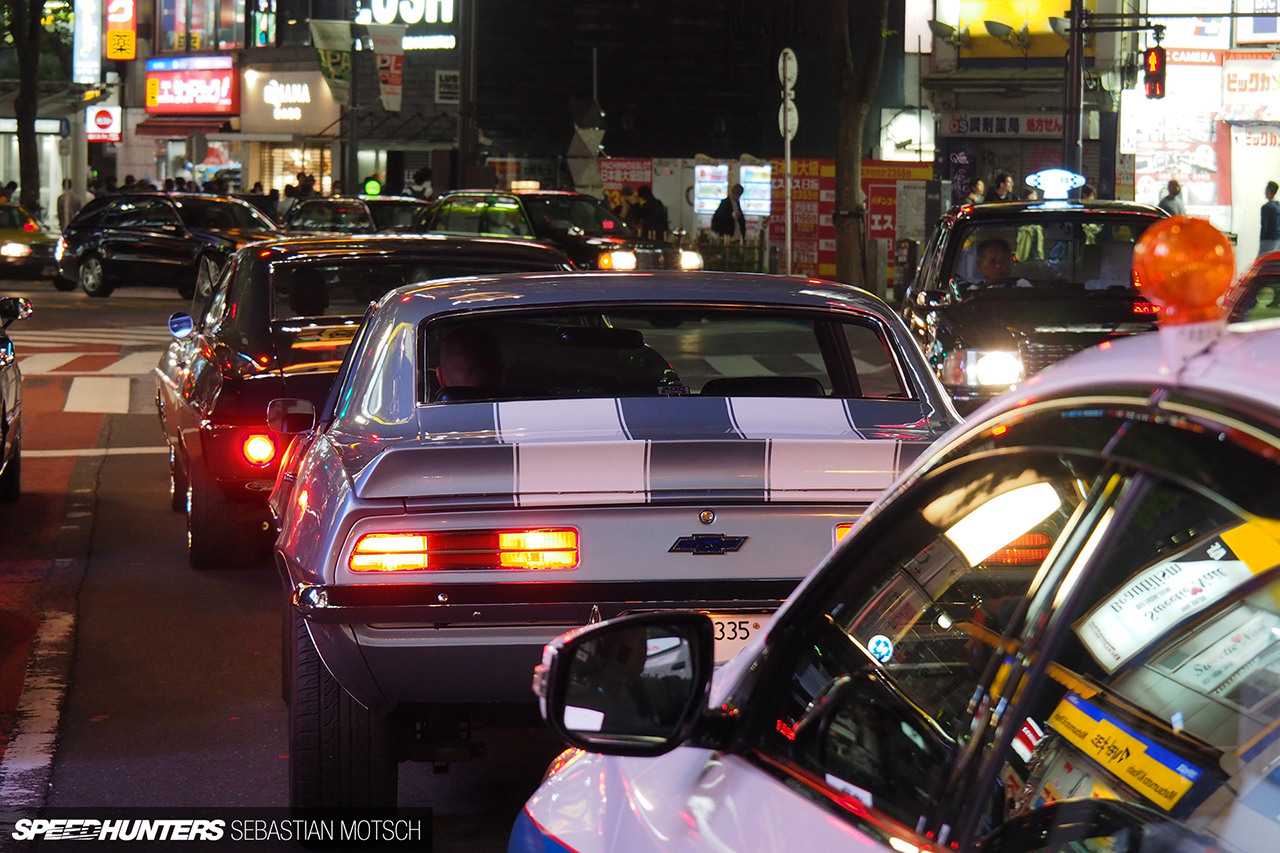 A few blocks down the road the sounds advertised by the shoe salesman are audible, immediately evoking memories of another continent. I smile from ear to ear, because the scene is so surreal. In between the typical Tokyo taxis, dozens of shiny American cars cruise with burbling exhausts.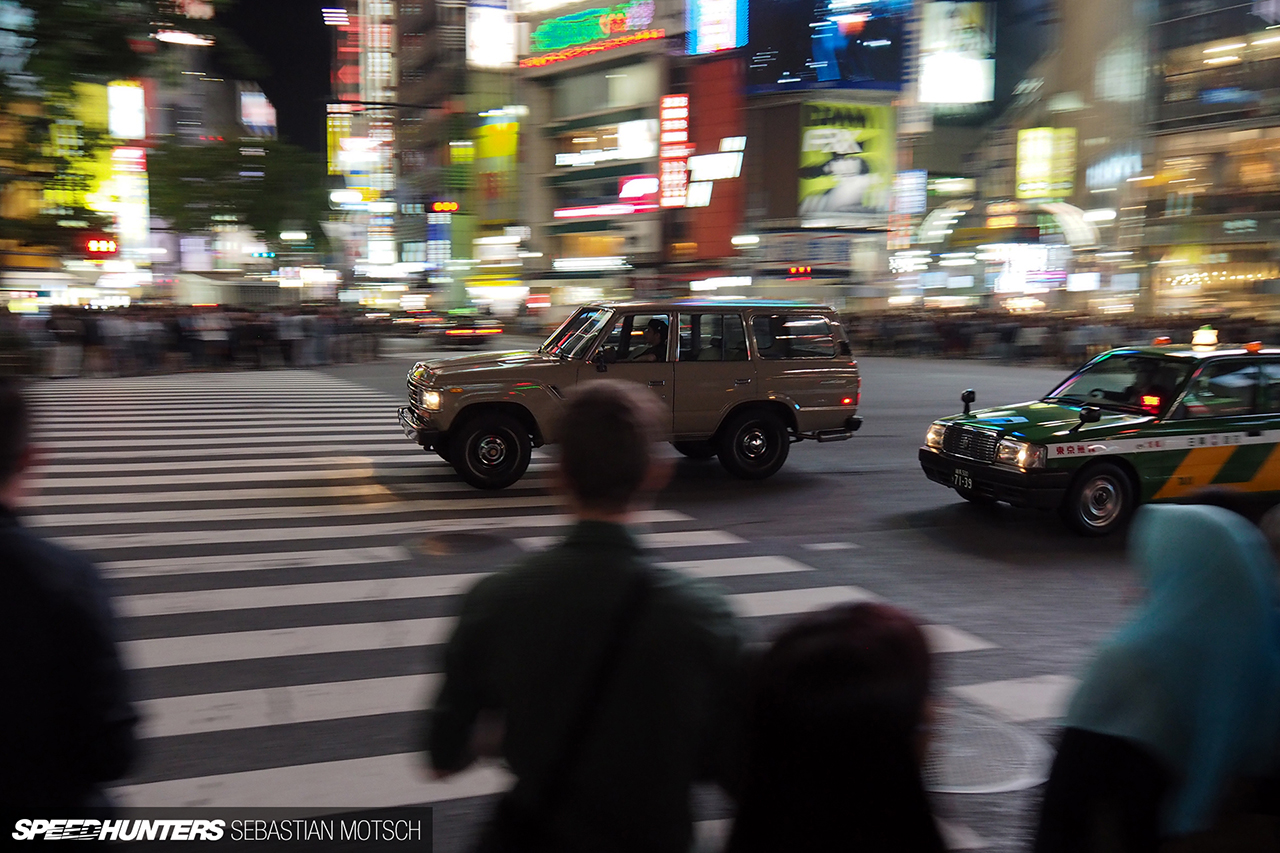 A weird but wonderful contrast that accompanies me all the way to the world-famous Shibuya intersection. Upon arrival, I indulge in the unique atmosphere and enjoy watching the nocturnal hustle and bustle with a glass of matcha and rest the tired legs.
The subway suspends service at night and because my budget doesn't allow for a cab ride, I walk back to the tiny house and fall asleep fully dressed.
---
Sebastian Motsch
sebastianmotsch.com | Instagram drivebysnapshots
[This story was published on Speedhunters.com in September 2019.]