photoshop
Nissan Pathfinder / Terrano Turbo
BRE inspired livery | Volk Rays TE37 | BMX
---
Japanese Nostalgic Cars recent article about the resto-modded Acura SLX triggered all the right feelings. Classic body-on-frame 4×4 design, modern suspension and drivetrain plus all the amenities not available back in the days. A surefire recipe to get me interested. When JNC posed their question about the reader's resomod SUV ideas, I booted photoshop and began dreaming. What I eventually came up with, is a more or less timeless Nissan Terrano WD21 with a lift kit and six-lug, off-road spec Volk Rays TE37 wheels, finished in gold and shod with Toyo tires. Most viewers will have recognized the color scheme of the livery instantly, but it has a twist to it. The colors from the famous \\ BRE \\ design have been inverted and instead of two stripes, there are three. Both Datsun 240Z and 510 Coupé had two side windows, so I decided to mimic the 4×4's three windows in the livery design. Custom bumpers and a roof rack with a bicycle finish off the look.

Suzuki Swift / Cultus / GEO Metro
Just for fun | Not likely anybody would actually do this
---
A couple of weeks ago I found this cheerful press photo of a USDM Geo Metro LSi (aka Suzuki Swift or Suzuki Cultus) and instantly knew I wanted to photoshop it. A quick just-for-fun project. Lower it, chose a set of interesting wheels, clean up some areas on the body and add a front spoiler – done. Fun was had and it was finished rather quickly. If you don't like the car, look at the driver instead and get hit with those 1990's memory flashback vibes.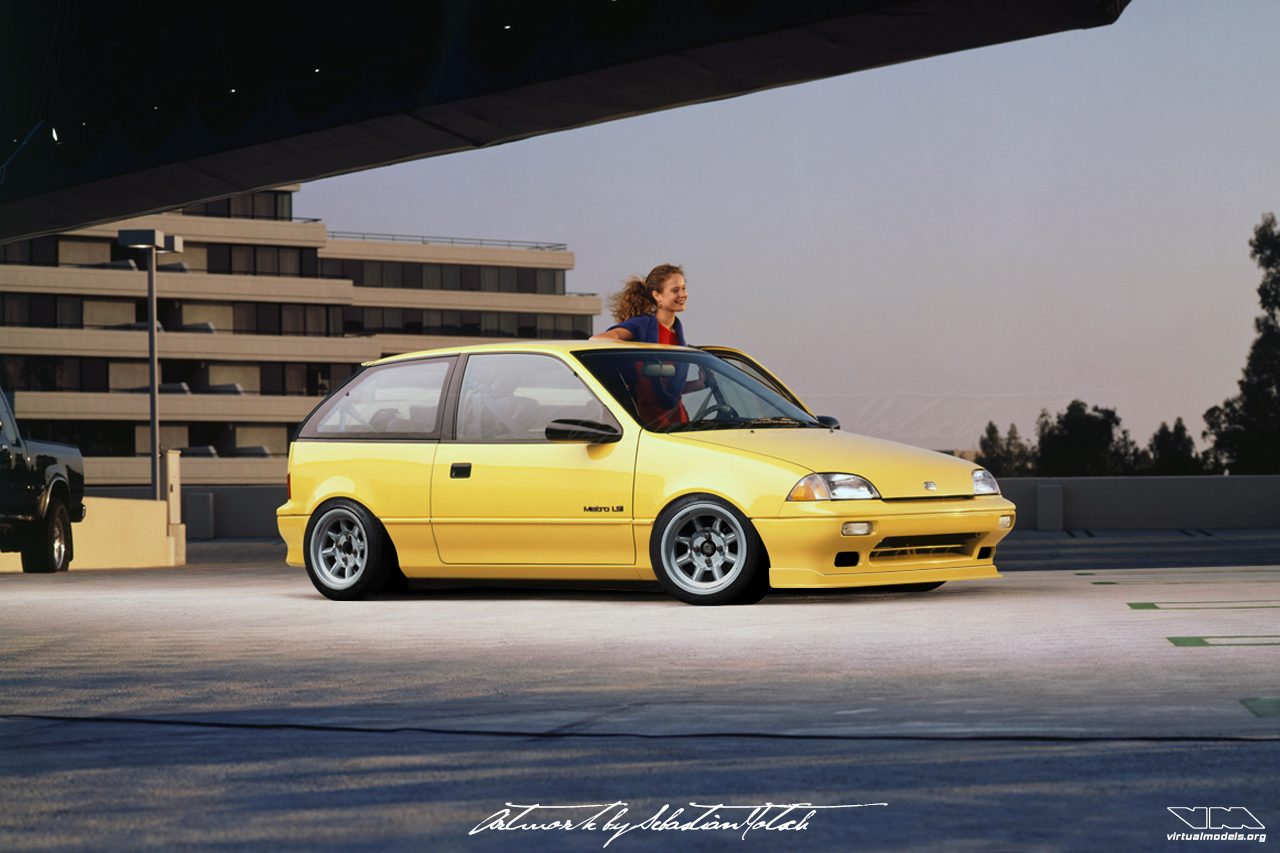 Cadillac Seville SLS Northstar V8 | HRE Wheels
2019.11 | Photoshop Chop | Northstar V8
---
Read More

»

Jaguar F-Type Group 44 | GT4-spec
---
Ask any of my friends and they will tell you that I don't like green cars. At all. However, to every rule there is an exception and in my case, the exceptions are the (predominantly white) Group 44 cars with their two-tone green liveries sponsored by Quaker State.
Read More

»

Citroën CX 22 TRS
2019.08 | Photoshop Chop | Tuning
---
Growing up at the French border gave me the opportunity to enjoy the weird and quirky French cars. At a very young age, I was fascinated by the sheer elegance of the big Citroën cars parked in the lowest position of the hydropneumatic suspension. Seeing them sink into or rise from their "sleep" position always was the icing on the cake and put a smile on my face. These days now, air suspension setups are the norm, but for me it will always be a reminder of days long gone, when the French engineers' ingeniuity and driving comfort was more important than the bean counters interference in vehicle development. This photoshop depicts a dream of my younger self: being able to actually drive the Citroën CX in the low position and fit larger multipiece wheels. Ça c'est une voiture très belle.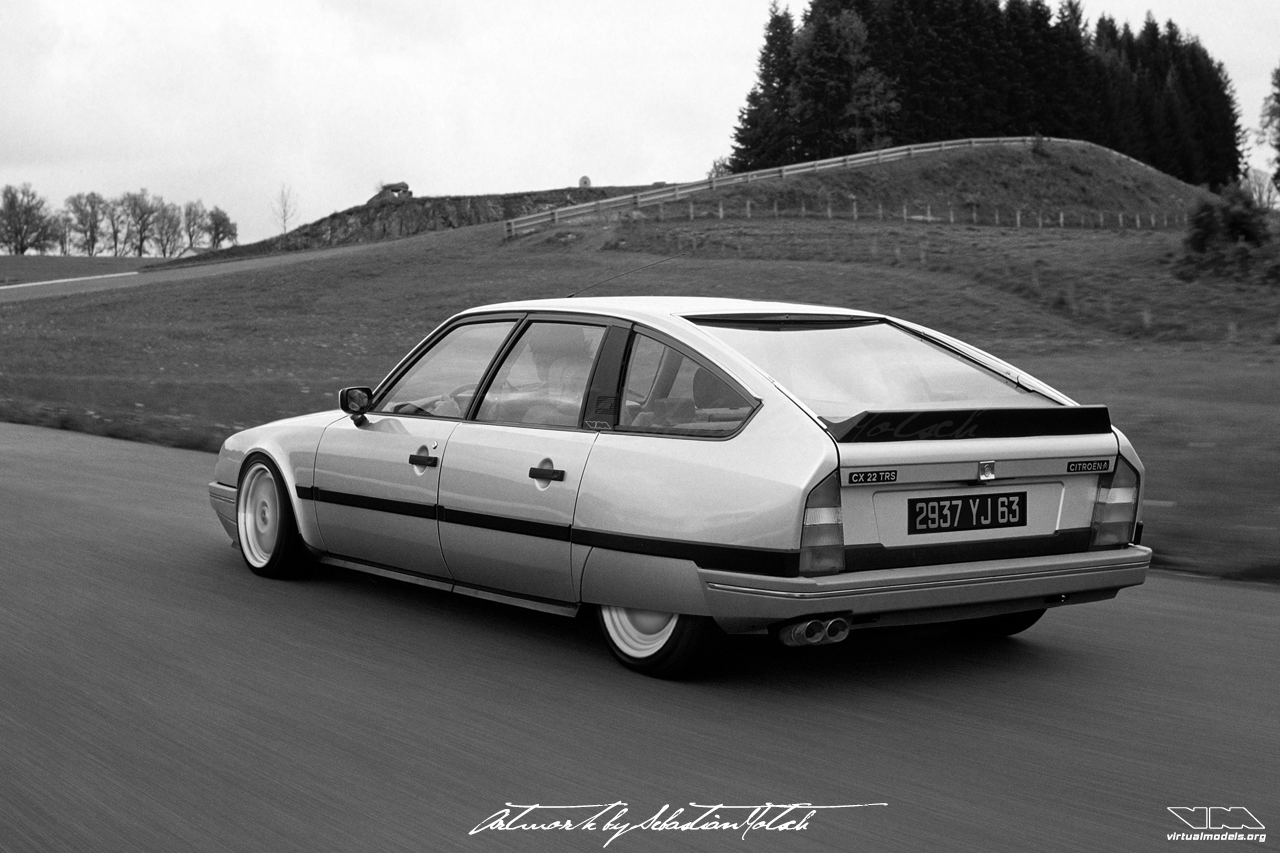 Click here to see the original picture.

Jaguar E-Type Zero
2019.08 | Photoshop Chop | Electric Vehicle
---
Yes, there is something missing in this picture. No, I didn't photoshop it out. This Jaguar E-Type doesn't have exhaust pipes because it has an electric drivetrain. Jaguar unveiled a modern revival of the E-Type roadster with an all-electric, zero-emission powertrain in 2017. The vehicle is called the E-Type Zero and has a 40 kWh battery-powered electric motor. It can accelerate to 60 mph in 5.5 seconds and has a range of 168 miles (270km) on a full charge. The battery pack is designed to fit in the space occupied by the original six-cylinder motor without any modifications, and will fit in any model Jaguar using the same motor. The single-speed transmission replaces the original gearbox. In August 2018, Jaguar confirmed it will offer all-electric E-Types for sale starting in summer 2020. You can order yours now. To wet your appetite, I lowered the E-Type for an improved stance and fitted a more contemporary wheel and tire combination.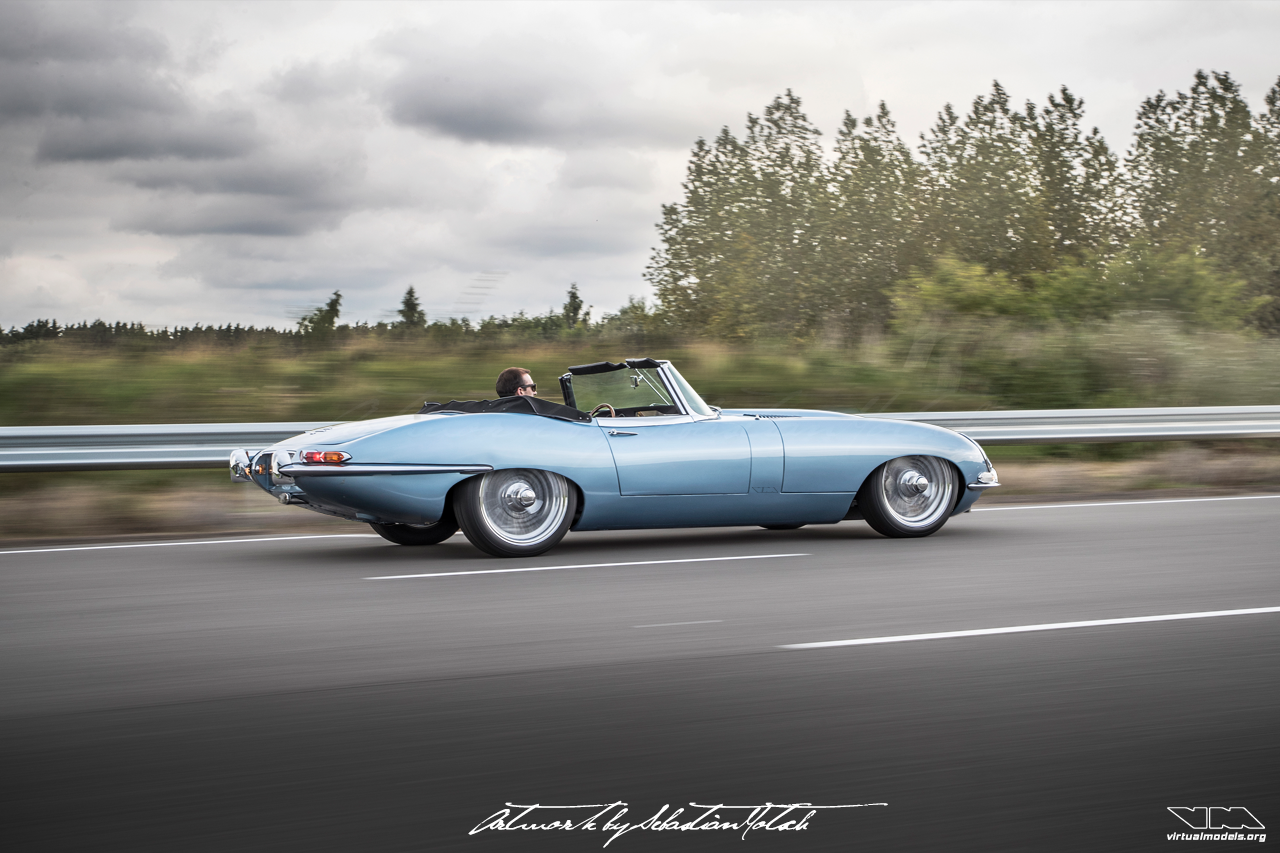 Opel Rekord C Delivery Van
2019.08 | Photoshop Chop | Retro Vibes
---
It is not often that I use an old black and white picture as a base for a photoshop chop. But sometimes I stumble upon a picture and immediately know what to do with it. Subtle, clean and simple, but with great impact was the idea this time around. The Opel Rekord C delivery van (Lieferwagen) has been lowered, the rear fenders have been widened and the grille has been modified. This gives it a muscle-car-like look and certainly more presence, doesn't it? Just the right amount of lowering to give it a proper stance adds to the presence. Larger diameter and wider steel wheels with dog dish hubcaps go well with the classic overall look and keep the retro vibes.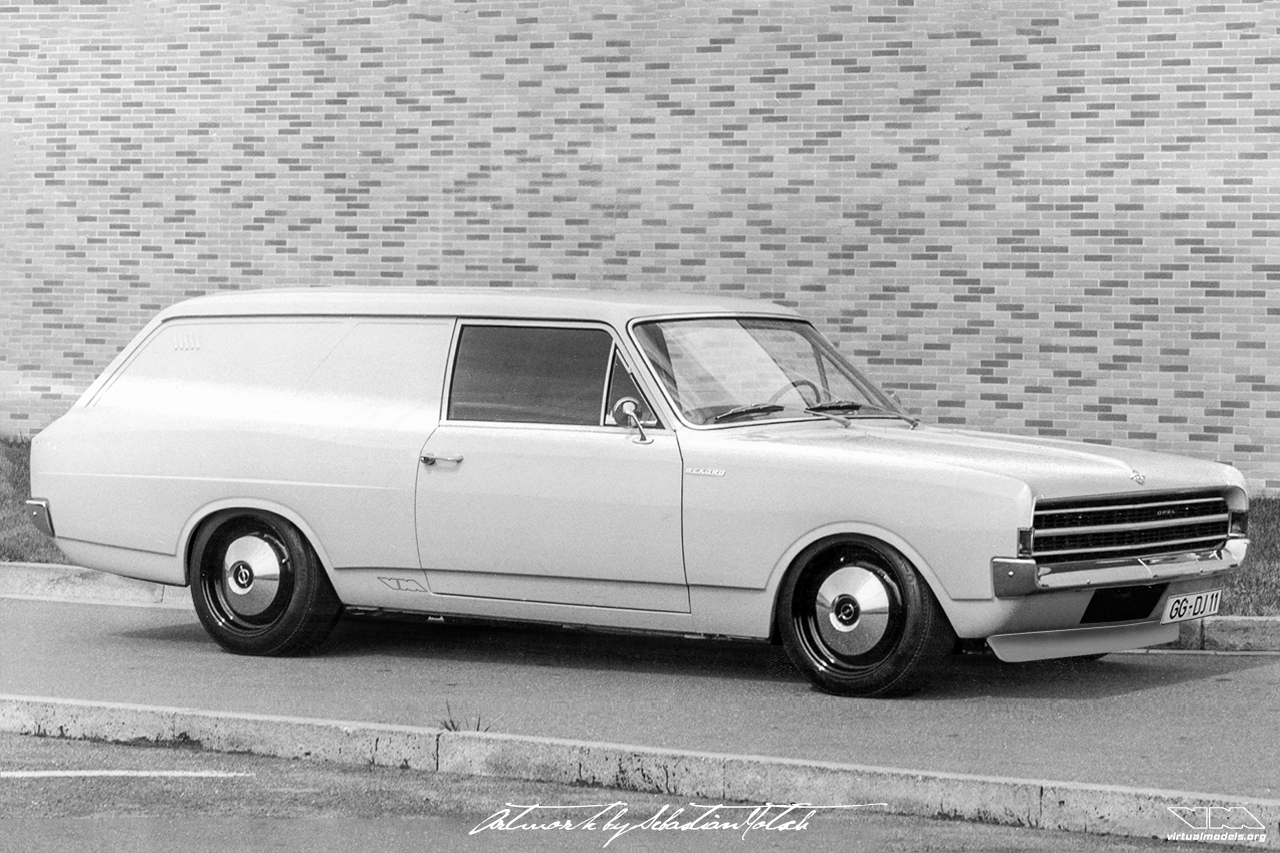 SAAB 900 Turbo Cabriolet | Bōsōzoku Style
Read More

»

Mercedes-Benz C107 450 SLC with Custom Top Chop
2019.07 | Photoshop Chop | Nice Matin
---
When I found the original picture of this Mercedes-Benz C107 450 SLC parked in front of the Nice Matin building, I fell in love with it immediately. The color hues and saturation just scream late 70's / early 80's!
Read More

»

BMW 2002 ti Garmisch Concept
2019.07 | Photoshop Chop | Concept Car
---
The BMW 2002 ti was a proposal designed by Marcello Gandini and built by Bertone. It was displayed at the 1970 Salon d'Automobile in Geneva and disappeared after the show ended, never to be seen again.
Read More

»

Porsche 928 LSR Shooting Break | Bonneville Land Speed Record
2019.06 | Photoshop Chop | Land Speed Record
---
The Porsche 928 is a grand tourer by definition and was never intended to be used for motorsports. Covering long distances at high speeds is what this vehicle feels most comfortable at.
Read More

»

1938 Sparks-Thorne Little Six racecar with six wheels [Tyrell P34]
2019.04 | Photoshop Chop | Retro Vibes
---
The first Tamiya catalogue I had as an aspiring young scale modeler, featured a Tyrell P34 Formula 1 racecar with six wheels on the cover page. Needless to say that I was fascinated by the weird looks. Back then at the age of nine and with easy access to information on the internet decades away, I didn't know why they came up with the idea of adding an axle. I just loved it because it was quirky and stood out from the other F1 cars of the time.
Read More

»

Bentley Continental SC Sedanca Coupé
2019.04 | Photoshop Chop | Bespoke Body
---
Tastefully modifying the Bentley S1 Continental by Mulliner was very rewarding and I wanted to create a more modern customized Bentley in a similar style.
Read More

»

Range Rover Mk1 2-Door | Delivery Vehicle
2011-11 | Photoshop Chops | Range Rover | Featured in MotorPunk Magazine Issue 4 2019

---
Let's imagine you own a company operating in the express delivery business. If somebody orders e.g. car parts, your company usually delivers the parts with a van or truck. But what if you need to deliver something in a more remote area standard delivery vehicles can't access?
Read More

»