BMW

BMW Neue Klasse 2800 TiSa
Happy New Year to everybody! Ein Frohes Neues Jahr!
Neues Jahr – Neue Klasse. The BMW Neue Klasse was the foundation on which the legendary BMW 02 and E21 series were built. In the last year, it seemed like every man and his dog customized an 02 or E21. Many of these projects are cool and built to a high standard with excellent finish. A friend asked me if I could photoshop one, but as I had already created the 2002 4-door Touring, 2002 Panel Van and a motorsports orientated V8-swapped E21, I thought the time had come to create something entirely different. There might be some stunning Neue Klasse builds somewhere out there, but I'm not aware of any – and most certainly none that is modified to such an extent.
Wilhelm Hofmeister penned the elegant lines of the body and Giovanni Michelotti consulted to BMW only on some details. I wanted to keep these lines and the overall shape, but give the whole car a more meaningful stance and expression. Imagine a tube frame chassis underneath the body, with period-correct Formula 1 style control arms and suspension. The centerlock BBS E50 feature classic turbo fans and are shod with old-school Goood Year slicks. In order to contain them within the width of the body, the fenders have been flared ever so subtly, E30 style. Front and rear bumpers have been deleted not only to save weight, but also to give it that racecar feel. Accentuated by the front and rear spoilers, reminiscent of an E9 CSL coupé, this machine would look gracefully on any track.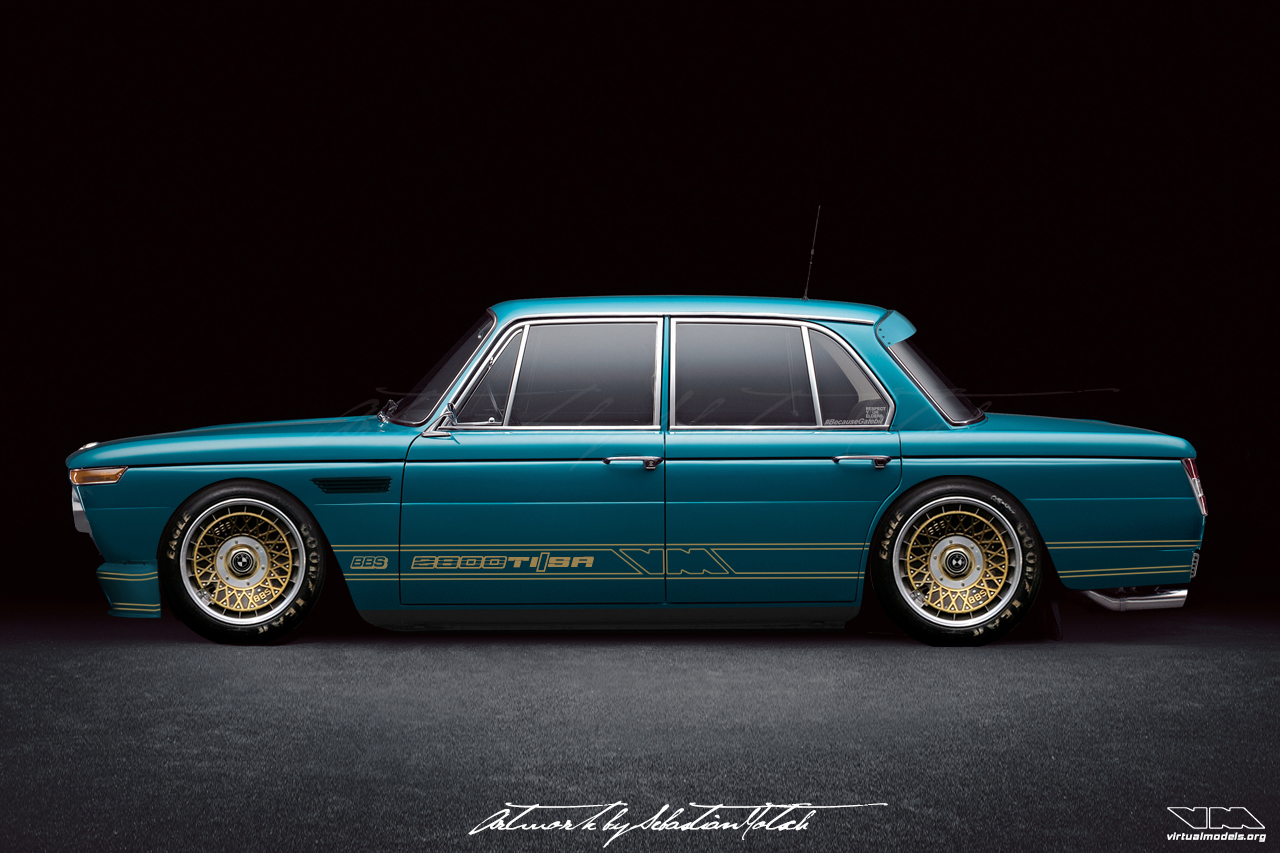 BMW 2002 ti Garmisch Concept
2019.07 | Photoshop Chop | Concept Car
---
The BMW 2002 ti was a proposal designed by Marcello Gandini and built by Bertone. It was displayed at the 1970 Salon d'Automobile in Geneva and disappeared after the show ended, never to be seen again.
Read More

»

BMW Isetta Dragster
It was a successful year for my photoshop blog VirtualModels: I created 44 photoshop chops in 2018. Many thanks to everybody for your support, encouraging words and great ideas for improvements.
I wish all of you a Happy New Year 2019!
Es war ein erfolgreiches Jahr für meinen Photoshop Blog VirtualModels: ich habe in 2018 44 Photoshop Chops angefertigt. Herzlichen Dank an alle für Eure Unterstützung, ermunternde Worte und großartige Verbesserungsvorschläge.
Ich wünsche Euch allen ein Frohes Neues Jahr 2019!
Herzliche Grüße and yours sincerely – Sebastian Motsch
Happy New Year to everybody! Frohes Neues!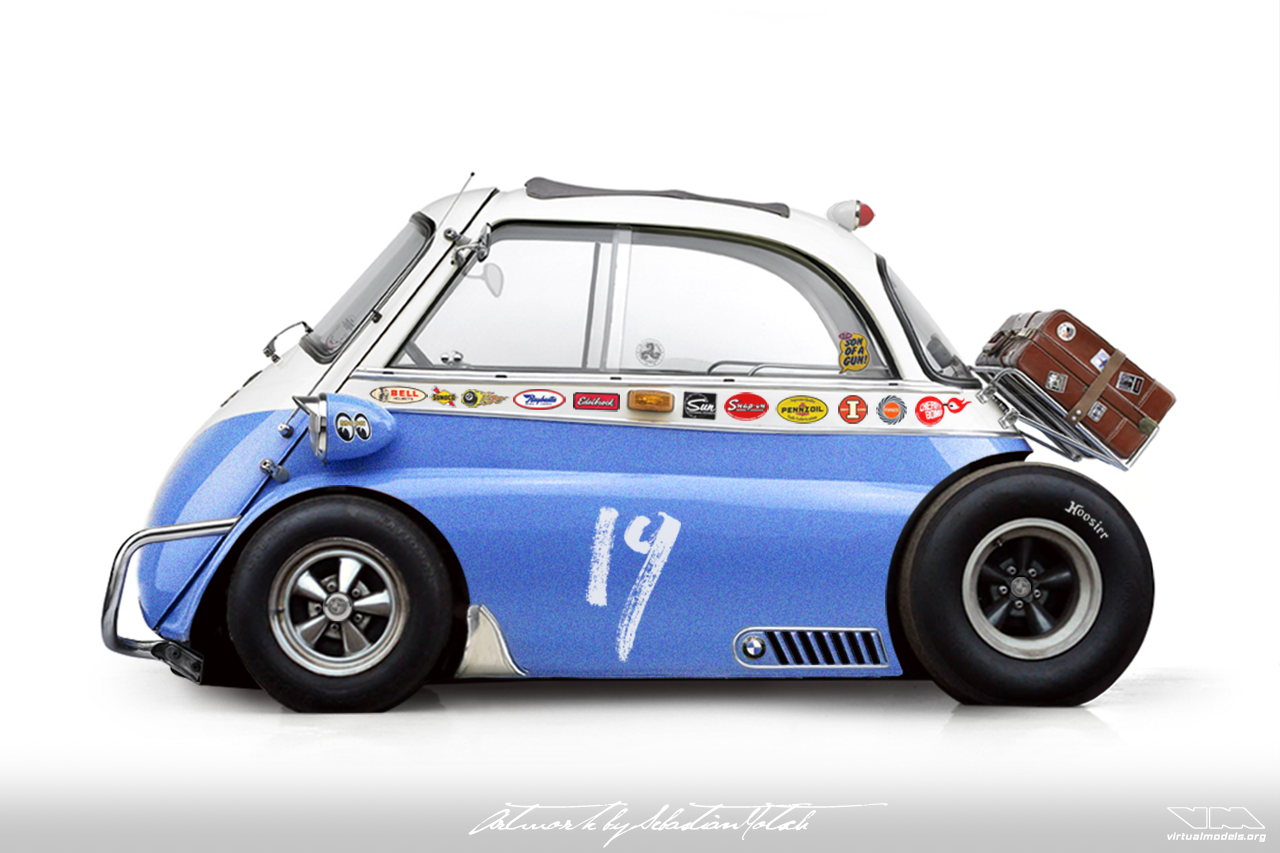 BMW E30 | An important birthday to be celebrated soon
Taking pictures of the diamond black 318is beauties on Sunday reminded me of something. A couple of weeks ago, while looking for Drive-by Snapshots in Strasbourg, I found an almost immaculate BMW E30 324d in an industrial area. The sign on the roof pointed to a used car dealership I would have otherwise missed. The silver car was for sale, but an old diesel isn't really desirable to own in Germany due to high taxes… unless it is 30+ years old. Well this particular birthday will be celebrated in the not too distant future.
Read More

»

Road Trip | Switzerland 2013
Meiringen >> Sustenpass >> Furkapass >> Grimselpass >> Innertkirchen

---
Sustenpass
Furkapass
Grimselpass

BMW M1 Hommage | Impressions
Read More

»

The BMW Museum in Munich is utterly beautiful after it has been rebuilt and reopened in 2008. The way the cars are displayed is exquisite. They glow like jewels, each one being highlighted perfectly. Visiting the museum on a Saturday just before Christmas gave me almost perfect conditions for taking pictures – there was hardly anybody around. Would I go back there? Definitely yes, I can highly recommend this place to anyone interested in cars.
Read More

»

When I found the original picture, I instantly decided that it deserved a nicer background. The 70's color of this BMW E12 5-Series really stands out – and the shadow line conversion adds to it. Not much else was done, I just added a couple of period correct alloy wheels and lowered it.

German Cars in France
Lost Places | Rust in Peace
---
If you have read the story about the star on a reasonably priced car, you already know how I found a field full of faded treasures in rural southern France. You might also have spotted a blue BMW E28 5-Series in the background. This one seemed to be in good shape. Gotta love those yellow fog lights 🙂
Read More

»

Lost places | Biarritz, Château d'Ilbarritz
Lost Places | Rust in Peace
---
Biarritz, France. A beautiful sunny and warm day in spring. I was driving around randomly, looking for interesting things to take pictures of. Finding the old Château d'Ilbarritz by chance, I hiked up the hill to have a closer look. Quite an impressive building, overlooking the Atlantic Ocean and the Biarritz Golf Course. Peeking over the fence was rewarded by a nice surprise: two classic cars enjoying the early summer sunshine, completely undisturbed. An 02-Series BMW and a Renault R4, both early models with more chrome trim than the later models.
Read More

»