classic

BMW Neue Klasse 2800 TiSa
Happy New Year to everybody! Ein Frohes Neues Jahr!
Neues Jahr – Neue Klasse. The BMW Neue Klasse was the foundation on which the legendary BMW 02 and E21 series were built. In the last year, it seemed like every man and his dog customized an 02 or E21. Many of these projects are cool and built to a high standard with excellent finish. A friend asked me if I could photoshop one, but as I had already created the 2002 4-door Touring, 2002 Panel Van and a motorsports orientated V8-swapped E21, I thought the time had come to create something entirely different. There might be some stunning Neue Klasse builds somewhere out there, but I'm not aware of any – and most certainly none that is modified to such an extent.
Wilhelm Hofmeister penned the elegant lines of the body and Giovanni Michelotti consulted to BMW only on some details. I wanted to keep these lines and the overall shape, but give the whole car a more meaningful stance and expression. Imagine a tube frame chassis underneath the body, with period-correct Formula 1 style control arms and suspension. The centerlock BBS E50 feature classic turbo fans and are shod with old-school Goood Year slicks. In order to contain them within the width of the body, the fenders have been flared ever so subtly, E30 style. Front and rear bumpers have been deleted not only to save weight, but also to give it that racecar feel. Accentuated by the front and rear spoilers, reminiscent of an E9 CSL coupé, this machine would look gracefully on any track.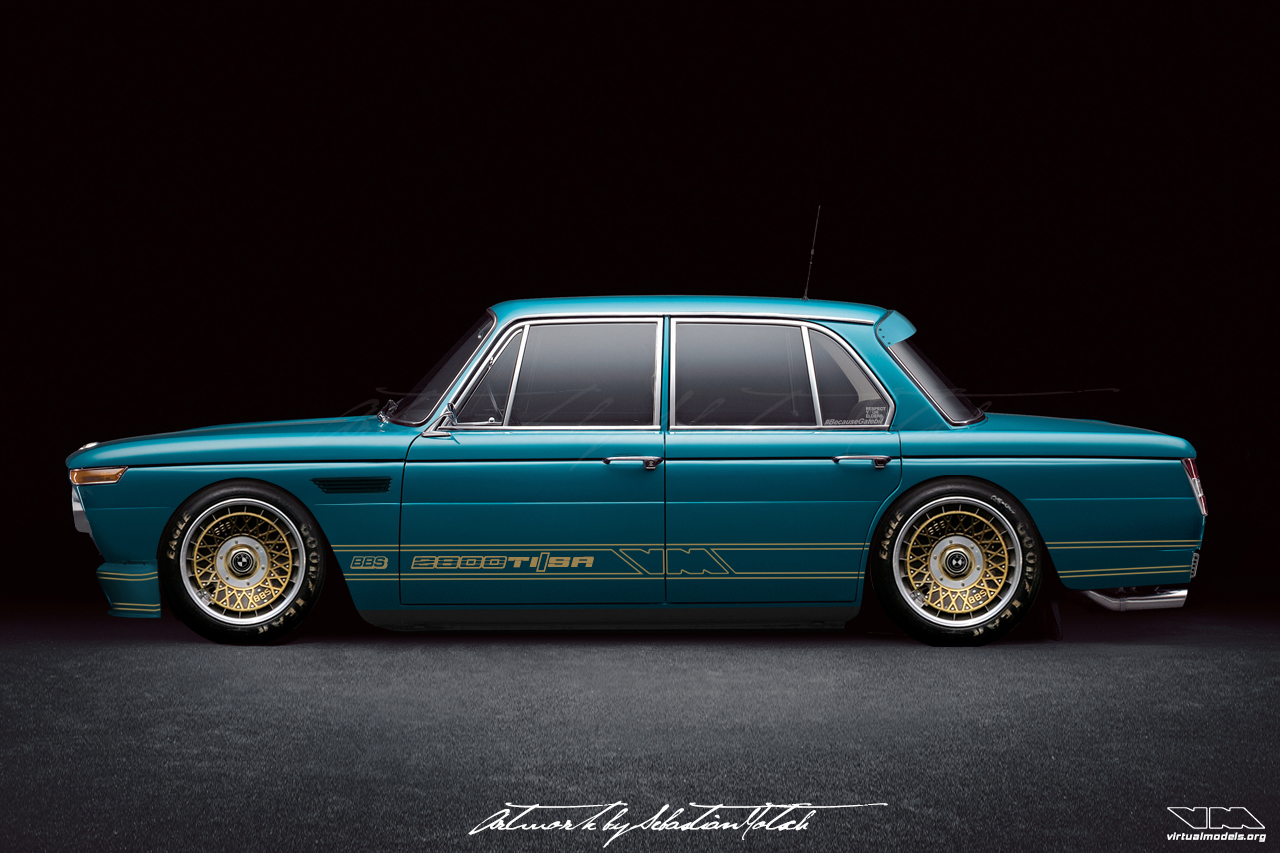 Opel Rekord C Delivery Van
2019.08 | Photoshop Chop | Retro Vibes
---
It is not often that I use an old black and white picture as a base for a photoshop chop. But sometimes I stumble upon a picture and immediately know what to do with it. Subtle, clean and simple, but with great impact was the idea this time around. The Opel Rekord C delivery van (Lieferwagen) has been lowered, the rear fenders have been widened and the grille has been modified. This gives it a muscle-car-like look and certainly more presence, doesn't it? Just the right amount of lowering to give it a proper stance adds to the presence. Larger diameter and wider steel wheels with dog dish hubcaps go well with the classic overall look and keep the retro vibes.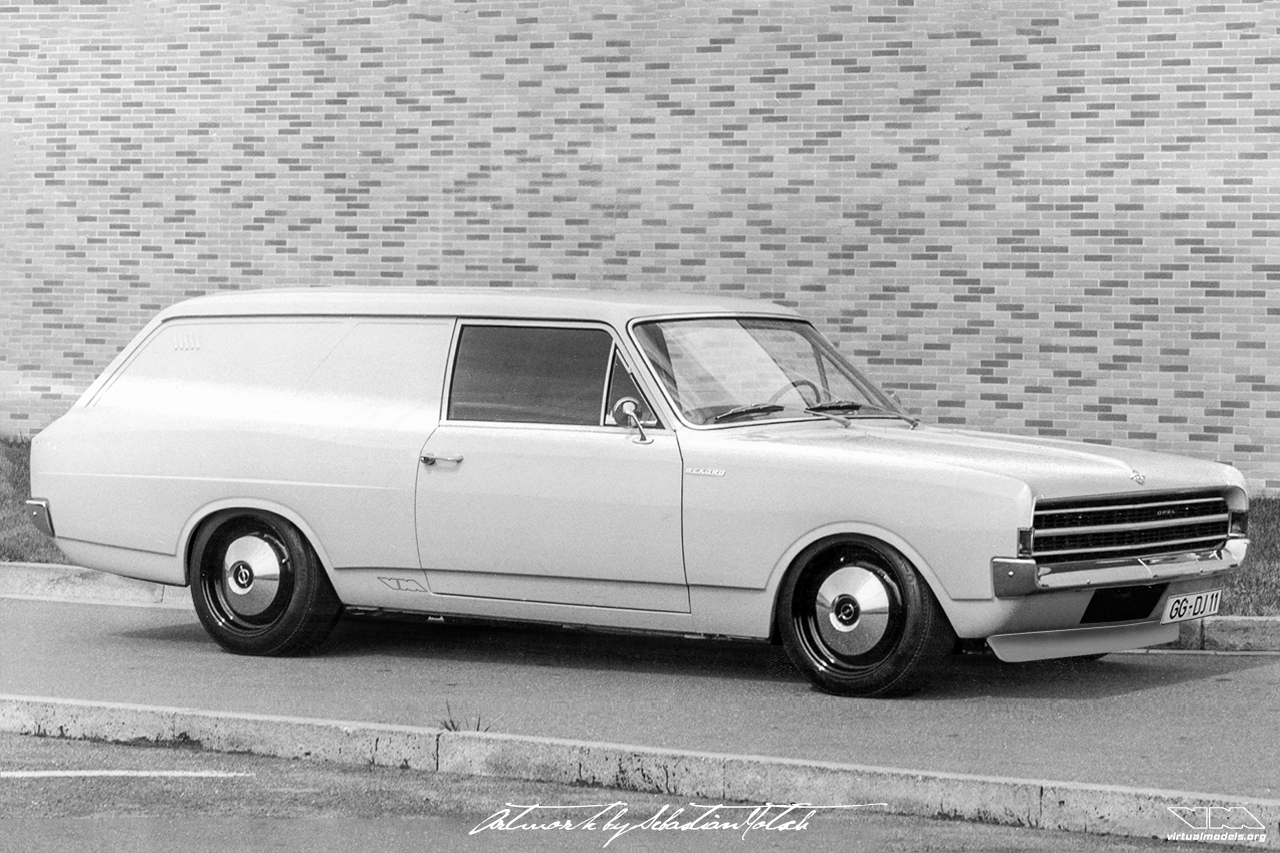 Ferrari 330 GT 2+2 Interim
The Ferrari 330 GT 2+2 Interim is a super rare car and nobody in his right mind would modify this Pininfarina styled beauty. Mind you – I wouldn't do this to a real vehicle either, but pixels never complain.
Read More

»

NSU Ro 80 Custom
Most articles ever written about the NSU Ro 80 focused on the technical side, mainly the futuristic rotary engine designed by Felix Wankel. The design pinned by Claus Luthe was also praised for being ahead of the game, too – back in the time when the car was new. When I was a young boy, frequently riding shotgun in our neighbors' lime green metallic Ro 80 in the 1980's, it was just an old and somewhat anachronistic car. Always maintained by the (ex-) NSU dealership, the car was in great shape and absolutely spotless, but in my eyes it lacked something I could never really pinpoint back then. Now, three decades later, I know what it was: presence – or rather the lack thereof. The upright greenhouse with the slim pillars and chrome trim, the narrow track and the huge ground clearance made the still modern looking shape of the body feel aged.
In this photoshop chop, I adressed the above points and as a result the car has a lot more presence. Most obviously the ride height has been altered and the track widened. Apart from that I fixed the greenhouse by performing a top chop and modifying the rake of all pillars. To tie in the design of the pre-facelift taillights with the widened track, they have been modified as well instead of opting for the ugly facelift parts.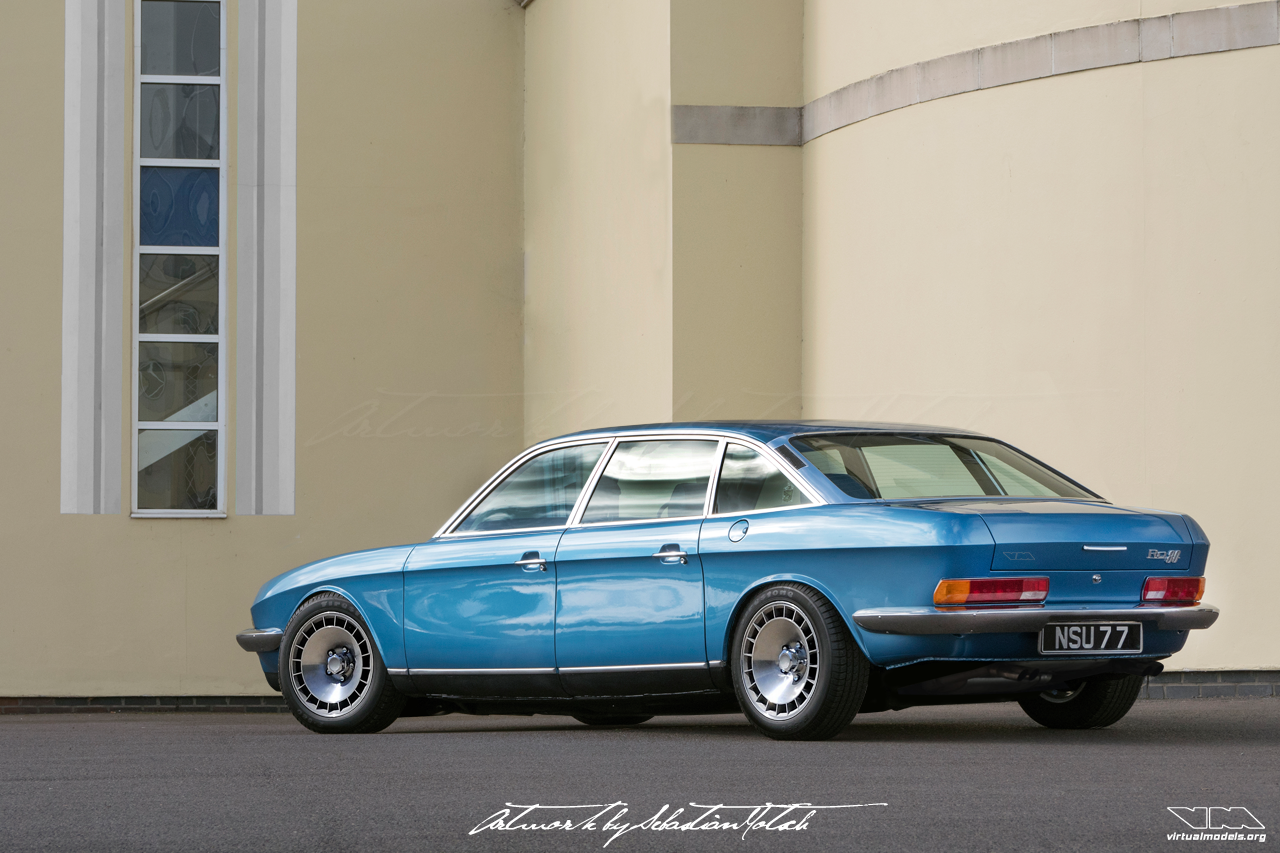 Renault R4 | Nancy, France
Spontan sind wir dieses Jahr an Ostern über die Grenze nach Nancy gefahren und haben das Auto in einem leicht patinierten Parkhaus abgestellt. Der Weg zum Ausgang führt uns quer über das Parkdeck. Wir unterhalten uns über einen der ersten Besuche meiner Eltern in unserem wunderschönen Nachbarland. Jahrzehnte ist dieser Ausflug her und ich stelle mir vor, wie es in dem damals neuen Parkhaus ausgesehen haben mag. Anstelle von silbernen, schwarzen und weißen Einheitsfahrzeugen parkten hier damals Autos in allen möglichen Formen und Farben ― je bunter desto besser.
Read More

»

Peugeot 504 Break USDM-spec | Early morning surprise
If you are a frequent reader of this blog, you might remember seeing a glimpse or two of this Peugeot 504 Break in the post about the Winnebago LeSharo. Even the EU-spec vehicles are kind of hard to find in good condition these days, because many of them have been exported to northern African countries years ago, to be used (and abused) as taxi cabs. Finding this US-spec model on an early morning was a nice and unexpected surprise. No visible rust on this extremely rare car, but very lovely patina. If cars could talk, this one would definitely be able to tell some interesting stories about the adventures of a long life on at least two different continents…
Read More

»

Range Rover Mk1 2-Door | Delivery Vehicle
2011-11 | Photoshop Chops | Range Rover | Featured in MotorPunk Magazine Issue 4 2019

---
Let's imagine you own a company operating in the express delivery business. If somebody orders e.g. car parts, your company usually delivers the parts with a van or truck. But what if you need to deliver something in a more remote area standard delivery vehicles can't access?
Read More

»

Classic Mack Truck and a fleet of Volvos
A late afternoon in September 2009. The low sun provided a special light to the French landscape and the sky was filled with heavy clouds. We were driving along the Route Nationale 21 between Périgeux and Limoges, as the first lightning of a nearing thunderstorm stroke.
Read More

»