widebody

BMW Neue Klasse 2800 TiSa
Happy New Year to everybody! Ein Frohes Neues Jahr!
Neues Jahr – Neue Klasse. The BMW Neue Klasse was the foundation on which the legendary BMW 02 and E21 series were built. In the last year, it seemed like every man and his dog customized an 02 or E21. Many of these projects are cool and built to a high standard with excellent finish. A friend asked me if I could photoshop one, but as I had already created the 2002 4-door Touring, 2002 Panel Van and a motorsports orientated V8-swapped E21, I thought the time had come to create something entirely different. There might be some stunning Neue Klasse builds somewhere out there, but I'm not aware of any – and most certainly none that is modified to such an extent.
Wilhelm Hofmeister penned the elegant lines of the body and Giovanni Michelotti consulted to BMW only on some details. I wanted to keep these lines and the overall shape, but give the whole car a more meaningful stance and expression. Imagine a tube frame chassis underneath the body, with period-correct Formula 1 style control arms and suspension. The centerlock BBS E50 feature classic turbo fans and are shod with old-school Goood Year slicks. In order to contain them within the width of the body, the fenders have been flared ever so subtly, E30 style. Front and rear bumpers have been deleted not only to save weight, but also to give it that racecar feel. Accentuated by the front and rear spoilers, reminiscent of an E9 CSL coupé, this machine would look gracefully on any track.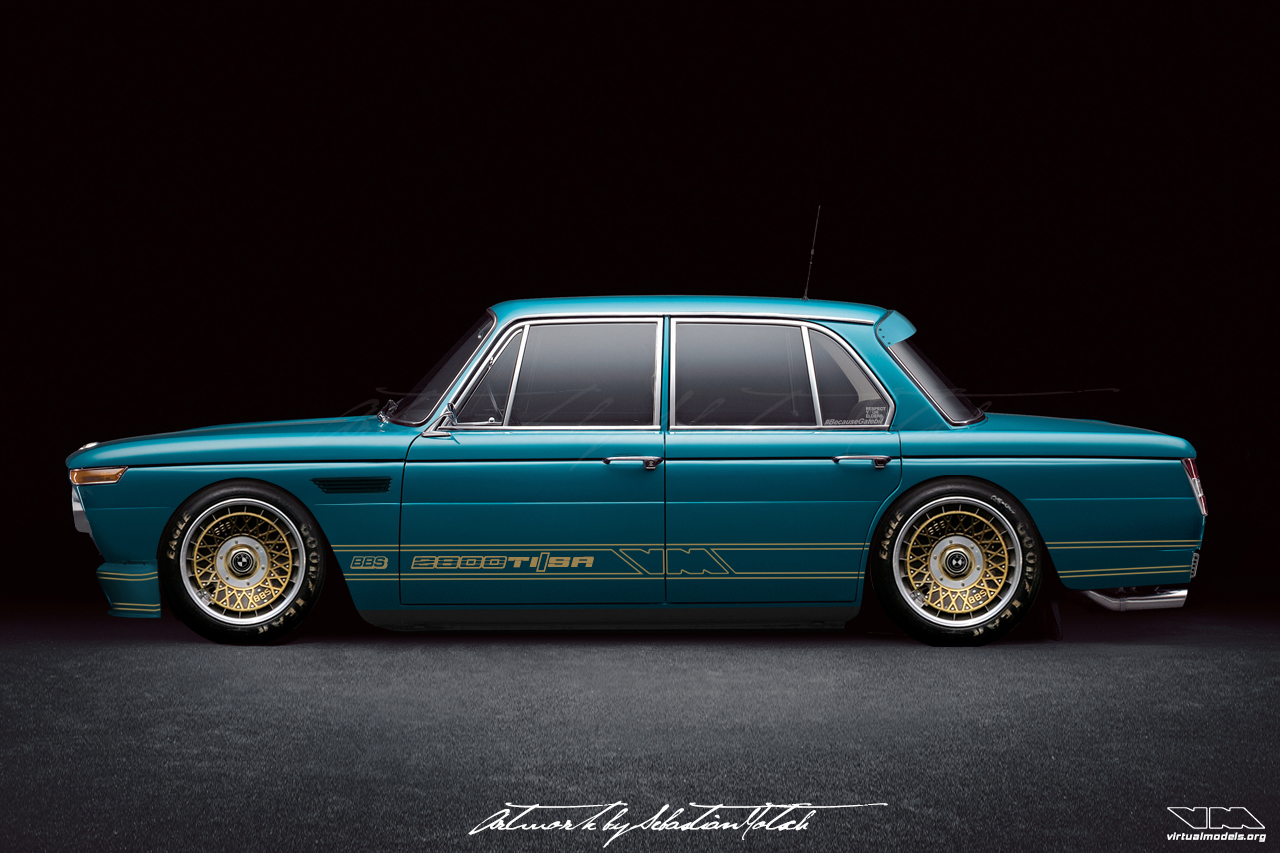 SAAB 900 Turbo Cabriolet | Bōsōzoku Style
Read More

»

Bentley Continental SC Sedanca Coupé
2019.04 | Photoshop Chop | Bespoke Body
---
Tastefully modifying the Bentley S1 Continental by Mulliner was very rewarding and I wanted to create a more modern customized Bentley in a similar style.
Read More

»

SAAB Sonett III Race Car
Creating the Sonett I Roadster and the Sonett II Club Racer was tremendous fun and I wanted to add a SAAB Sonett III the collection. Looking at the Sonett III pictures on my hard drive for many months, I struggled to come up with an idea for the conversion. The inspiration finally hit when I found a picture of an old Indy car. Why not convert the Sergio Coggiola and Gunnar A. Sjögren designed four cylinder "sportscar" into a beast with a compact V8? I set to work and came up with the idea of relocating the wheel arches in order to fit some mighty race car rubber under the widened fiberglass body while lowering the overall height. To increase strength, the quarter windows behind the doors have been eliminated and filled in. The rear fenders are re-sculpted and flow into the ducktail spoiler, providing much needed downforce along with the front spoiler. I really like the 1970's chrome accents on the otherwise more 80's looking body and kept most of them. The paint scheme is more 70's orientated: the blue and yellow paint scheme resemble the colors of the Swedish flag and the shape of the yellow stripe mimics the silhouette of a classic glider plane, to add the aeronautics reference typical for SAAB vehicles.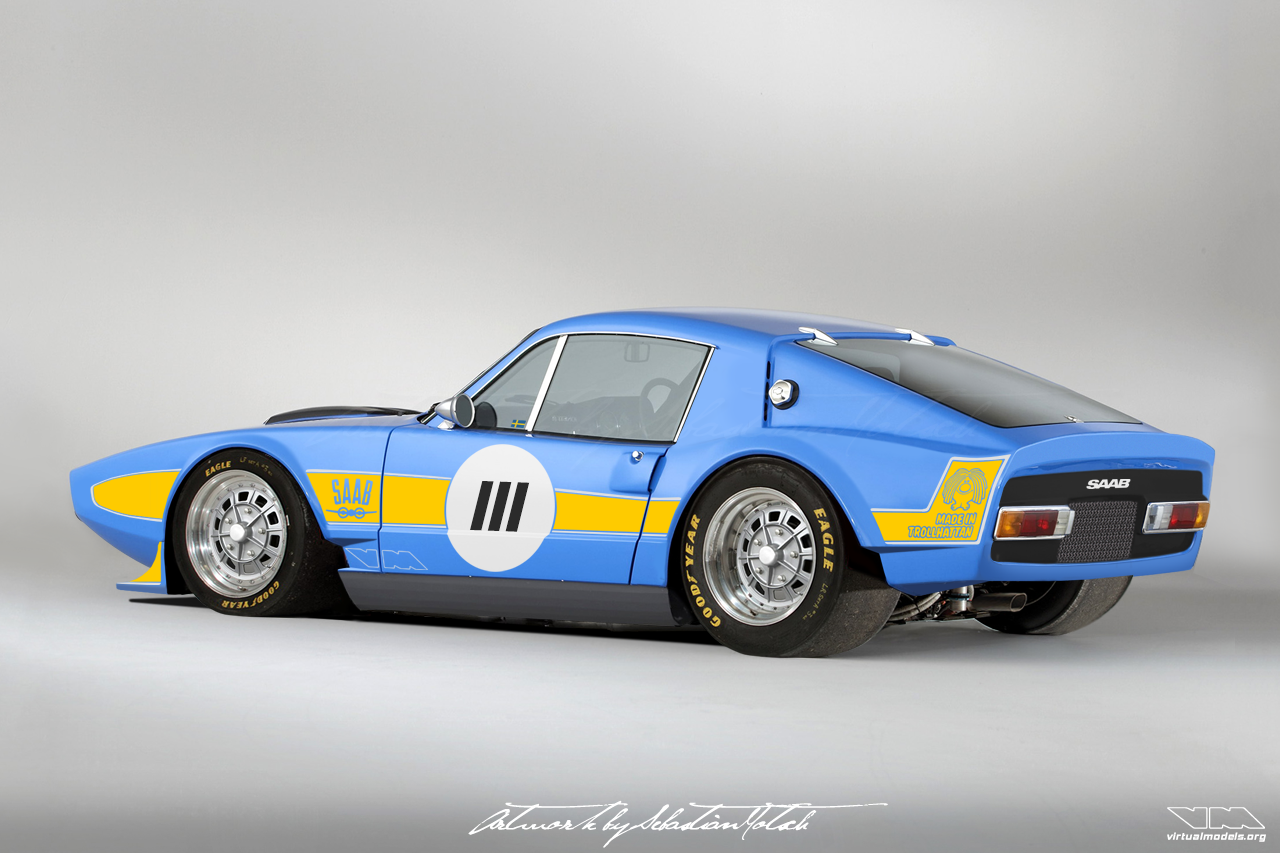 Bugatti EB100 Widebody Conversion
Some may say that bolt-on overfenders and widebody kits are a little played out now and I tend to agree somewhat. However – if applied to a platform that nobody has on the radar, there is still an element of surprise. I always had a love/hate relationship with the Bugatti EB110.
Read More

»

Ferrari 330 GT 2+2 Interim
The Ferrari 330 GT 2+2 Interim is a super rare car and nobody in his right mind would modify this Pininfarina styled beauty. Mind you – I wouldn't do this to a real vehicle either, but pixels never complain.
Read More

»

A good friend of mine recently complained that most of my photoshop chops are side-view only. That is true, because I have more ideas than time and 3/4 view pictures need a lot more time to finish properly than the simpler side-view pictures.
Read More

»
Merry Christmas!
2018 was a successful year for my photoshop blog VirtualModels. Many thanks to everybody for your support, encouraging words and great ideas for improvements.
I wish all of you a Merry Christmas and a Happy New Year!
2018 war ein erfolgreiches Jahr für meinen Photoshop Blog VirtualModels. Herzlichen Dank an alle für Eure Unterstützung, ermunternde Worte und großartige Verbesserungsvorschläge.
Ich wünsche Euch allen Frohe Weihnachten und einen Guten Rutsch ins Neue Jahr!
Herzliche Grüße and yours sincerely – Sebastian Motsch
Merry Christmas to everybody! Frohe Weihnachten!