Japan 2017
10.05.2017 | Travel Photography | Road Trips | Japan
---
Miyako-Jima / Irabu-jima
Irabu Ohashi
Irabu Ohashi connects Miyako-jima to Irabu-jima and is the longest bridge on the islands. A famous spot for sightseeing, as the elevation of the bridge provides nice views of the islands and over the ocean. Cruise ship tourists come here often to take pictures of their ship anchored in the harbor, which explains the abundance of taxi cabs. The light conditions changed every couple of seconds and therefore the pictures look different, depending on which direction they have been shot
Sarahama Port
Saharama is a fishing village, which seemed eerily quiet at the time of our visit. We didn't see anybody around and if it wasn't for the parked cars, one could think this town has been abandoned by people and populated only by a couple of stray dogs.
Funausagibanata Observatory
A very interesting observation tower in shape of a big bird – concrete doesn't have to be ugly. Unfortunatelynot much to see at the day of our visit.
Sawada-no-hama Beach
This beach has very interesting rock formations that stick out of the water at low tide. At high tide, the rocks are a danger to vessels – a shipwreck proves the point.
Looking at the various sign we weren't sure whether or not it would be a good idea to swim here, so we played it safe and didn't try.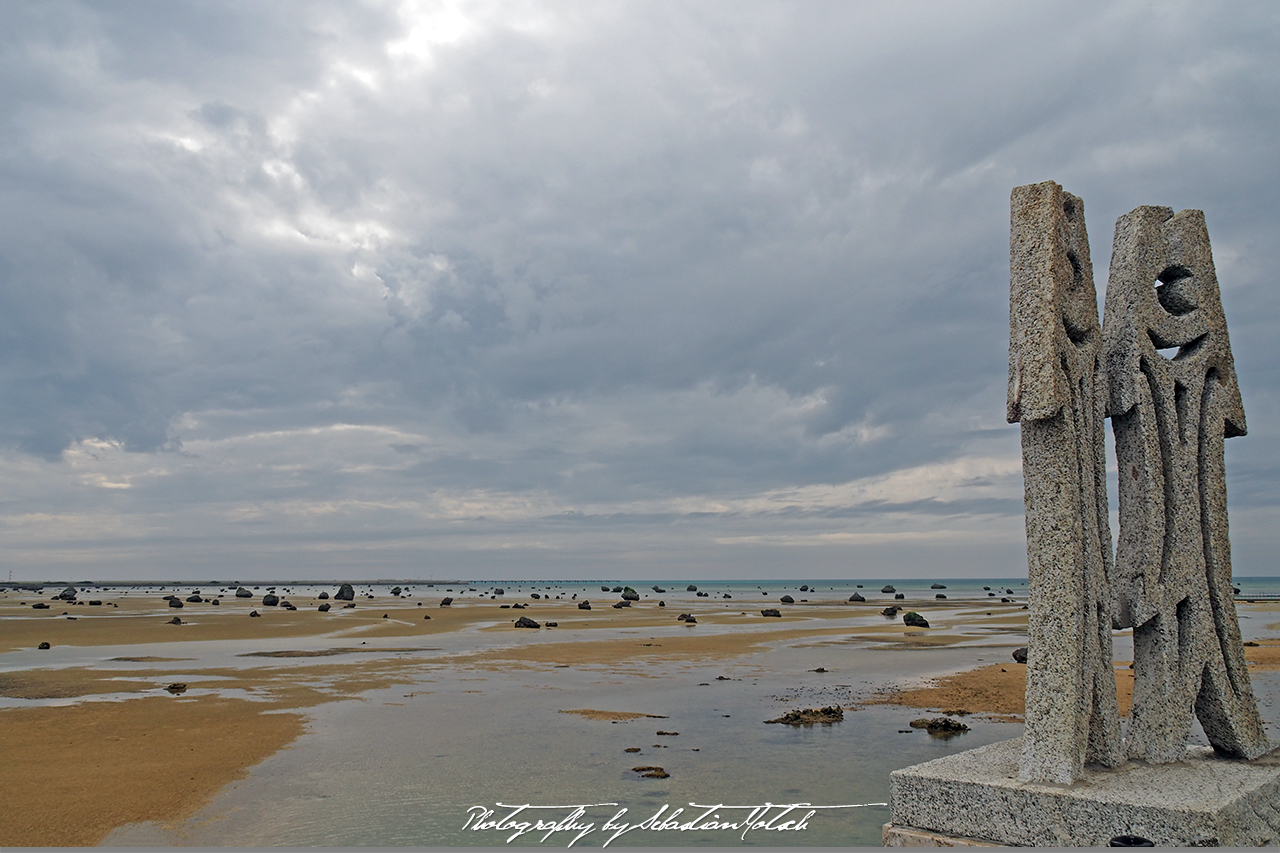 Shimoji-jima Airport
Another strange place on the island. Shimoji-jima airport somehow looks like it's no longer in operation. Some cables are ripped out from the illumination and the Wikipedia article backs up this impression, although it hints at a possible use as a military base in the future. In the past, it featured as a fighter base in the anime series Stratos 4.
I would have never thought somebody would make barbed wire from plastic, but somehow it wasn't a surprise to find this at such a remote place at the coast.
Toguchi-no-hama Beach
The best beaches are always hidden gems like this one. Lovely sand, clean and with clear water. Perfect for an early afternoon swim.
Dinner at Yonaha Maehama Beach
We stopped at a Yakitori Bar near Yonaha Maehama Beach, which we have spotted a couple of days earlier. The local people couldn't believe that people from Germany would frequent their little restaurant at any point in time and one of the guests wanted a picture. Thanks to google translate we had a good laugh together and enjoyed the delicious skewers they served fresh from the grill. 10/10 for quality and 10/10 for hospitality – highly recommended.
Sorry for the bad quality of the pictures, as they've been taken with a shoddy smartphone.
---
Sebastian Motsch | instagram @drivebysnapshots