Lotus Exige 240R GT3 on Hakone Mountain
Japan 2019
19.04.2019 | Automotive Photography | Drive-by Snapshots | Japan | Featured in Chicane Magazine

---
Lotus Exige 240R GT3
Impromptu Photoshoot on Hakone Mountain
An A4 size sheet of paper with two pages of specifications was my first encounter with the not-yet-released Lotus Elise, when I was an apprentice mechanic at a Lotus dealership in Germany. We read the specs in disbelief and thought the power figure must have been a typo. 118 HP? Seriously?
Let's say anticipation wasn't that high and we never really thought about the Elise in the following months, until the first one was unloaded in our yard. It was even smaller than we had figured from the spec sheet. Yellow with a dark green fabric top, dark green leather seats and yellow piping. Oh well. Getting in and out with the roof in place was a mission and even the young and fit amongst us only figured it out on the second or third try. With the temporary dealer license plate installed and the fabric top removed, the boss and the hill-climb trophy winning Werkstattmeister set off to the first test drive on our test track – Black Forest mountain roads near the workshop.
Flashback Memories
We waited for them to return. And waited. And waited a little longer, with worried faces now. Had they broken down? Or worse, crashed? Mind you, this was in the 1990's, when you still had to find a phone booth if you wanted to call somebody. Just as we decided to send two mechanics with the tow truck to find them, they came back grinning like absolute maniacs from one ear to the other. The boss was in such a good mood that he suspended work for the day and fired up the BBQ for everybody. We took turns in driving the new car up and down the mountain, which left us low ranking apprentices to do the last stints before sunset. Believe it or not, this was the only first time when I was super excited and happy to go last. Nobody waiting next in line meant that my drive was the longest, until the fuel tank was empty. I well and truly fell in love with lightweight sportscars there and then and still have all the brochures and some press photos from those days in my collection.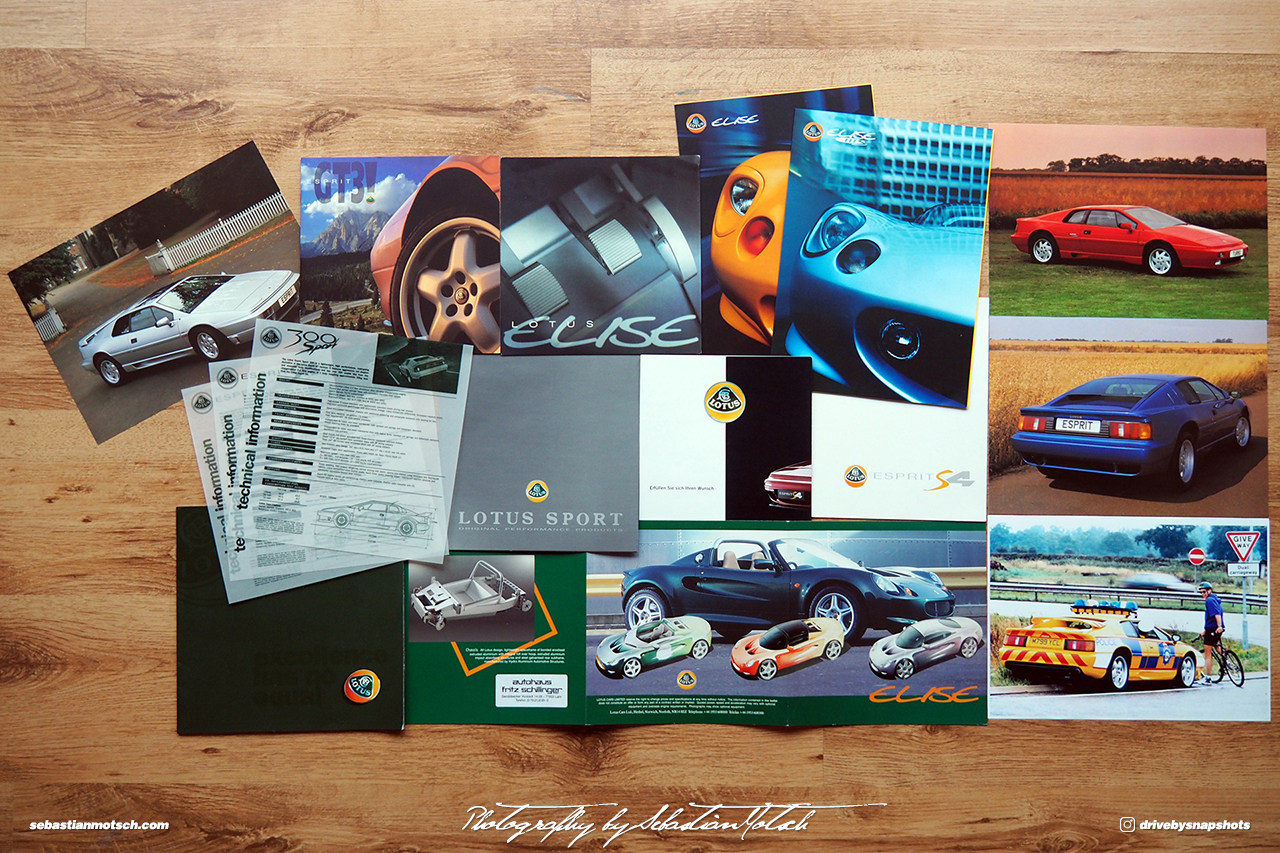 A Chance encounter
Fast forward 20+ years. I'm sitting in a ToyotaRent GT86 and have a blast driving up and down Mount Hakone, grinning from one ear to the other like the maniacs mentioned before. The steering rack and front axle bushings of this Odawara based car feel like it has spent every single one of its previous 46.524 kilometers up on the mountain roads.
A right-hander in a dip followed by an uphill section feeding into a left-hander is reminiscent of Eau Rouge and while pondering the differences… I spot a yellow Exige, stopped in a parking area oddly similar to Raidillon. All of a sudden I'm 18 years old again and pure joy and excitement instantly bring flashback memories from the good old days.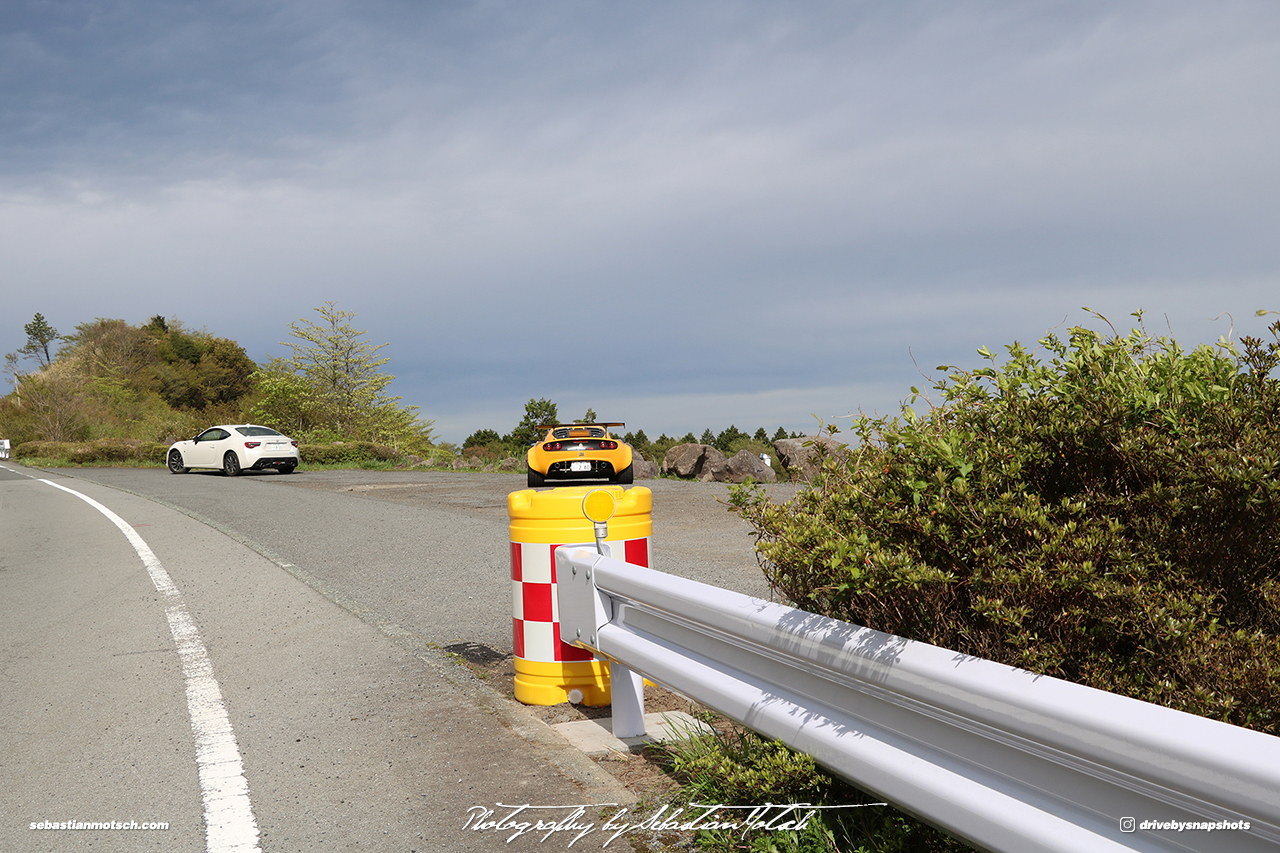 This isn't the timid first generation, Rover K-Series powered Lotus Elise from my teenage memories, but a second generation Lotus Exige. An Exige 240R GT3 to be more precise. Think of it as the ultimate version of the car I fell in love with two decades earlier.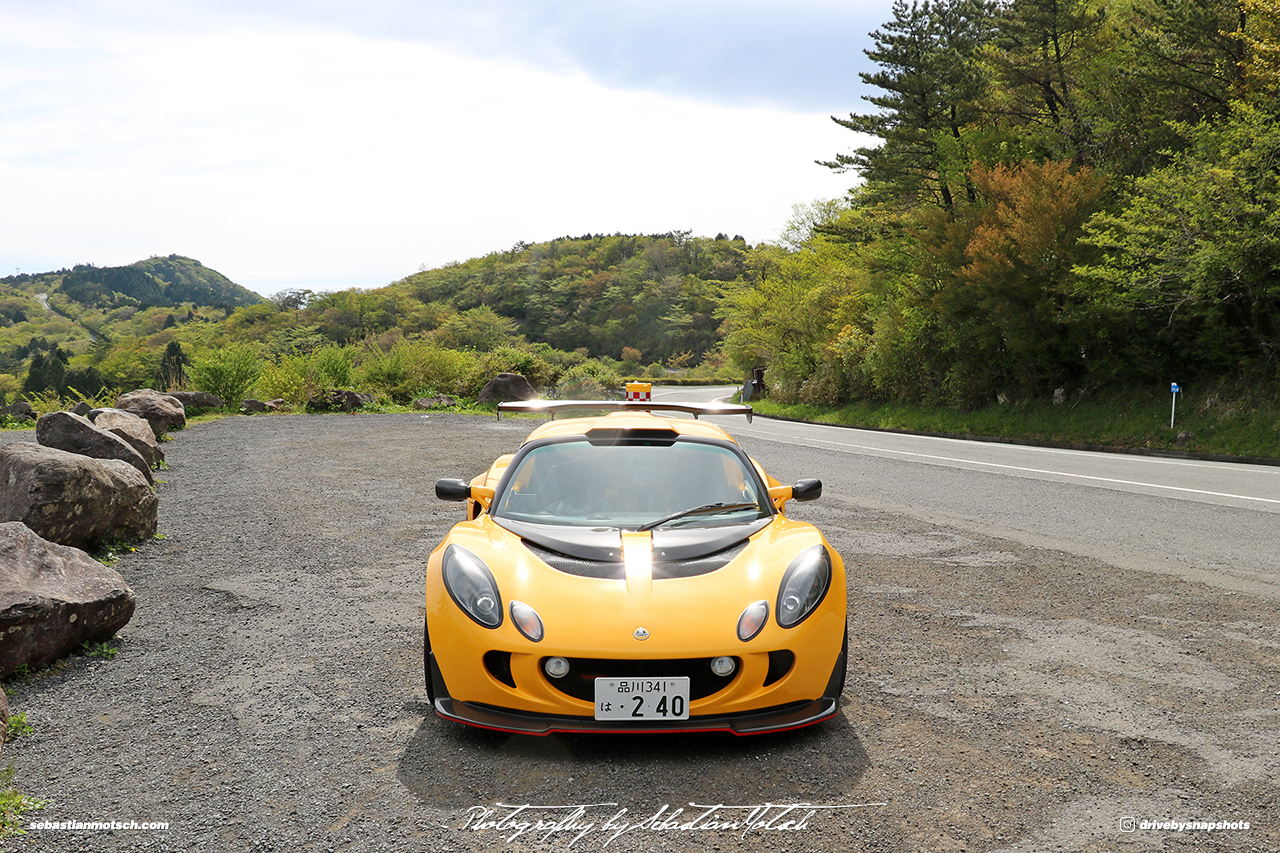 Wondering why a machine like this was parked in the middle of nowhere, I tried to find the owner on the scenic view point, but instead found him on a bench – fast asleep. Driving this machine must be tremendous fun in the twisties, but very exhausting on a long highway drive.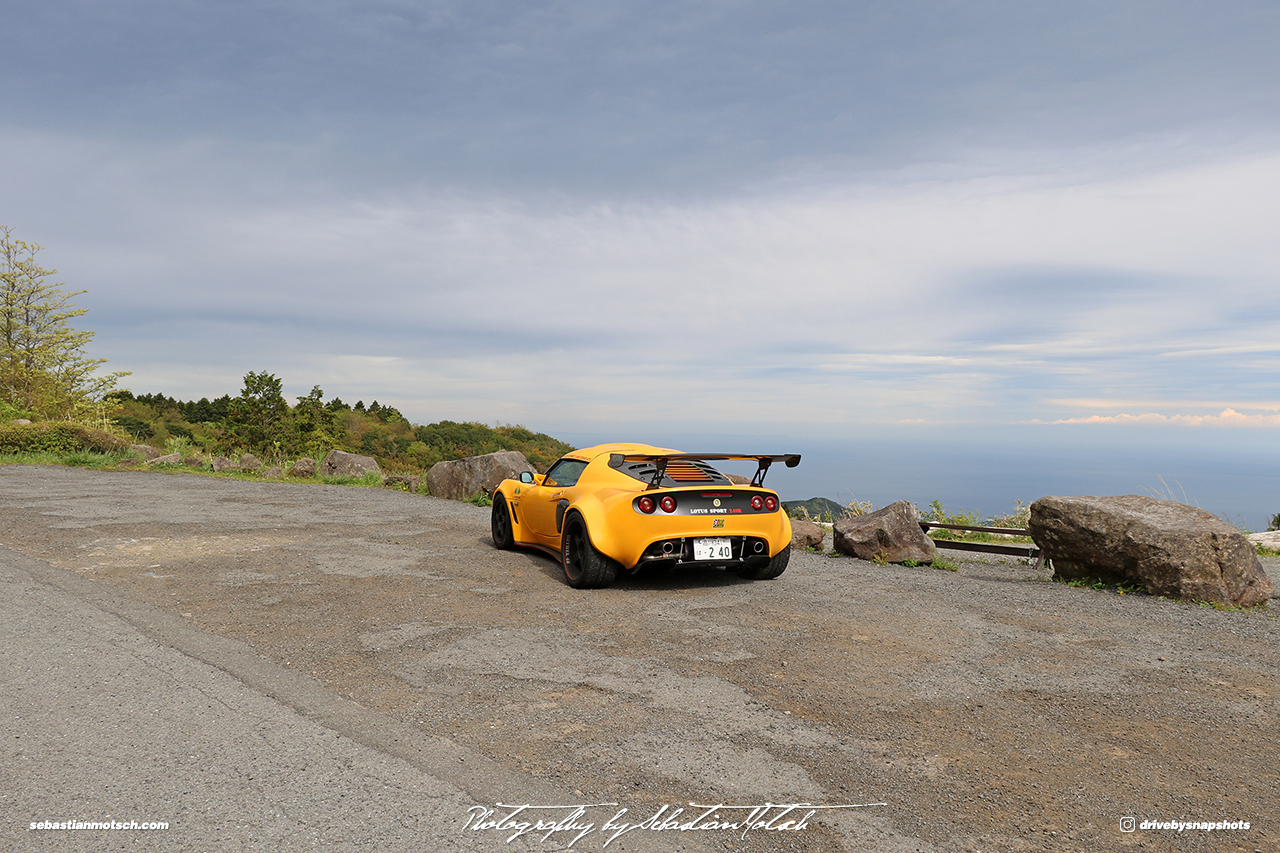 Sticking to the rule that you shall never wake up a sleeping driver, I left him to his dreams and went back to take pictures. He must have been resting for a while already, because there was no heat radiating from the car. Imagine total silence. No crackling noises from the exhaust, no electrical fans blowing hot air out. Just a slight breeze and a few cicada singing in the distance.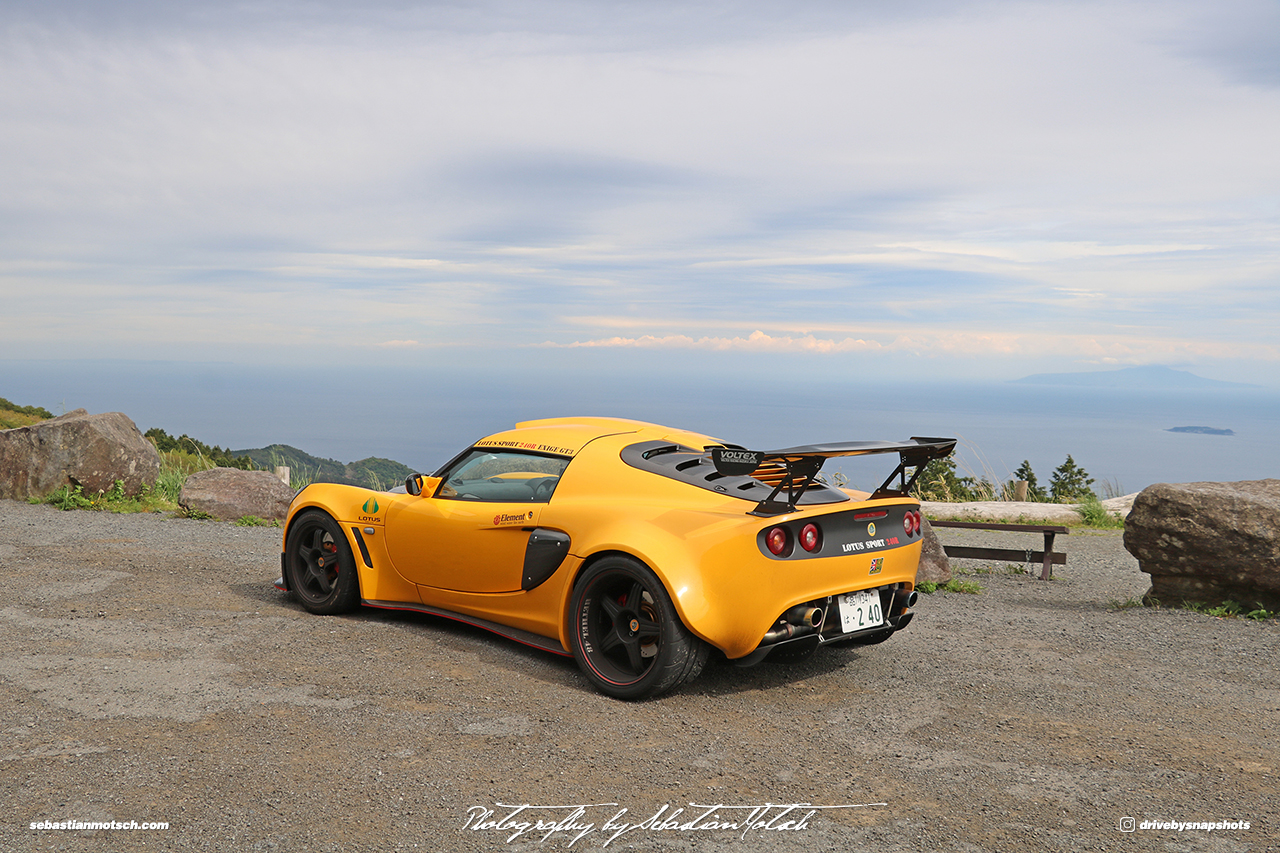 In this almost museum-like silence, it felt unreal to shoot a street-legal race car, which is normally associated with racetrack sounds in the background. The overcast sky provided almost perfect light without harsh contrasts.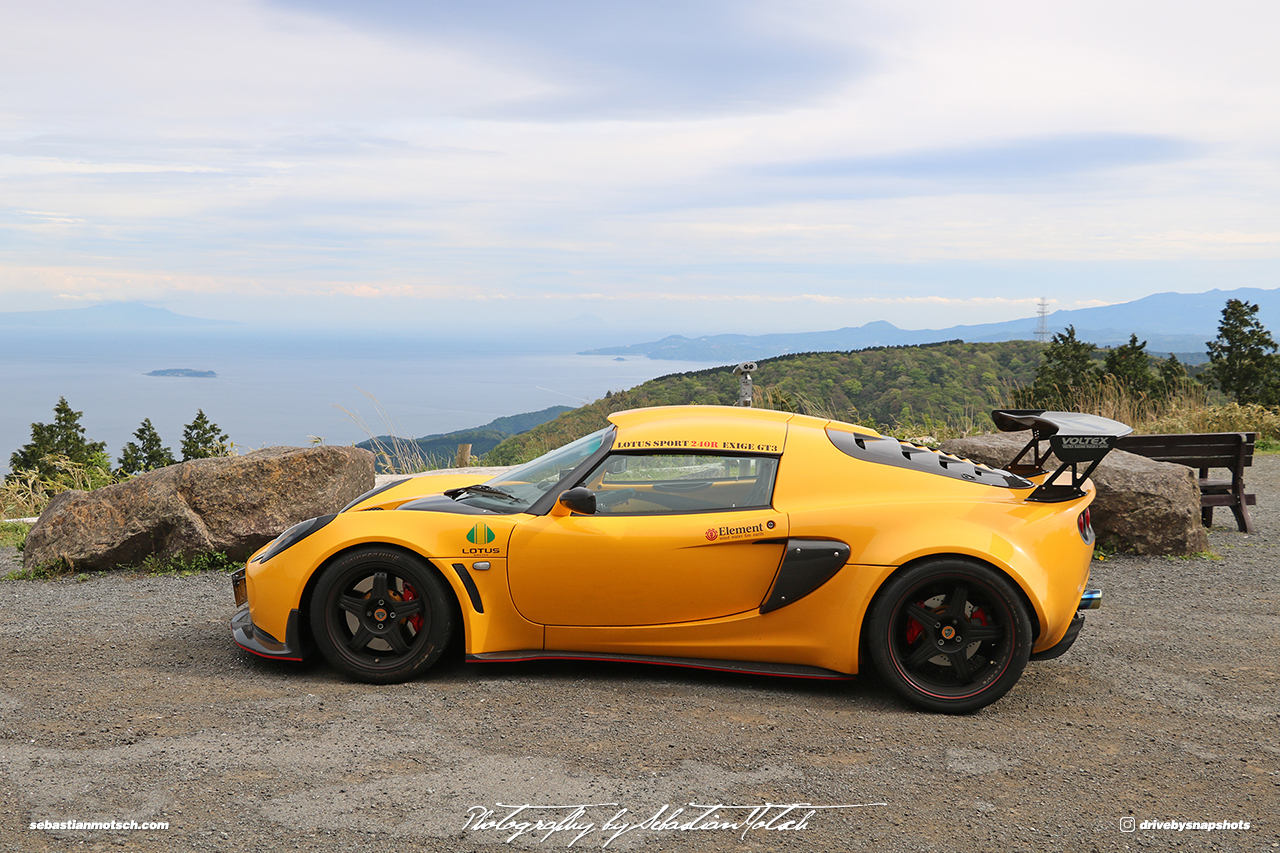 There was plenty of time to enjoy the gorgeous lines and proportions of the Exige between taking pictures, because I wasn't in any particular rush to shoot them. This is very unusual for a Drive-by Snapshots session and a very welcome exception.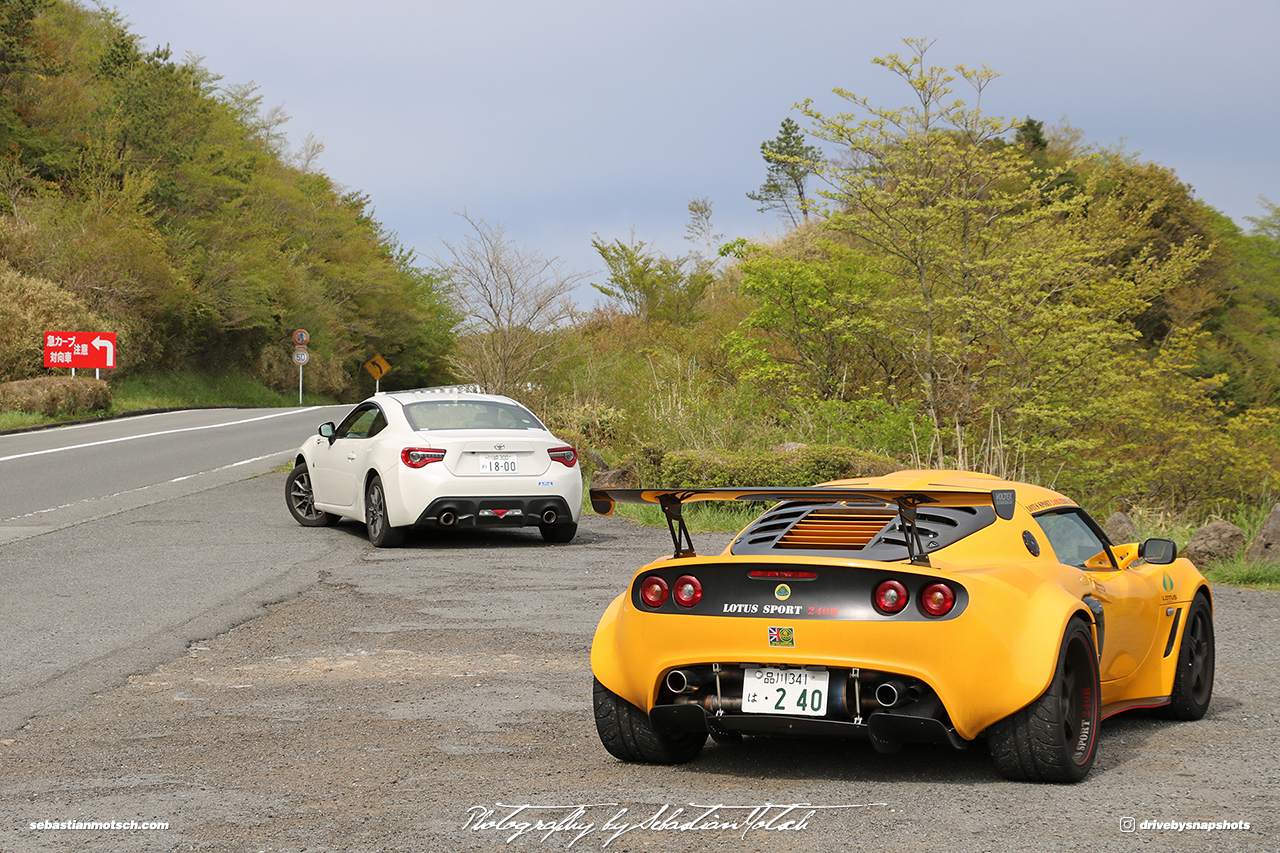 This also provided time to compare it to the Toyota GT86 on hand. The GT86 is by no means a large vehicle or may be even remotely called porky. But next to the rather petite Lotus, it did look very pedestrian and somewhat uninspired.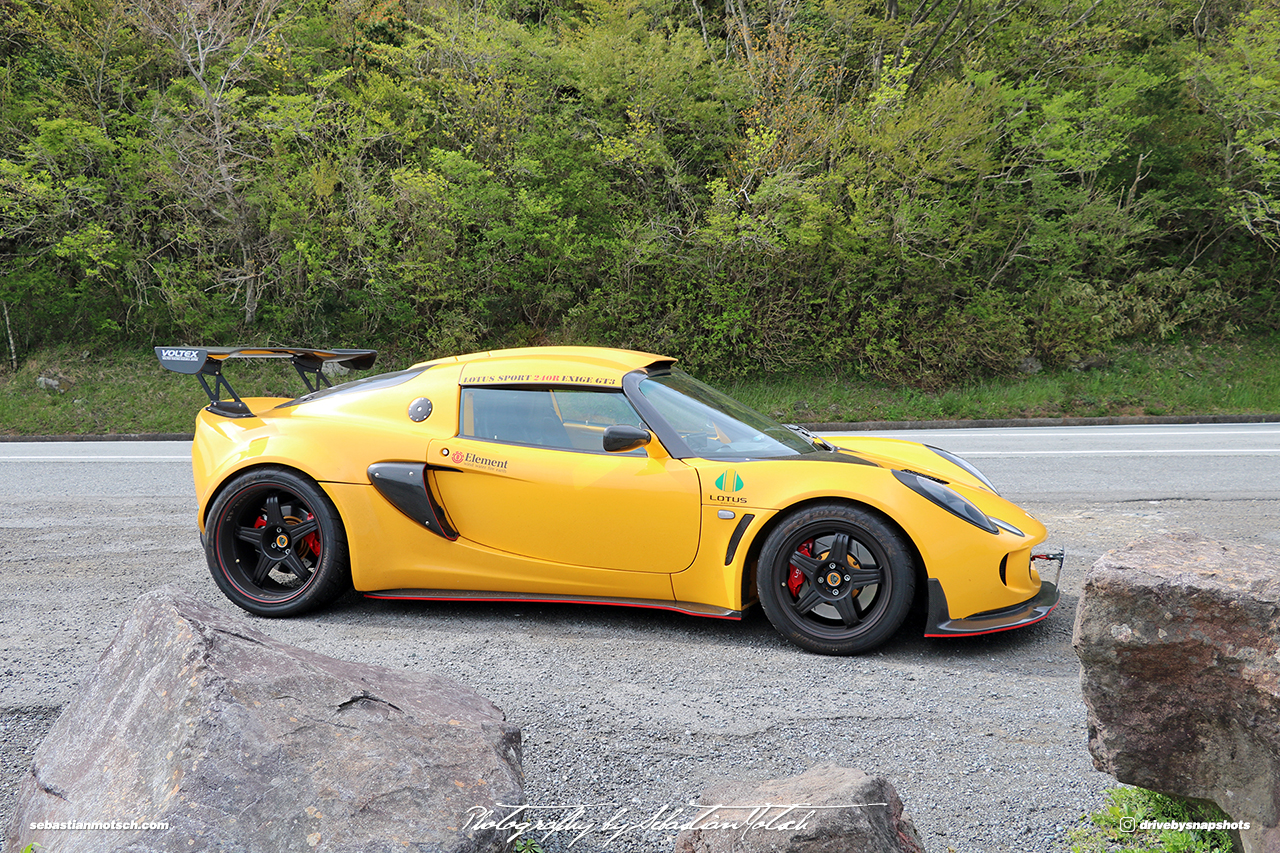 The 2019 Mazda MX5 RF I drove for six months this summer is a better comparison to the Exige (or Elise) as it also has a finely sculpted body and not-too-dissimilar proportions, albeit having a completely different drivetrain layout.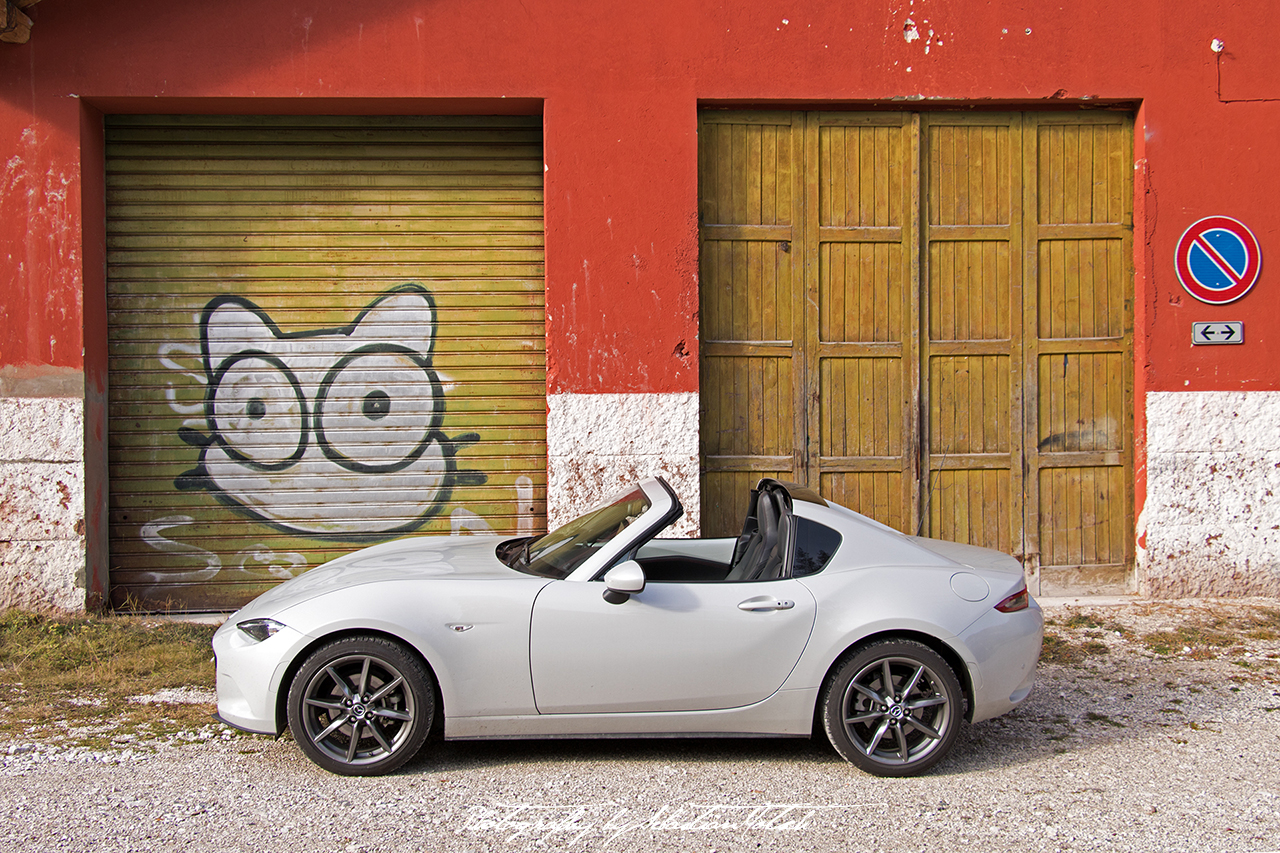 Even though the Mk1 was the first Elise I drove back in 1996, I have always liked the Mk2 better ever since it was introduced some four years later. The cute and almost innocent look of the first generation was replaced by an insect-like face that somehow manages not to look overly aggressive. Think friendly bee offering you to sample some of the sweet honey she made.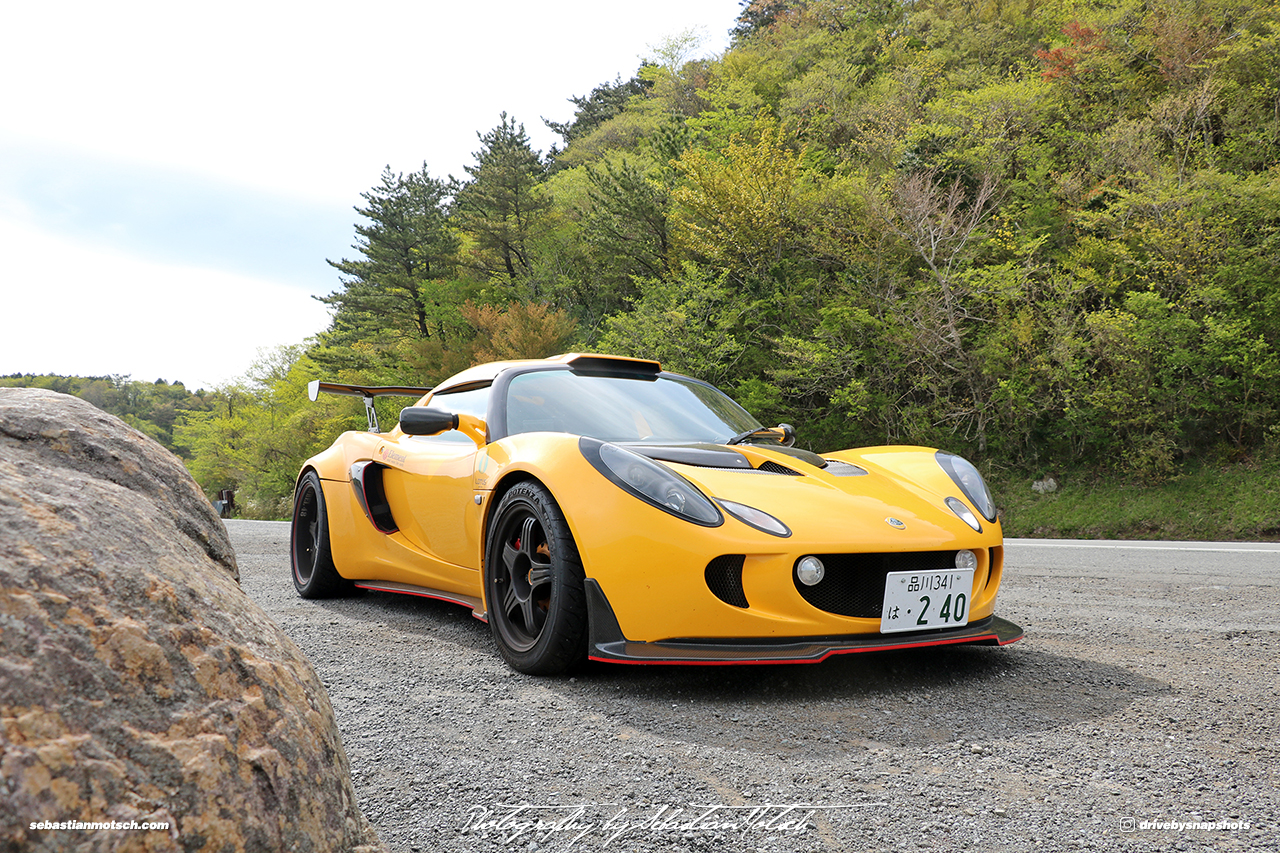 The 240R GT3 however looks a bit angrier, mostly due to the contrasting colored aero parts and the more pronounced and wider fenders. Being a sucker for form follows function designs, I absolutely love the grace with which the necessary body is draped over the substantially wider wheels.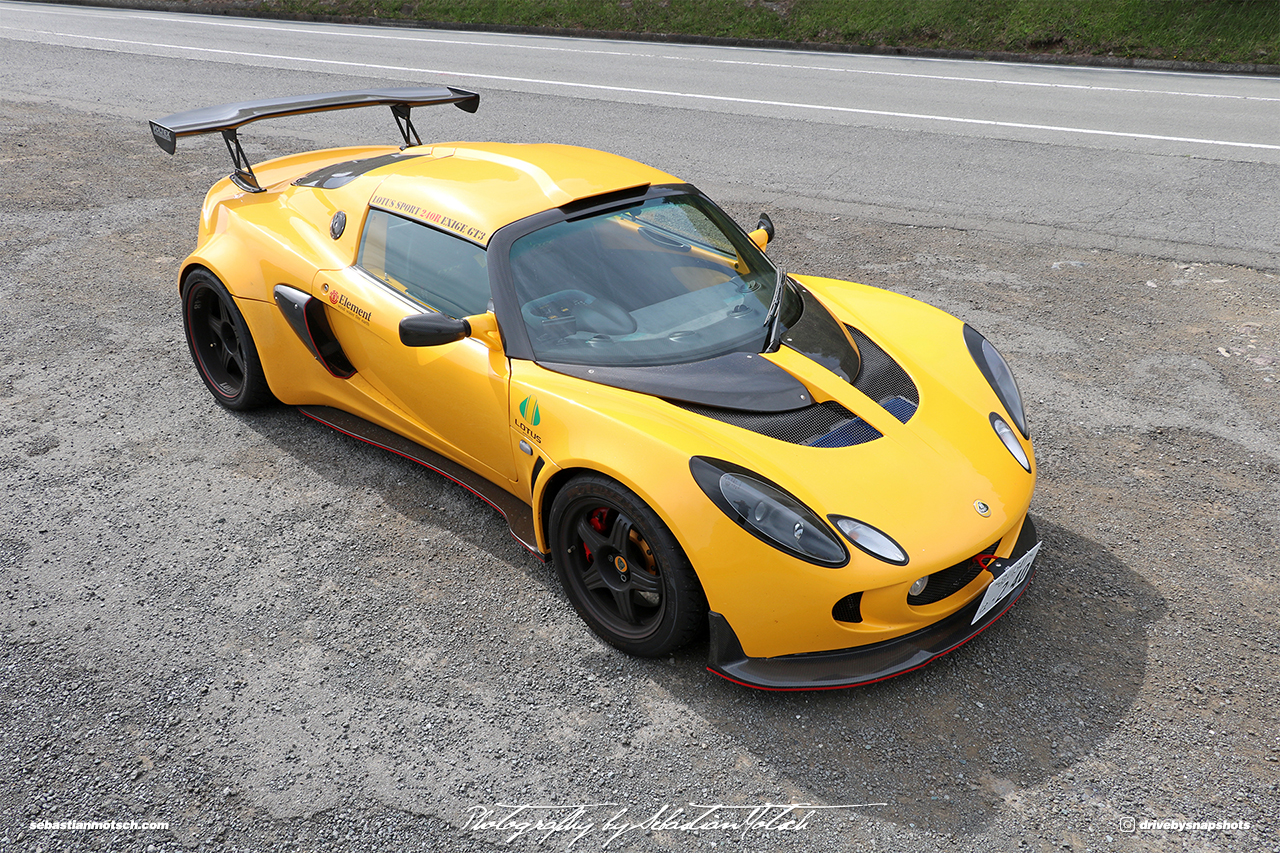 Linger around until the driver wakes up or do some more driving on Mount Hakone? This is a question with an easy answer and therefore I must apologize for not having any facts, figures or interior shots of this beauty.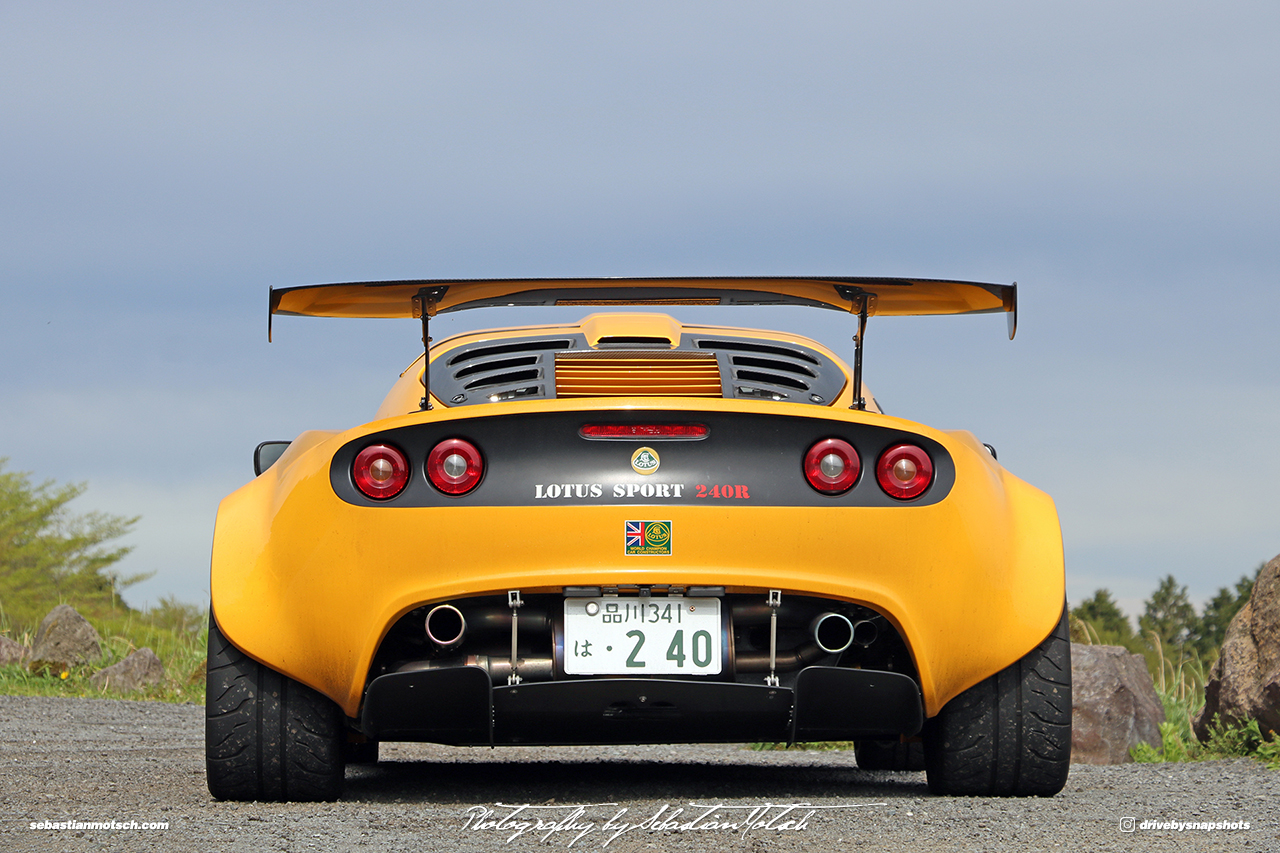 Cutting Room Floor
---

This article is featured in the
Lotus Drivers Club Chicane Magazine
Issue 121 Spring 2021
---
Sebastian Motsch | instagram @drivebysnapshots