Vientiane
Travel Photography | Laos | Vientiane

---
After crossing the Mekong river via the First Thai-Lao Friendship Bridge from Nong Khai we arrived in Thanaleng, where we got our visa and stamps in the passport. We patiently waited for our taxi in the morning sun, which eventually took us to our hotel in Vientiane. For some inexplicable reason, the taxi driver decided to take a shortcut through the yard of Wat Mixay.
French Breakfast
After checking into the Best Western Vientiane and a refreshing shower, we went to a quaint little French café around the corner to have breakfast. Across the street was Chinese temple, which added an exotic element to the view.
Patuxay
The Patuxay is quite an impressive architectural landmark of Vientiane, not dissimilar to the Arc de Triumphe in Paris. However, it is typically Laotian in design, decorated with mythological creatures such as the kinnari. The Patuxay was built between 1957 and 1968 and dedicated to those who fought in the struggle for independence from France.
Laos People Security Museum
On our way from Patuxay to Pha Tat Luang, we drove past the Laos People Security Museum and I asked the driver if we could stop briefly to take a couple of pictures. Heeding his advice not to take any photos of the guards, we went quickly and resumed our journey before anybody objected. The vintage vehicles on display are of Russian origine, whereas most of the parked cars in the yard are Japanese imports. I couldn't help myself and played a little perspective game, so the statue appears to be loaded onto the truck.
Pha That Luang
We arrived at Pha That Luang early enough to enjoy the monument with the early and late afternoon sun. The atmosphere sourrounding it is very special and this was further enhanced by the 2018 Pha That Luang Festival on That Luang Ground and most of the side streets. Amazing food and several other attraction make it hard to leave.
Chao Anouvong Park
However, we did leave eventually and found an excellent restaurant with local cuisine near Chao Anouvong Park. Re-energized we walked to the other end of the park to enjoy the sunset on the Mekong river banks.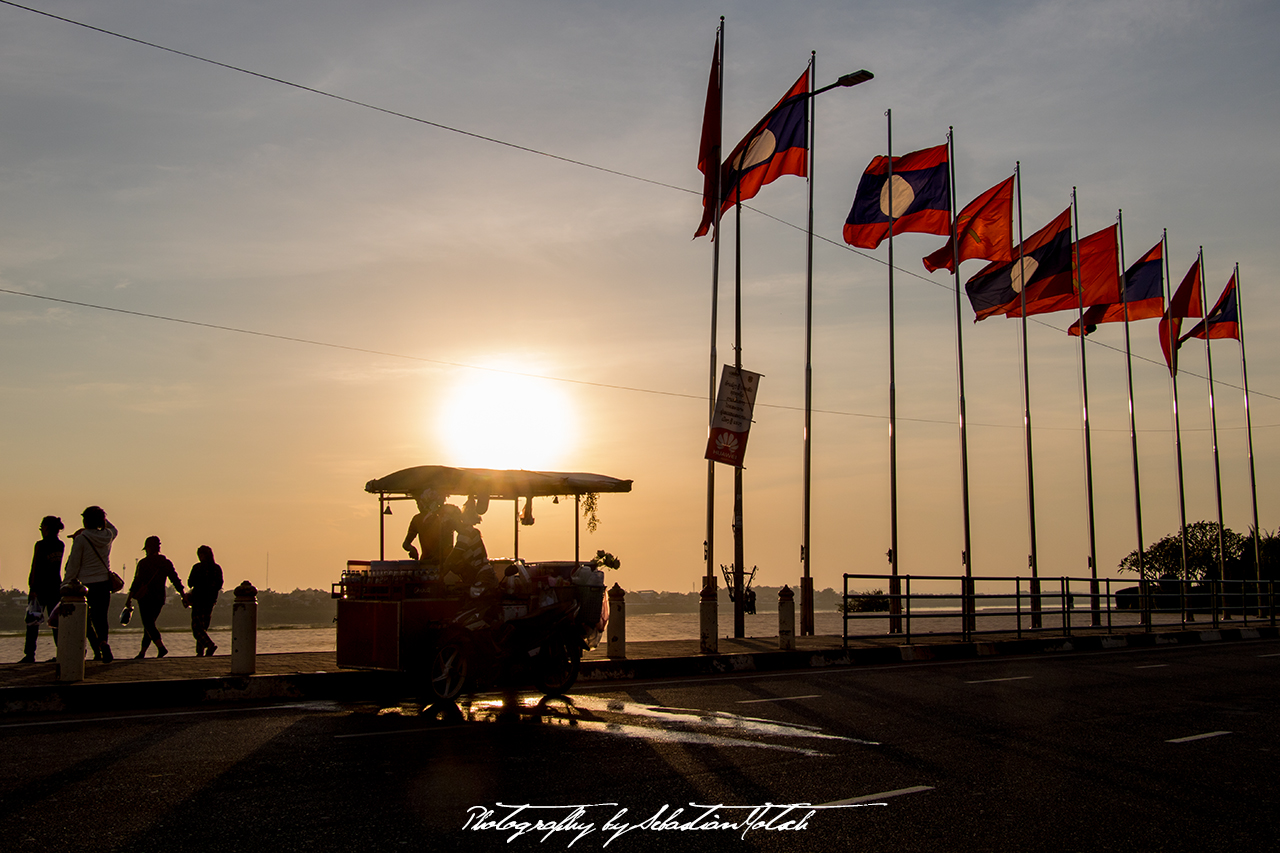 As soon as the sun had set, hordes of mosquitos chased us away from the river and we strolled through the night market in the park, before retiring for an early start the next morning.
---
Sebastian Motsch | instagram @drivebysnapshots