Tokyo | Gotanda and Meguro
Japan 2019
03.05.2019 | Gotanda | Meguro
---
Tokyo
Gotanda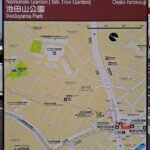 Arriving earlier than the scheduled meeting time with my friends meant that there was enough time to go exploring. The street map in front of Gotanda Station showed a garden and a park within manageable distance, but I was afraid not to be able to return in time. Experience has shown quite often that some obscure building, shop or vehicle magically voids my ability to read clocks and remember to go to a meeting point. Better not risk it, buy a hot chocolate instead and look for a place to sit down in the morning sun. However, this isn't easy in Tokyo because nobody ever sits down in or around a busy train station. A low wall provided a halfway comfortable place to rest and watch the world go by. Or more precisely, watch what happens at the taxi rank.
Taxi Rank Philosophy
Taxis in Japan are spotlessly clean and often show subtle modifications that reflect the drivers personal taste. Even though I would probably not put them in my own car, I love the lace headrest covers. In combination with the bright white drivers gloves, they give the interior of the cabin that specifically Japanese taxi atmosphere.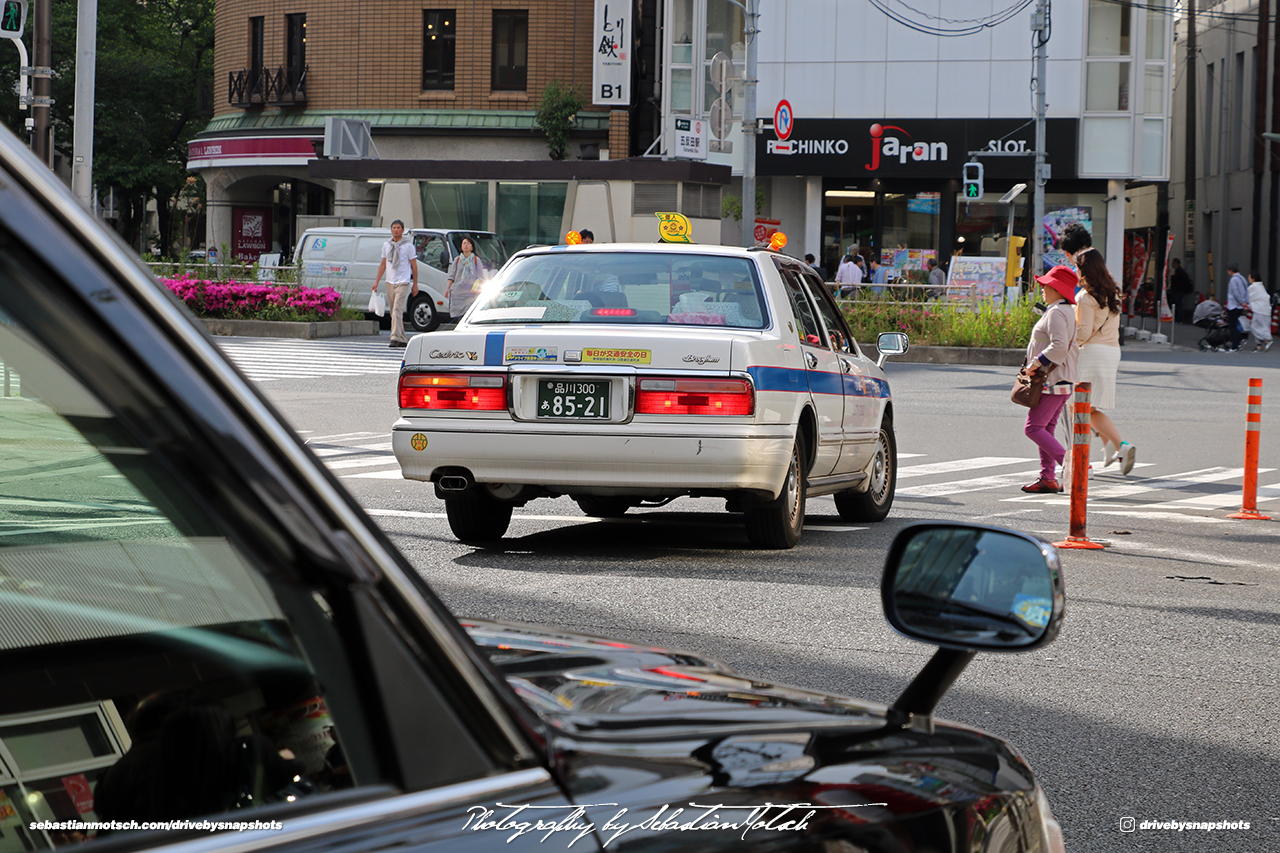 Toyota Crown and Nissan Cedric in various trim levels still made up the majority of the taxi fleet at the time of this visit in 2019, but the freshly introduced Toyota JPN Taxi already started to appear here and there. It might be more practical and wheelchair-friendly, but at some time in the future it will have replaced all the classic taxis. Taxis in Japan will not look like a childrens drawing of a car anymore, but rather like London 2.0, which makes me sad. Cars with four doors and a trunk belong to a species endangered of going extinct. However, what really made me smile was that the drivers of the new JPN Taxi had already installed lace headrest covers, carrying over this tradition of Gemütlichkeit to the new generation of individual people transport devices.
Urban Exploring | From Gotanda to Meguro
Seiichiro and Bianca arrived and we embarked on our favorite activity: urban exploring in Tokyo. Start somewhere, change direction every now and then, get lost purposely and discover friendly neighborhoods, architecture and other random stuff while doing so. A small bridge over Meguro River might just be a small bridge, but walk over it with your eyes open and you can spot lovely details. The cast iron railing depicts the hand-drawn carriages used to transport goods in the times before the internal combustion engine was invented. The horizontal bars feature different geometric and flower patterns. Eagle-eyed viewer might have spotted the ubiquitous traffic cone in the lower right corner. These are literally everywhere and a street scene accessory I like just as much as the vending machines.
Walking through the quiet residential streets is a feast for car nerds on an impromptu treasure hunt, as there is something interesting to be found behind every corner. Old military Jeeps, customized motorcycles and scooters, rare cars – you name it. Some details escape on scene and I only find them later on when preparing the pictures for publication, like the Liebherr sign above the entrance behind the the Suzuki Jimny and the three street light arranged next to the plants. These are the moments that put a happy smile on my face.
Chance encounters create lasting memories
What always puts a smile on my face are memories of people I had the honor of meeting. Seiichiro and Bianca told me to talk to the gentleman without them translating and therefore I did what I usually do when encountering these situations alone. Trying the best by utilizing smiles, hand signs like thumbs up, pointing at myself while making surfing moves and… eventually resorting to the translation app on my phone to ask a couple of questions. It turned out that the gentleman had just returned from an early morning surf session at his favorite beach and was washing the salt water from his equipment and beloved Swedish surf wagon. I gave him a business card and a Drive-by Snapshots Sticker for his car. Sir, if you read this: I hope you are allright and smiling. Best regards from Germany, wishing you all the best. Stay healthy! 🙂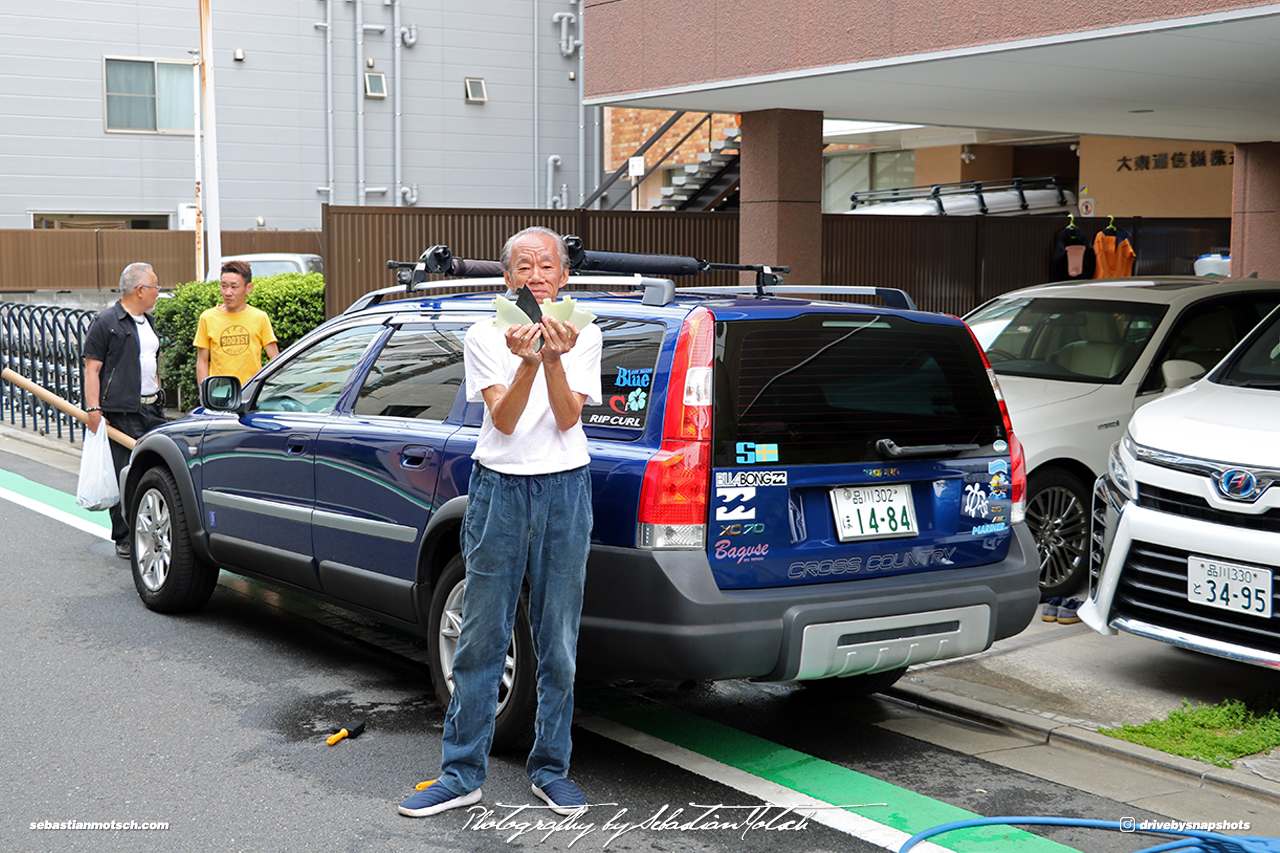 Shoe lace coming undone at the purrfect moment
Further down the road, we stopped because Seiichiro had to tie his shoelace. The travel gods made sure that it happened precicely at this spot, because we would have completely walked past and missed the flyer announcing the cat art exhibition in the community advertising box. All of us being cat lovers, we decided spontaneously to change direction, walk to Hotel Gajoen and check it out. More on that in the next chapter of this virtual travel book…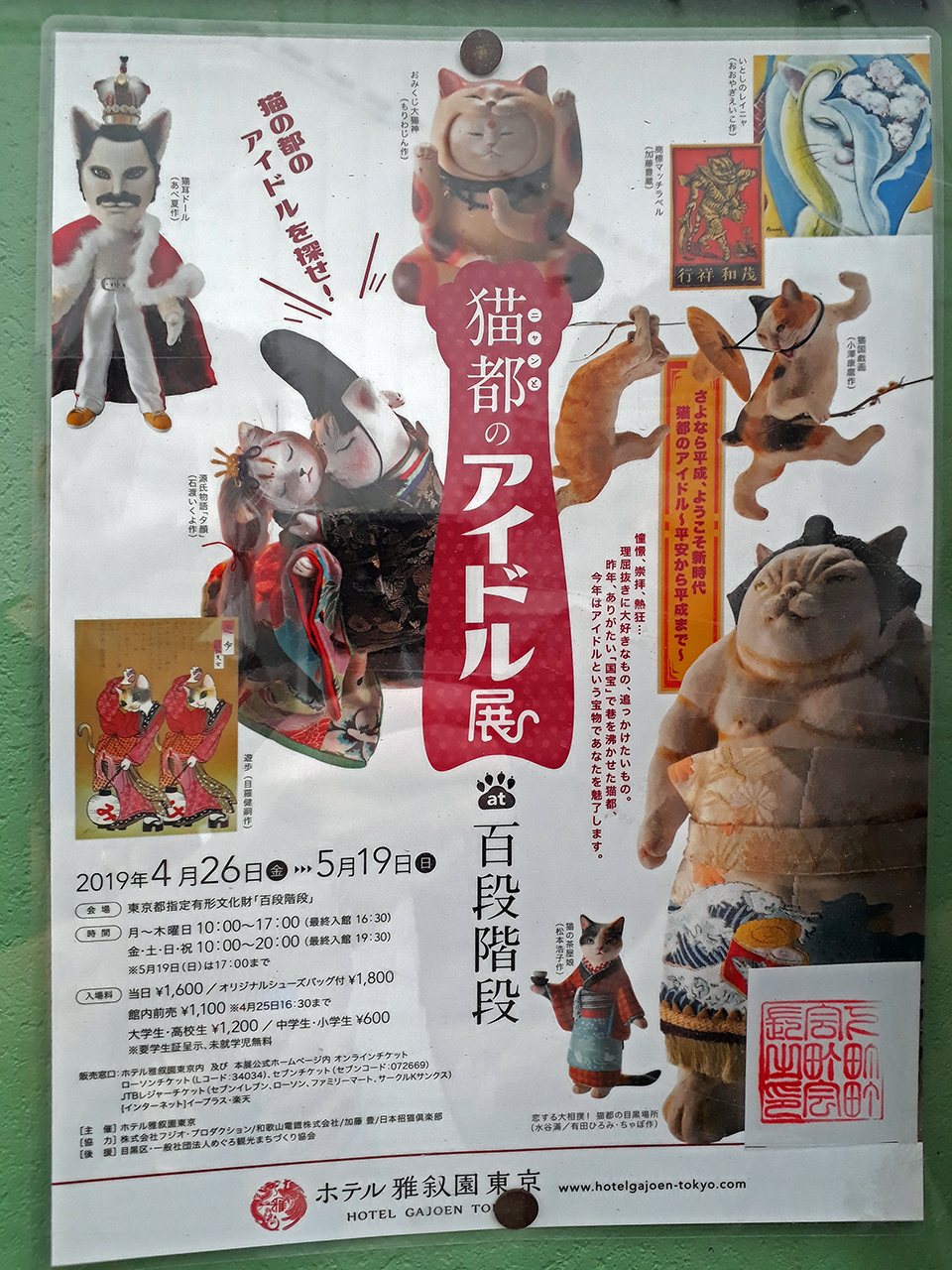 ---
Sebastian Motsch | instagram @drivebysnapshots