Corvette C1 Speedster 1955
Corvette C1 Speedster 1955
Automotive Art | Photoshop Chop | Period-correct modifications
---
Most people look down on the first couple of Chevrolet Corvette C1 generation model years, because they mainly think about the somewhat lame Blue Flame inline-six engine. However, there is a little known fact: for the 1955 model year, a 265 cubic inch (4.34 liter) V8 engine was available as an option. This gave the pretty roadster the much needed power boost to be taken seriously as a sports car. When discussing the C1 generation with a good friend lately, we mused about the design and tried to imagine what a proper sports version may have looked like. With these thoughts and ideas, I went to work and created this imaginary speedster with Photoshop.
Modifications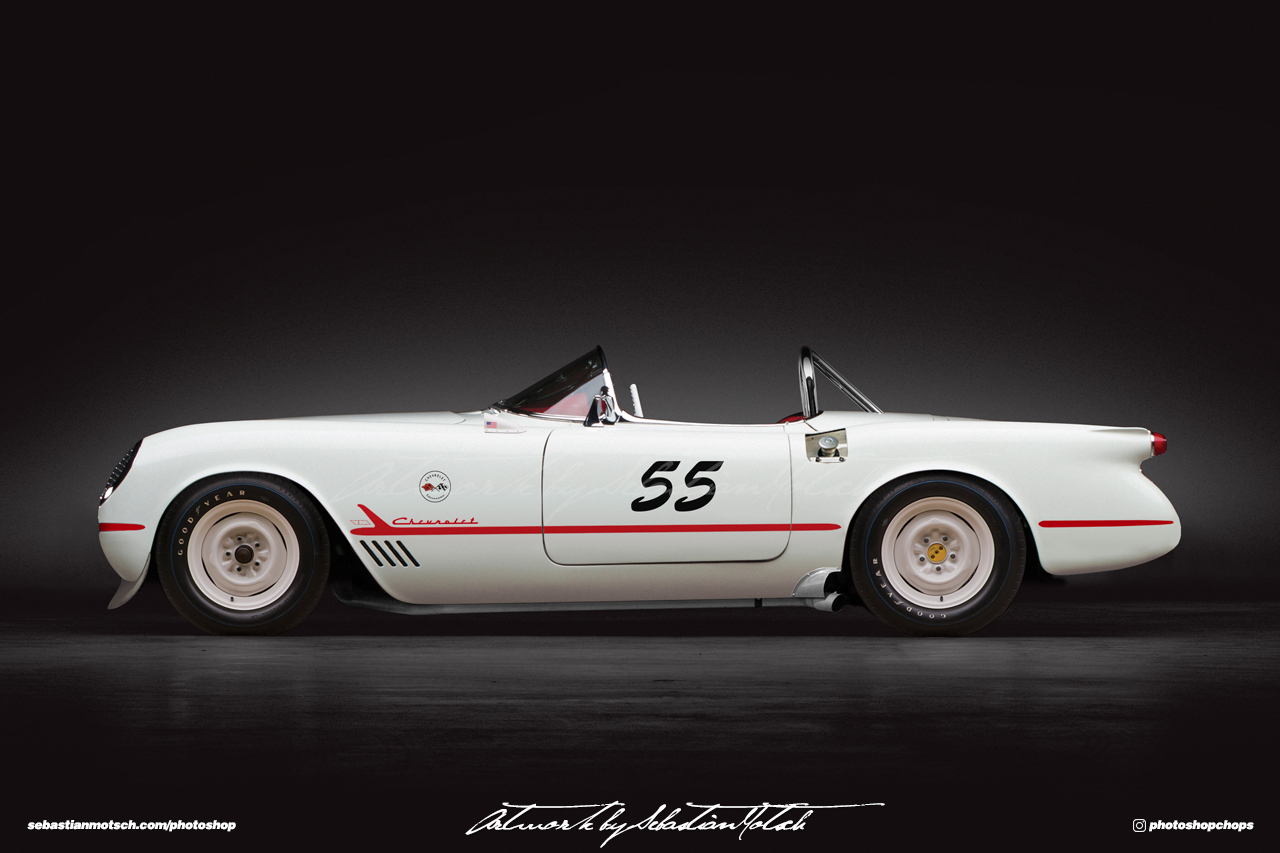 It definitely was an option to go full resto-mod with this Corvette project, but it felt more appropriate to go the alternative route of utilizing period-correct modification techniques. What was available in the 1950's and 60's? What solutions would the engineers and mechanics may have come up with? This was a the same time easy and a huge challenge. How do you make a fiberglass bodied car lighter? Shave off the excess material in places where it doesn't affect the rigidity. How do you make a car faster? Reducing the coefficient of drag by using a lower windshield with a different rake, lowering the ride height, utilizing different carburetors and a less restrictive exhaust system. Add rollbar for added safety and rigidity, wider tires with lower profile for better handling and a front spoiler. The fuel door has been removed to reduce the time needed for refueling – every second counts in an endurance race. To enhance the looks, I removed some of the chrome parts and replaced them with graphics. Today we'd plot them and stick them on, but back in the days an artist would have painted them by hand with enamel colors. The final result is my idea of what a 1955 Chevrolet Corvette Speedster could have looked like.
Click here to see the original picture.
---
Sebastian Motsch | instagram @photoshopchops