Aoshima | Nissan Safari 160 Fire Engine
Nissan Safari 160
1:24 Scale Model | Aoshima | Built by Sebastian Motsch
---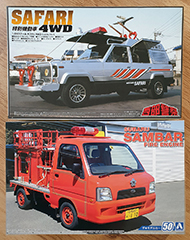 The Aoshima Nissan Safari 4WD has been gathering dust on my shelf for many years, because I always knew I didn't want to build it out of the box. A game viewing vehicle was considered, but never come to fruition.
At the Shizuoka Hobby Show in Japan, Aoshima had a new kit on display: the Subaru Sambar Fire Engine. It clicked right away in my brain and I made sure to obtain the kit and bring it home as a souvenir. A couple of month passed after returning to Germany – without any modeling work done whatsoever.
JDM Fire Engine Conversion
Eventually, the (virtual) On The Road Show Jabbeke 2020 loomed on the calendar and I started the conversion two weeks prior. The idea was to build a 4×4 fire engine that is very capable off-road, using the parts from the Subaru Sambar Fire Engine kit.
Cutting off the roof and installing a flatbed conversion made from 1 mm Evergreen stock took was done in an hour. Adding the fire equipment rack, building the water pump and preparing everything for painting took the better part of a day.
After the paint had dried for a week, assembly was a joy as everything fit together perfectly. All in all it was a fun build and I let you be the judge if the result is convincing or not.
---
Sebastian Motsch | instagram @drivebysnapshots