Speedhunters

An Early Morning in Oman
2019.10 | Drive-by Snapshots | Speedhunters
---
Read More

»

An Early Morning in Oman
Drive-by Snapshots | Published at Speedhunters.com
Read More

»

The Original Speedhunter
Drive-by Snapshots | Published at Speedhunters.com
---
Have you ever set yourself a goal for the upcoming year on New Year's Eve? Eat less and healthier, go to the gym more often, or finally clean out the garage this spring?
More than two decades ago, I set myself a goal to visit (at least) one new country every year. Living right in the middle of Europe makes this endeavor a little easier than in many other regions of the world, but it still takes some commitment.
With 365 days ahead every year, there is plenty of time to actually get out and travel, making this goal achievable for even the most hardcore procrastinators.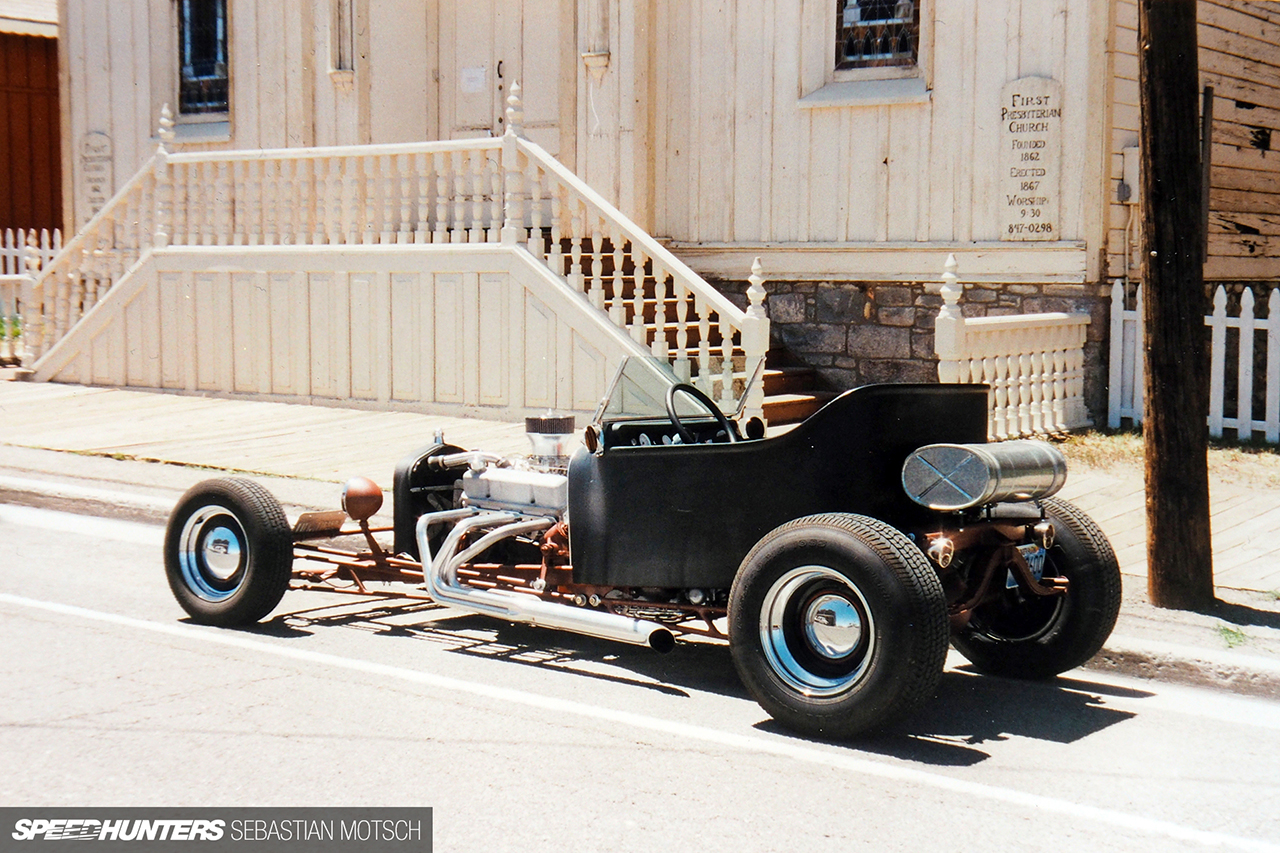 20+ Years, 20+ Countries
Automotive photography comes in many different flavors. Some love to shoot action at race tracks, some at the hustle and bustle of car meets and shows, some in the silence of a museum or studio with perfect lighting. All of these activities involve some sort of planning ahead, and who doesn't love the anticipation coming with that?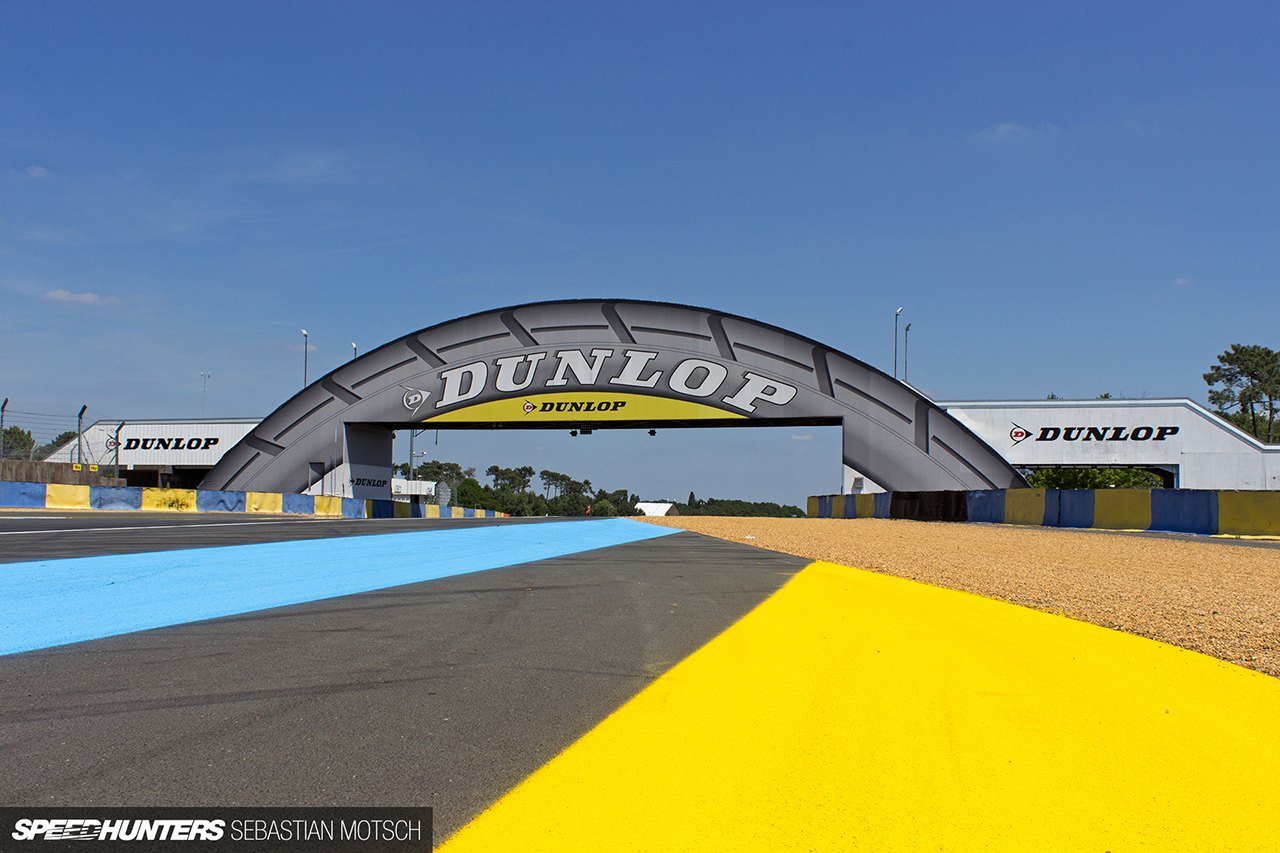 However, what I love most can't be planned in advance. Going to places where chances are high to find interesting vehicles certainly helps, but most often it happens unexpectedly, where you least think of it, without prior notice. Walk or drive around a corner and there it is, triggering that instant grin.
These moments are the drug I've been addicted to for more than two decades, and I'll never get enough of. My host family in the USA coined the term 'drive‐by snapshots' for these pictures, and this expression has stuck ever since 2001.
Most of the times it's not possible to locate the owner of the parked vehicle and therefore the stories often lack details and are more focused on how, where and in which condition the car was found.
Lacking the ability to move the car and having to work with whichever background it is parked in front of, provided a steep learning curve (and lots of frustration). It taught me to always make the best of the given circumstances.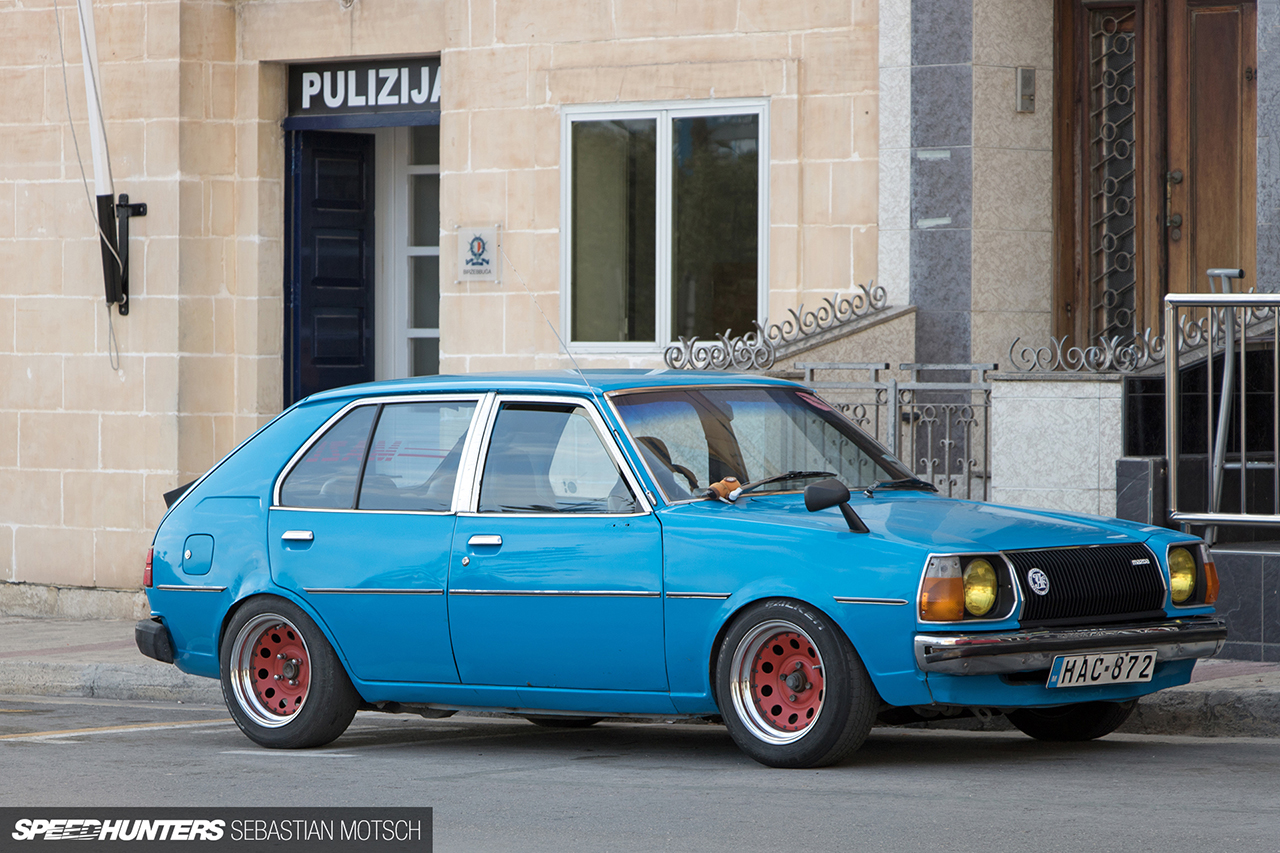 Car People Don't Care About Language Barriers
If there is somebody around, I usually just go and ask whether it is okay to snap a couple of pictures. The worst thing that can happen is that somebody says no, but experience shows that most people either don't care or are positively excited and want to show something that is hidden in the garage or around the house.
Not speaking the language should never stop you from traveling to a foreign country. A friendly smile goes a long way and if you have the basics like 'hello', 'please' and 'thank you' covered, you're usually off to a good start.
The car language is universal and like-minded people always understand each other by pointing at things, smiling and laughing.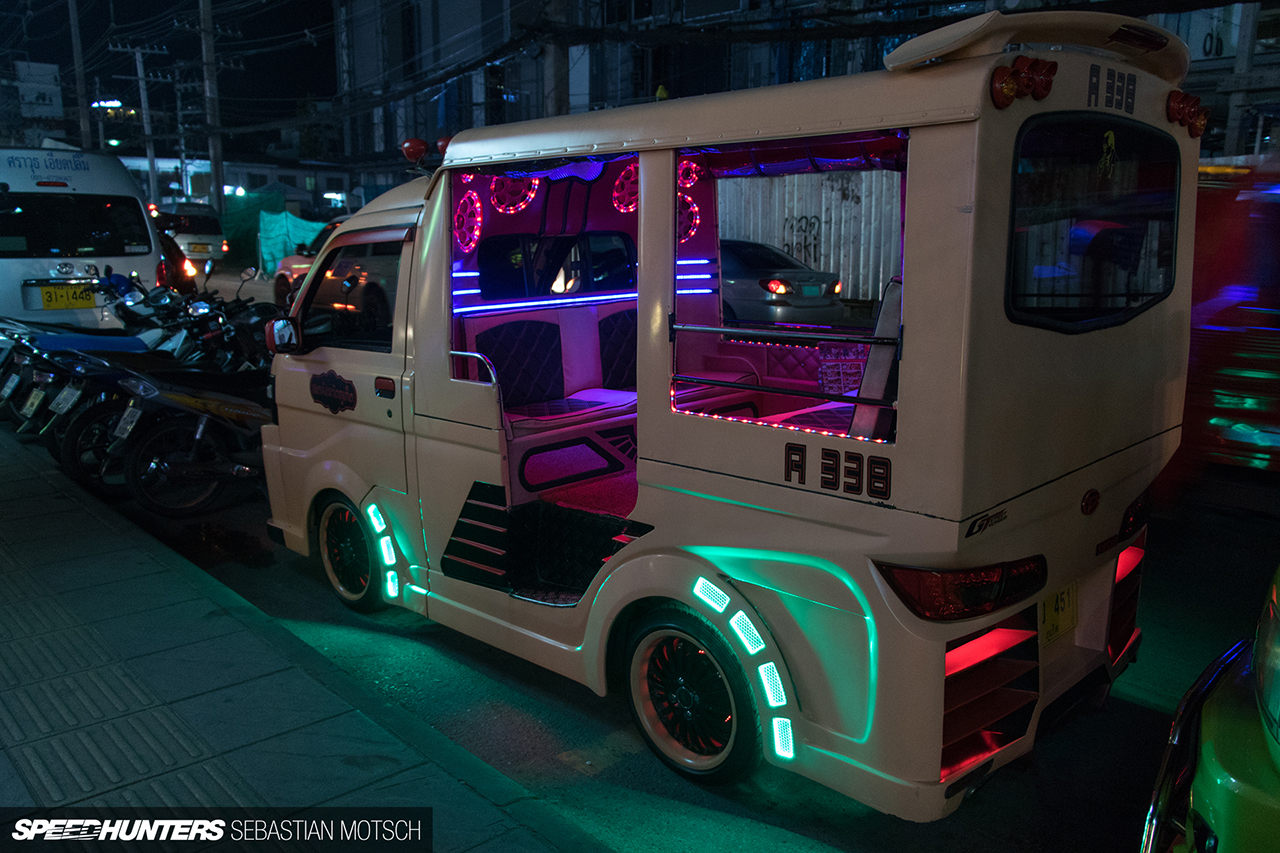 Being in the right place at the right time made meeting these awesome people possible, and I'm more than thankful for the time we spent together. Some of them may remain fond memories forever because I forgot to ask for contact details and couldn't keep in touch. Others became friends, thanks to email, forums and social media.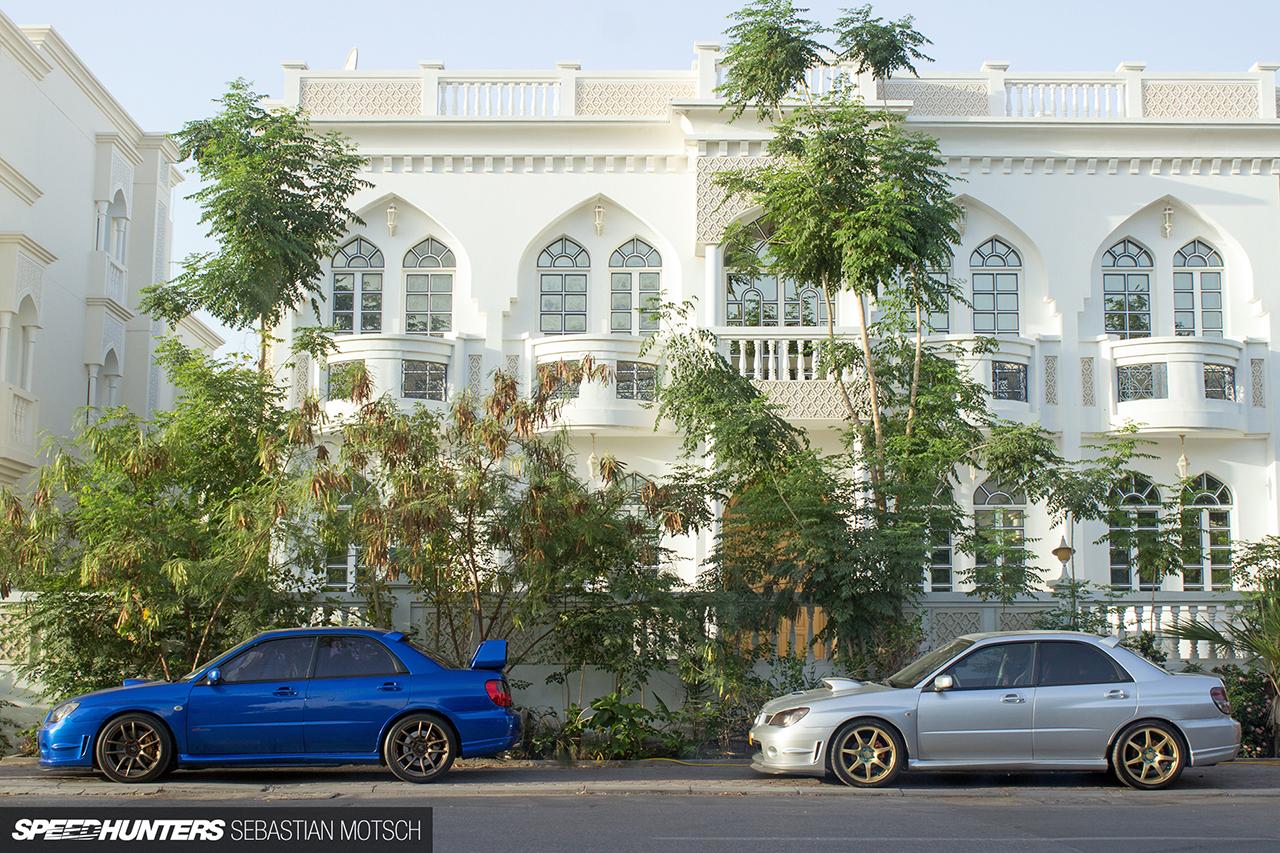 Expensive Kit Not Required
It is by no means necessary to travel to the other end of the world in order to find opportunities for interesting pictures and stories. A true gem might be hiding right around the corner from your home, just keep your eyes open.
Never think: 'I'll snap a picture on my way back.' The chance that the object you desire to take a picture of might be gone by the time you return is 50/50.
Whichever device you have on hand is usually good enough to freeze a moment you'll have fond memories of in the future. Every time you look at the picture, it will bring a smile to your face. None of the pictures in this post have been shot with a full‐frame DSLR and fancy glass.
If your budget is limited, spend it on traveling instead of expensive kit and gain experience. The pictures may not be technically perfect, but they always tell a unique story worth remembering and sharing.
---
Sebastian Motsch
sebastianmotsch.com | Instagram drivebysnapshots
[This story was published on Speedhunters.com in September 2019.]

20+ Years, 20+ Countries: The original Speedhunter
2019.09 | Drive-by Snapshots | Speedhunters

---
Read More

»

Sleepless in Tokyo
Drive-by Snapshots | Published at Speedhunters.com
---
When opening the mailbox, there is a postcard between the bills and the advertisements that I already fished out curiously on my way to the apartment door. Where was it posted and who sent it? The dim light of the cold winter day makes me want to see a holiday greeting with palms on a beach, a lighthouse amid towering waves or a sunlit attraction. I turn the postcard to the front page and see… black. The entire surface is printed in a deep black, which in some places is weathered by mail sorting machines. Printed in one of the trendy neon colors it says 'Berlin bei Nacht' next to a crescent moon and a couple of stars.
Two decades later, during a nocturnal foray through the Japanese metropolis, I am thinking of this trend of the '90s, whose remains can still be found sometimes in the back corner of a postcard shop. Who does not remember sending or receiving such postcards? Today we post status updates and Instagram stories on Facebook instead of sending postcards to family and friends.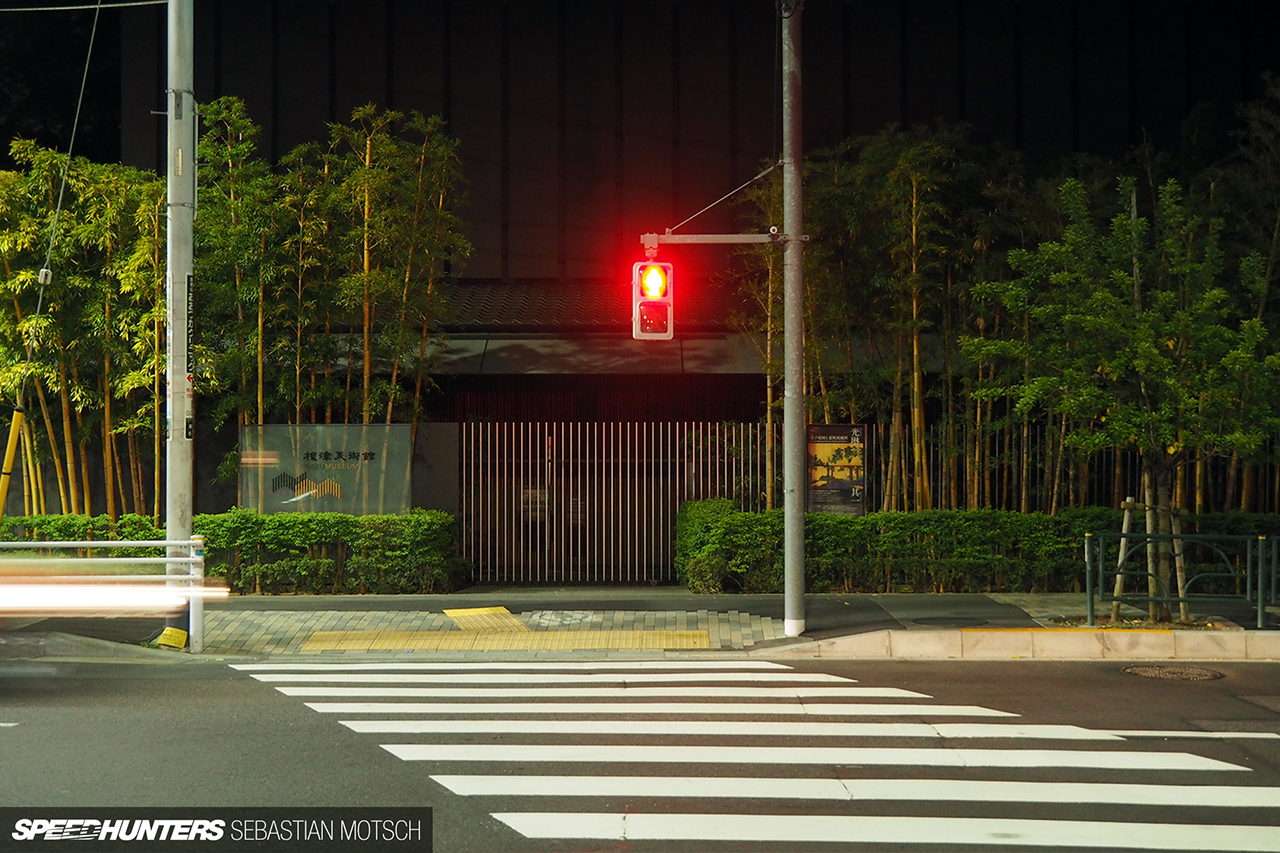 Unable to close even one eye, I lay awake in the tiny Airbnb room and quarrel with the jet lag. The inner clock has not yet adapted to the local time zone, although I have slept well during the long flight and the body is refreshed. But wait, jet lag is a good thing, isn't it? It makes it possible to explore foreign cities when the locals sleep. Who knows what waits to be discovered at this time of the night?
Before finishing this thought, I'm already dressed and stand outside the tiny house in the narrow street. Left or right? It doesn't matter. Those who have no destination will not get lost. When the lights switch to green, I start walking.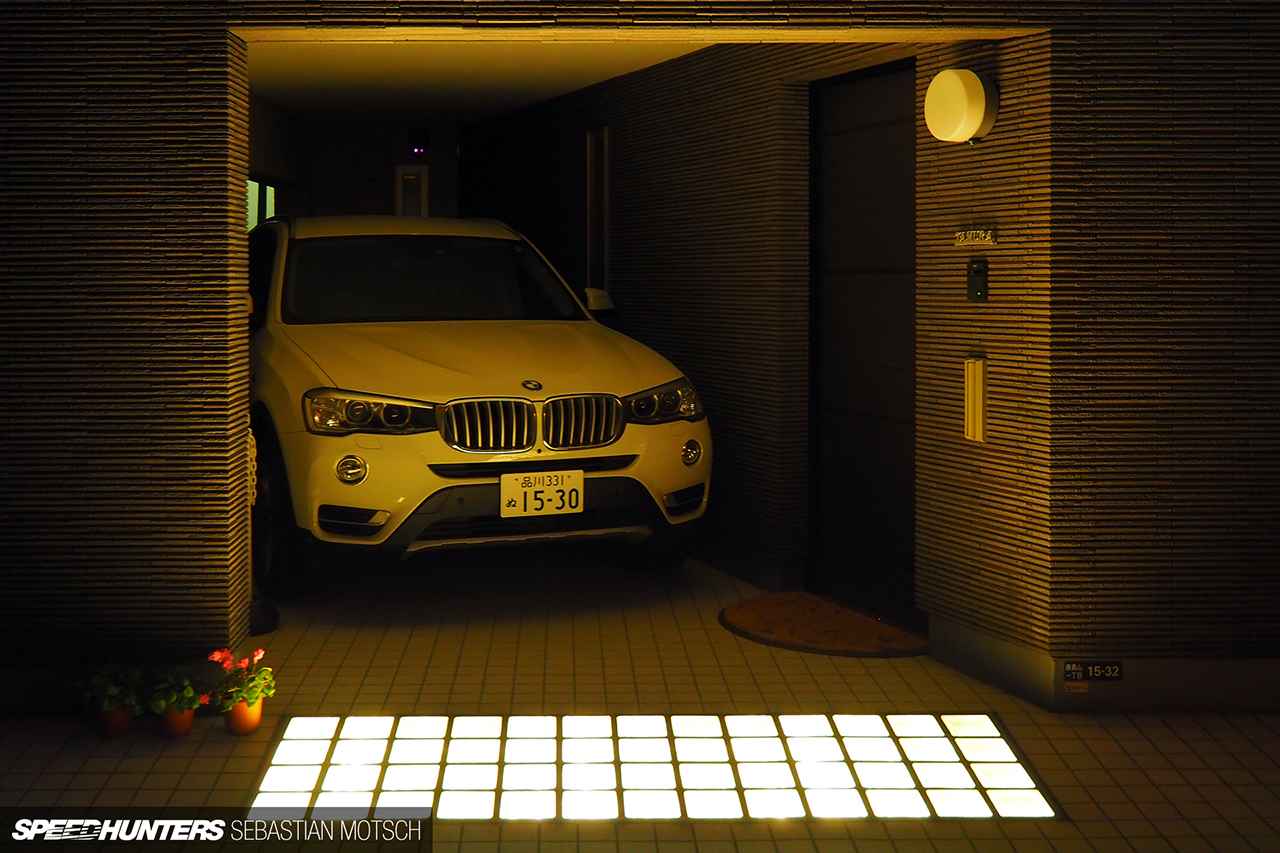 Tokyo is a huge metropolis, but contrary to many other major cities around the world, most of the inhabitants sleep at night. Moving quietly through the residential streets, I admire how close the homes are spaced. The distance often corresponds to the width of a German license plate. It is a prosperous area, judged by the amount of European cars parked in open garages and integrated carports.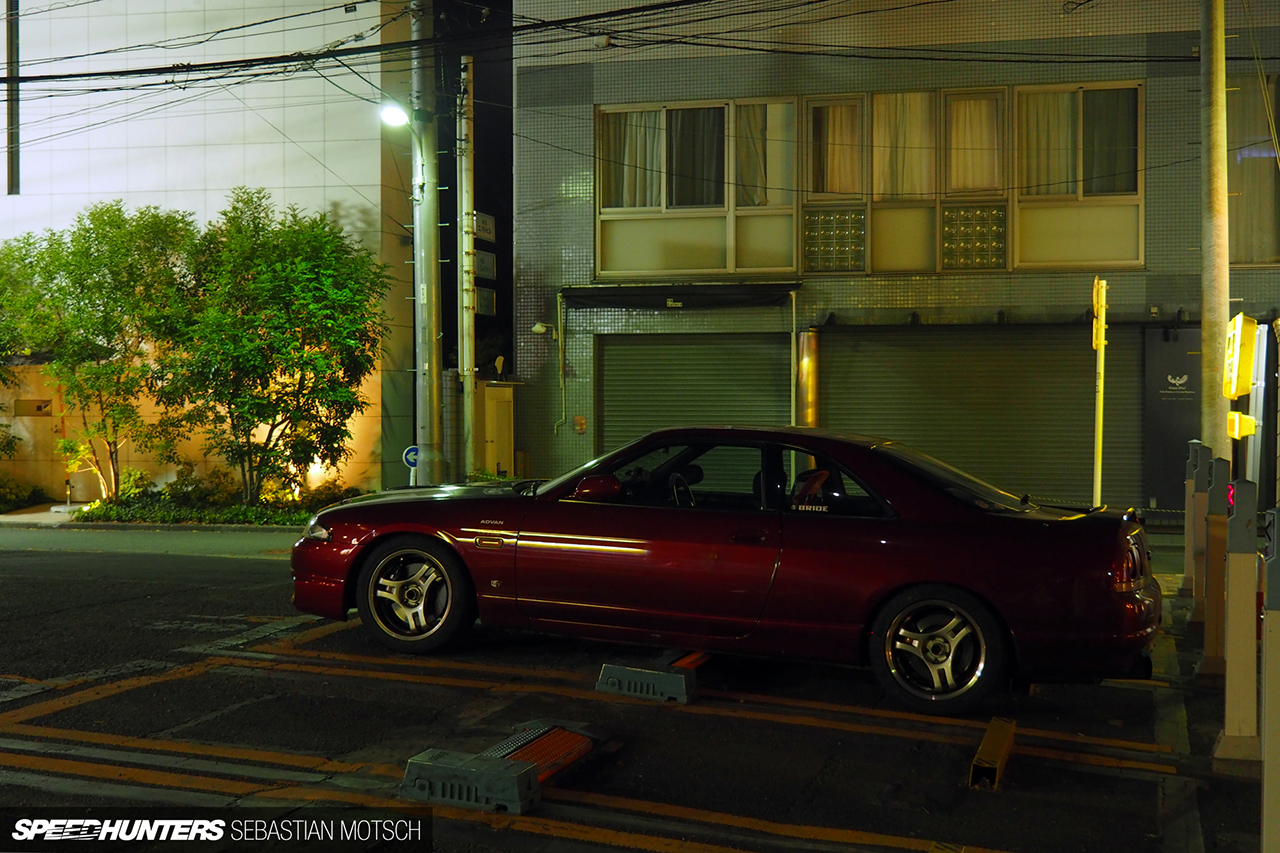 Again and again, there are little details, like the anime figures glued to the dashboard of a Volvo 850 wagon, which bring a smile to my face. While approaching the end of the alley, I can hear a sound from the crossroad. Rapidly rotating tires mingle with the silence as if an invisible DJ gently fades in a new tune. A Toyota Hiace ambulance flashes past, without sirens out of consideration for sleeping residents and the flickering red light is reflected off a parked R33 Nissan Skyline.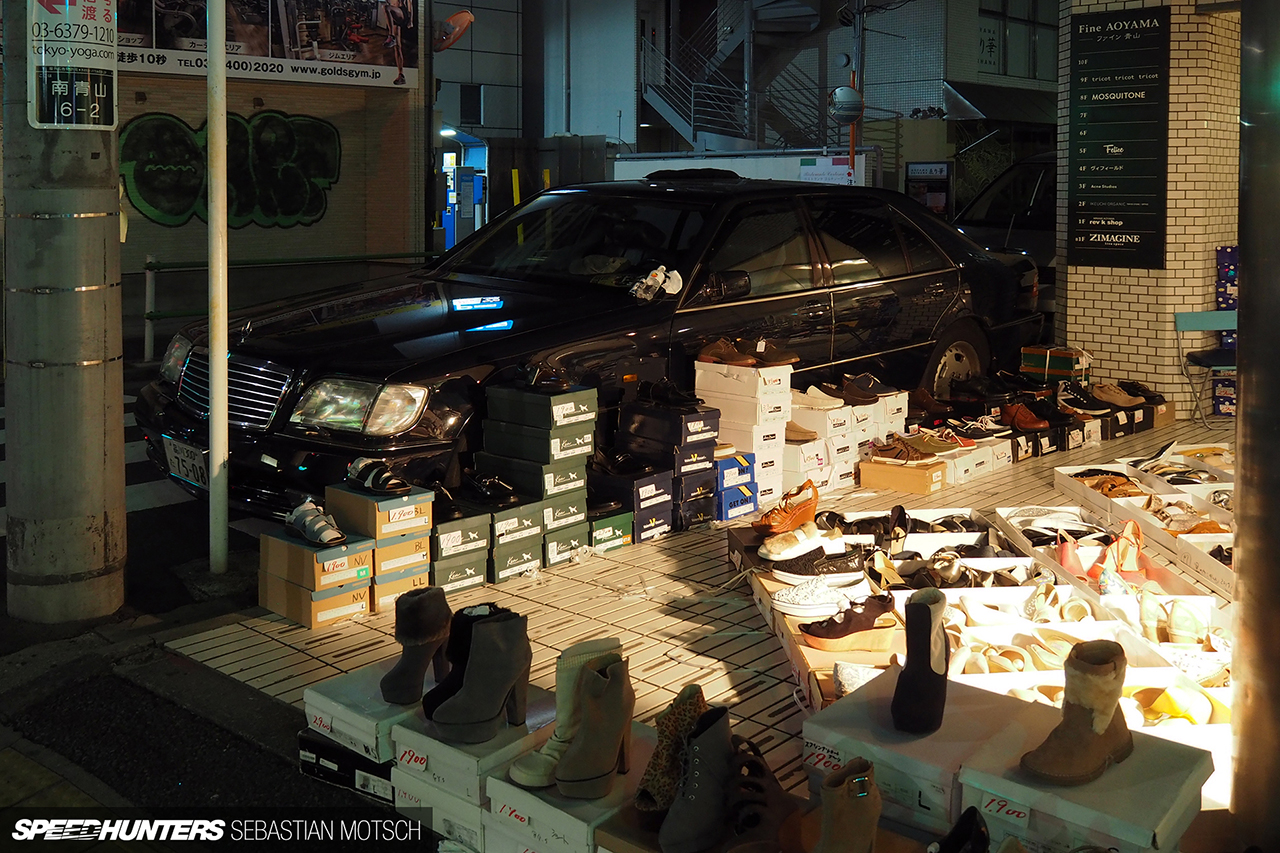 As I move on, I notice the transition from residential to a more commercial area with shops between the houses, with neon signs illuminating the parked cars. A shoe salesman has set up his goods on the covered corner of a house, which will disappear again in the trunk of his W140 before dawn. Since I'm the only passerby far and wide, I wonder who the nice elderly gentleman sells his shoes to. Unfortunately, we do not find a common language to clarify this question. When I tell him that I'm German, he smiles and directs the conversation, which consists of just a few words but many gestures, to his vehicle and we quickly agree that it is of outstanding quality and perseverance. He is really happy that I want to take a picture but doesn't want to be part of it himself.
The kind gentleman directs me to turn left while imitating the sound of a V8 engine and simulating steering movements. A hearty laugh and a polite bow to say farewell encourages one man to wait for customers and the other to continue walking. I follow the direction indicated and, crossing a fenced bridge, notice that the expensive public parking lots are mostly empty at night.
The homes give way to luxurious shops. In front of a building with spectacular architecture, I take a picture of a Nissan Cedric taxi waiting at the traffic light and muse over the beautiful picture. Otherwise, the streets in the area are empty. I have time to let my thoughts wander.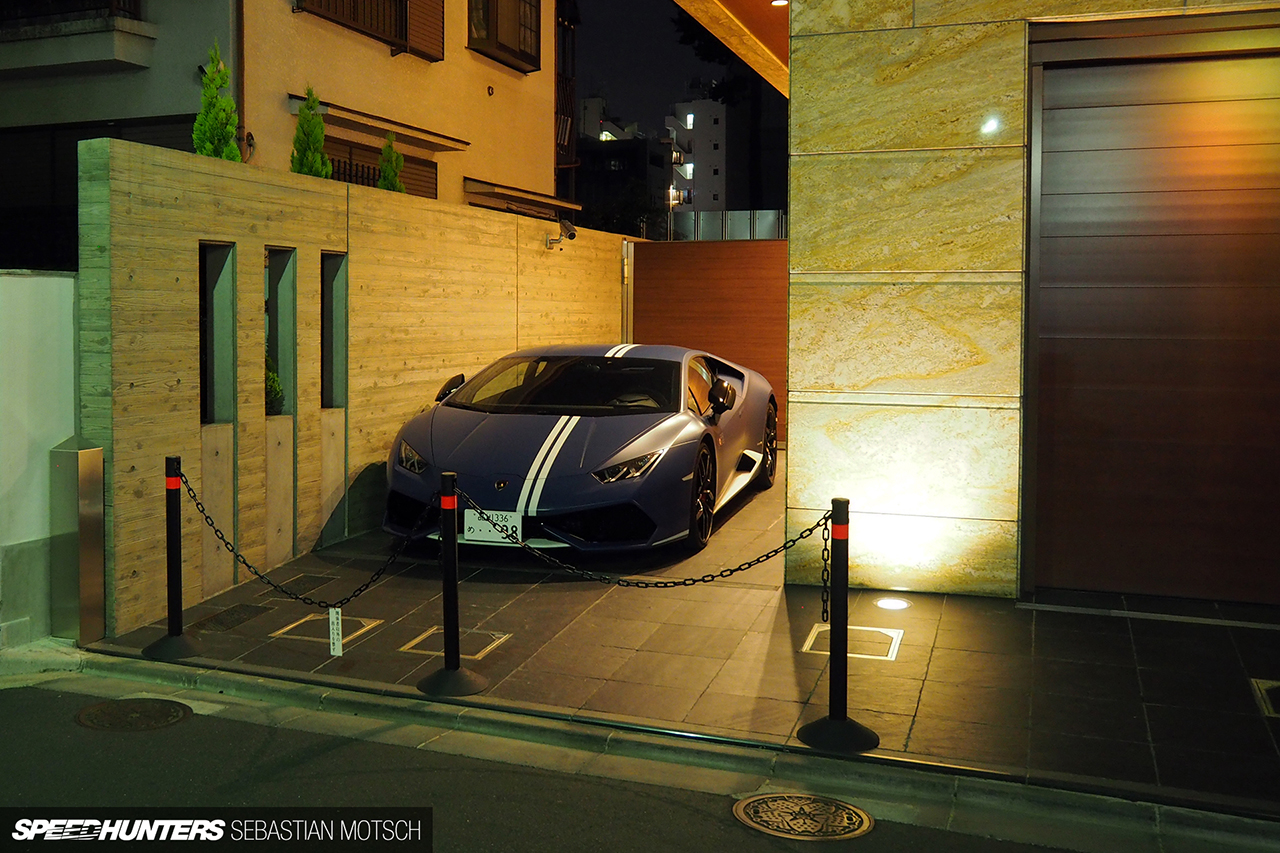 In Japan, other people's possessions are respected rather than stolen. Therefore even expensive aftermarket wheels are stored in open garages and high-value supercars are parked outside.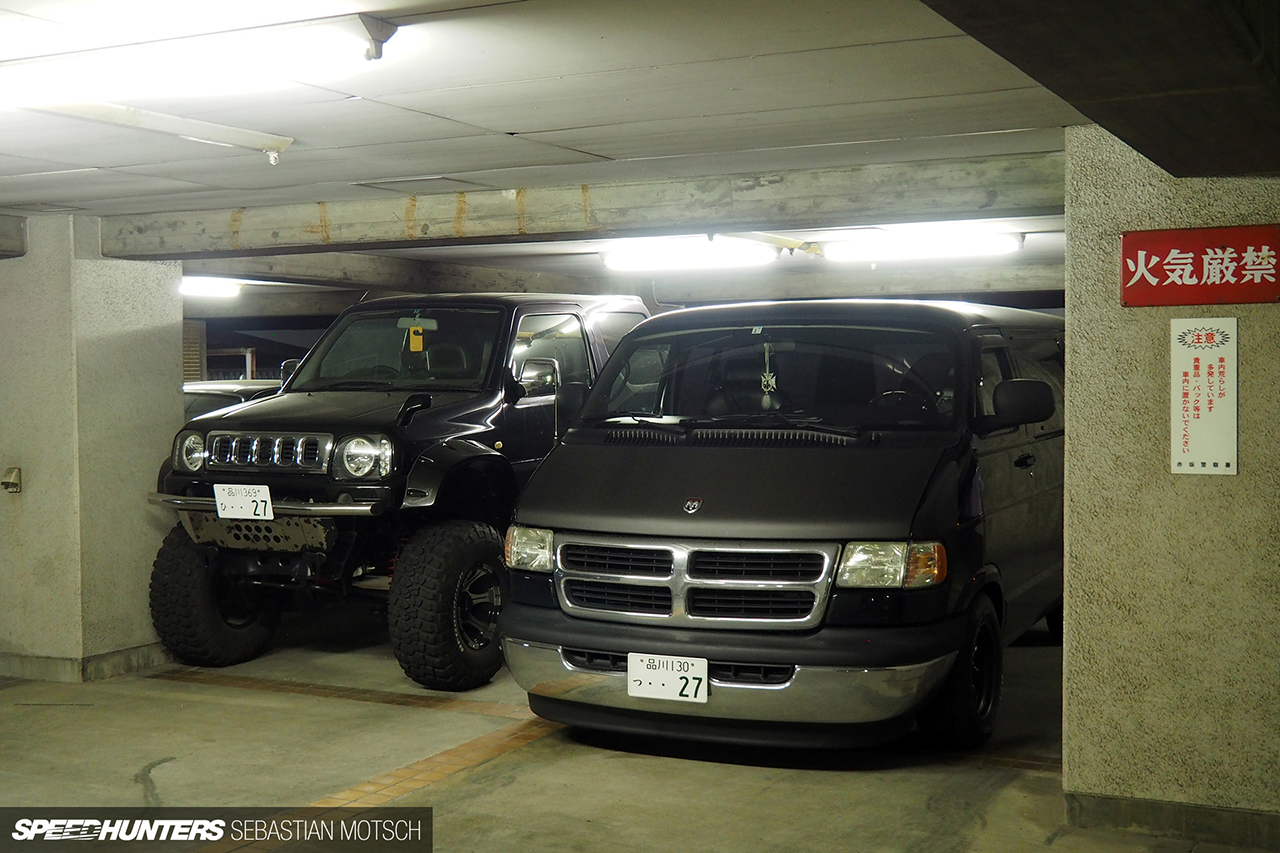 Most private underground garages are not equipped with access barriers, providing me the opportunity to take a look at the parking deck of a large apartment complex. Many new hybrid models, rows of minivans and kei cars.
But what is that? In the far corner hides what will become one of my favorite pictures of this journey. Peacefully, a lowered full‐size Dodge van and a lifted Suzuki Jimny share a niche. The contrast couldn't be bigger. Only in Japan.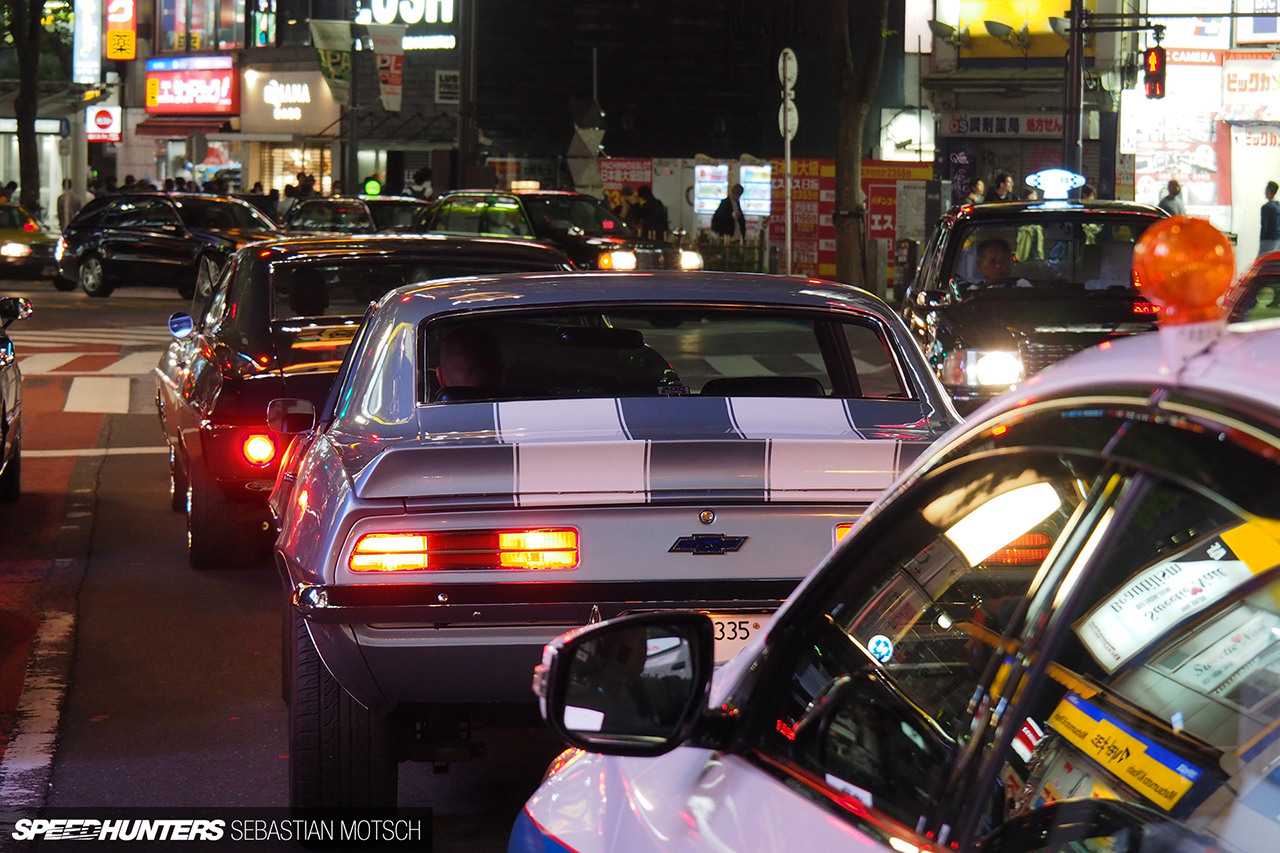 A few blocks down the road the sounds advertised by the shoe salesman are audible, immediately evoking memories of another continent. I smile from ear to ear, because the scene is so surreal. In between the typical Tokyo taxis, dozens of shiny American cars cruise with burbling exhausts.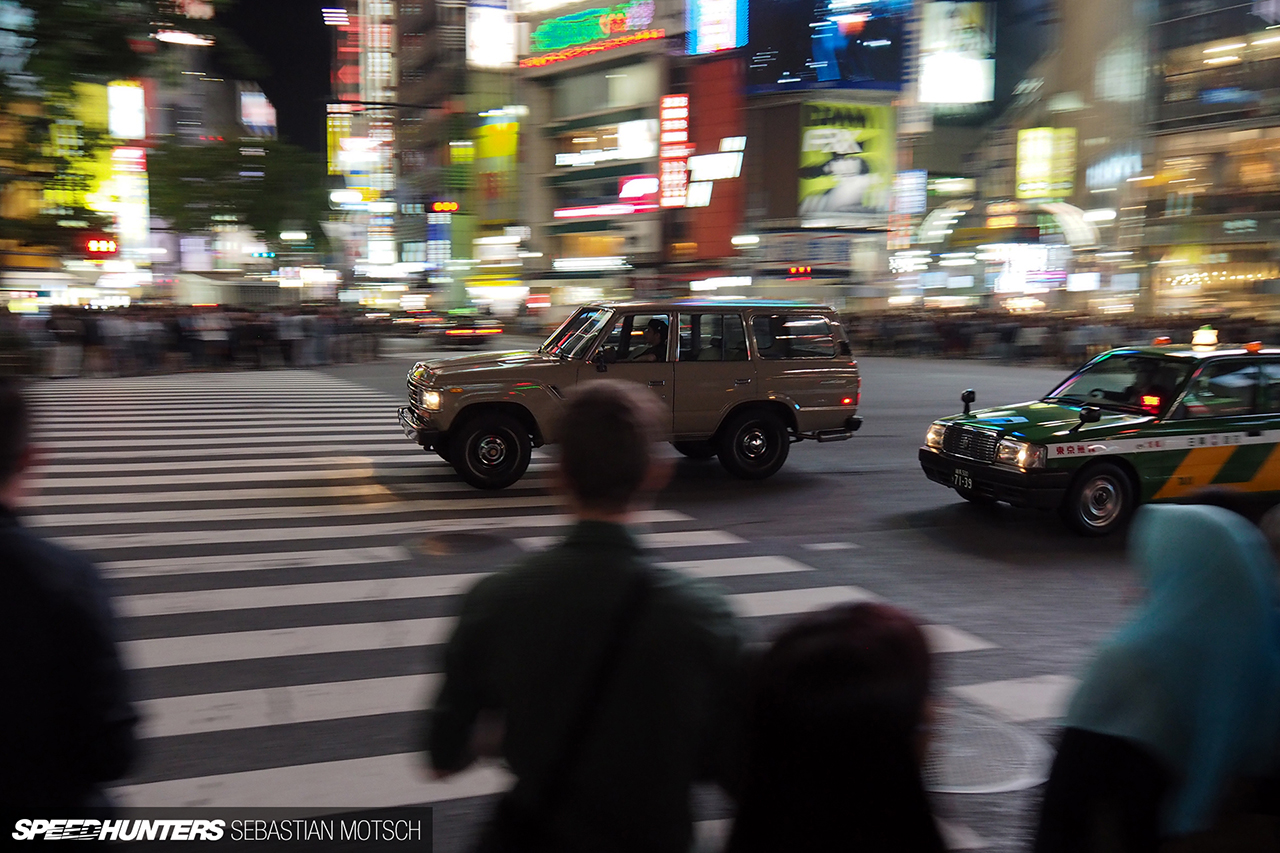 A weird but wonderful contrast that accompanies me all the way to the world-famous Shibuya intersection. Upon arrival, I indulge in the unique atmosphere and enjoy watching the nocturnal hustle and bustle with a glass of matcha and rest the tired legs.
The subway suspends service at night and because my budget doesn't allow for a cab ride, I walk back to the tiny house and fall asleep fully dressed.
---
Sebastian Motsch
sebastianmotsch.com | Instagram drivebysnapshots
[This story was published on Speedhunters.com in September 2019.]

A Chance Encounter in Rural France
Drive-by Snapshots | Published at Speedhunters.com
Read More

»

Volkswagen Beetles in Bangkok
Drive-by Snapshots | Published on Speedhunters.com
Read More

»