Travel

Lamborghini LM002 4×4 Camper
After hooking up an Airstream caravan to a lowered Suzuki Jimny just for fun, I thought it's time to post a project I've been working on for a long time: the Lamborghini LM002 4×4 camper conversion. Form follows function and therefore the design of the vehicle is rather architectural. The lines of the base vehicle are a good place to start, because there are virtually no curves. Getting the proportions right is always important, but functionality is the highest priority with such a project. My friend Martino Sifredi suggested to mimic the vent design in the windows, as seen in his sketch below, but in the end I decided against it and went with rectangular ones for practical reasons. The interior could be furnished to match the customers taste, either in a very minimalistic design to reflect the military origins of the LM002 or in splendid luxury like a Riva yacht. The 4×4 vehicles ability could take you where most campervans can't go, although an engine swap might be a wise choice to improve the range, due to the thirst of the original V12 engine.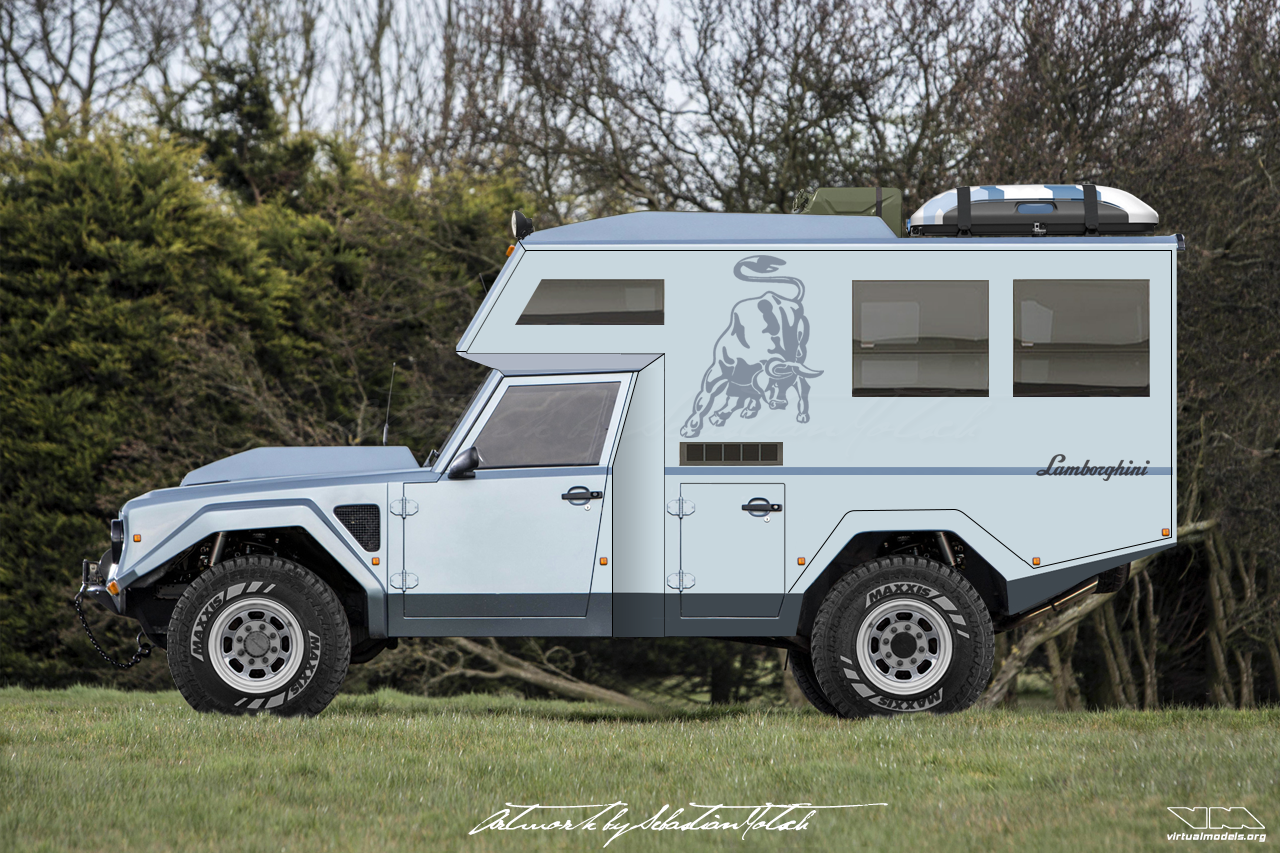 Tsukiji Fish Market
2017.05.06 | Tokyo | Tsukiji
---
Sometimes you are very lucky without knowing. The first time this happened to us was when we visited the New York World Trade Center twin-towers in 2000. A year later they were gone. 17 years later this happened again, when we visited the Tsukiji Fish Market in May 2017. Little did we know that it would be closed and relocated to Toyosu Market in October 2018. Looking back, I feel very happy that I had the chance to see the traditional fish market, which opened in 1935.
Read More

»

Hibiya Park Food Festival
2015.05.06 | Tokyo | Hibiya Park
---
The previous days' tour de force took it's toll. We slept a lot longer than planned and woke up late and very hungry.
Read More

»

The Hie Shrine in Chiyoda
2017.05.05 | Tokyo
---
After a healthy breakfast in a typical Japanese corner restaurant, we hired bicycles at a hotel nearby and set off to explore the megacity Tokyo. The friendly and very courteous staff gave us a map with the hire stations and marked the point where we started, so we could find our way back later on. As on most of our travels, we didn't bring a tourist book to follow. Instead, we love to explore and decide at every intersection by gut feeling whether to go left, right or straight.
Read More

»

Station Service Fermée
Lost Places | Rust in Peace
---
There are many reasons why I love France. One of them is the fact, that the French do not immediately dismount the pumps after a petrol station goes out of business. Instead they just display the lowest possible price on the signpost, call it a day and wander off to play a game of Pétanque with their friends, enjoying a glass of red wine.
Read More

»

Roquetas de Mar | Impressions
Read More

»

Winnebago LeSharo | A grey morning in September
RD 6089 near Terrasson-Lavilledieu, on a grey morning. Cruising along with the local traffic… I spotted something based on the Renault Trafic on the side of the road: the Winnebago LeSharo. I have always liked how the French design of the base vehicle integrates well with the American style camper body. If you look at other Winnebago motorhomes of the same period, you can even see a familiar resemblance. Being flanked by a US-spec Peugeot 504 Break was a nice coincidence. The dealer had many other interesting vehicles for sale, some of which you will sooner or later find here at Drive-by Snapshots.
Read More

»

Willys MB Jeep with Renault R4 body
In June 2010 we took the scenic route through the Gorges du Tarn. Climbing out of the canyon and heading towards Le Puy, we drove past a service station somewhere in the rural Département Lozère.
Read More

»

La Bretagne est magnifique
Discovering the Bretagne region in France is always a stunning experience: the wild coast, the important landmarks, unique rock formations and then some more. Driving from one interesting spot to the other never gets boring. Around every corner you turn, there is something of historical significance waiting to be looked at. Being a car aficionado that loves to take Drive-by Snapshots, I always make sure to look out for interesting vehicles. However, sometimes the interesting stuff is not around a corner at all, but rather right within your focal vision.
Read More

»

Renault Alpine A110 à Andelot-Blancheville
On our way to a wedding in France we opted to take the more scenic Routes Nationales. Driving two days instead of one and taking pictures of interesting things on the way is just so much better than trundling along on the boring Autoroute at 130 km/h.
Read More

»

Ford Transit Mk1 | Forwards ever – backwards never!
There are a number of songs with that or very similar titles that instantly came to my mind while sorting pictures from a 2009 trip to the French Atlantic coast. We spotted this Ford Transit Mk1 camper van in Hossegor.
Read More

»


Église Saint-Jean-Baptiste de Mézos

Commandarie templière de Montarouch
Always taking the small backcountry roads instead of the Autoroute paid off again, as we would have never found the Commandarie templière de Montarouch. It is one of those hidden treasures that you'll never find unless you go there on purpose or find it by chance.