Volkswagen

Volkswagen Beetle | Custom Woody
Photoshop Chop | Air-Cooled | Coachbuilt
---
It's been a while since I published my last photoshop chop. In the last couple of weeks, I was busy building 1:24 scale models for the model show in Jabbeke. The show has been canceled due to the Corona virus, unfortunately. Yesterday, I wanted to work on a woody conversion of an early 1950's Mercedes-Benz, but a friend of mine from the air-cooled club asked me to submit a picture for a virtual meet. Well, then… a virtual model ist what I submitted today. I adapted the woody wagon body onto a Volkswagen Beetle and the result looks somewhat convincing, I hope. I extended the wheelbase a little bit to accomodate four doors.
Once finished with the conversion, I couldn't help myself and stayed awake another hour or so to create a customized version. It features a Deutz luftgekühlt badge and several period-correct stickers. Chrome steelies, raked stance and a Union76 antenna ball add to the old-school vibe on the vehicle. It was a lot of fun creating this little woody.

A lunchbreak challenge on the weekend? Call it what you want – this photoshop has been finished in less than 45 minutes. I took an image of a cutaway Volkswagen Käfer (aka VW Beetle), lowered the car, modified the wheels, deleted the bumpers and customized it with a top chop. Done. The dog doesn't care driver and passengers seem to like it. 😉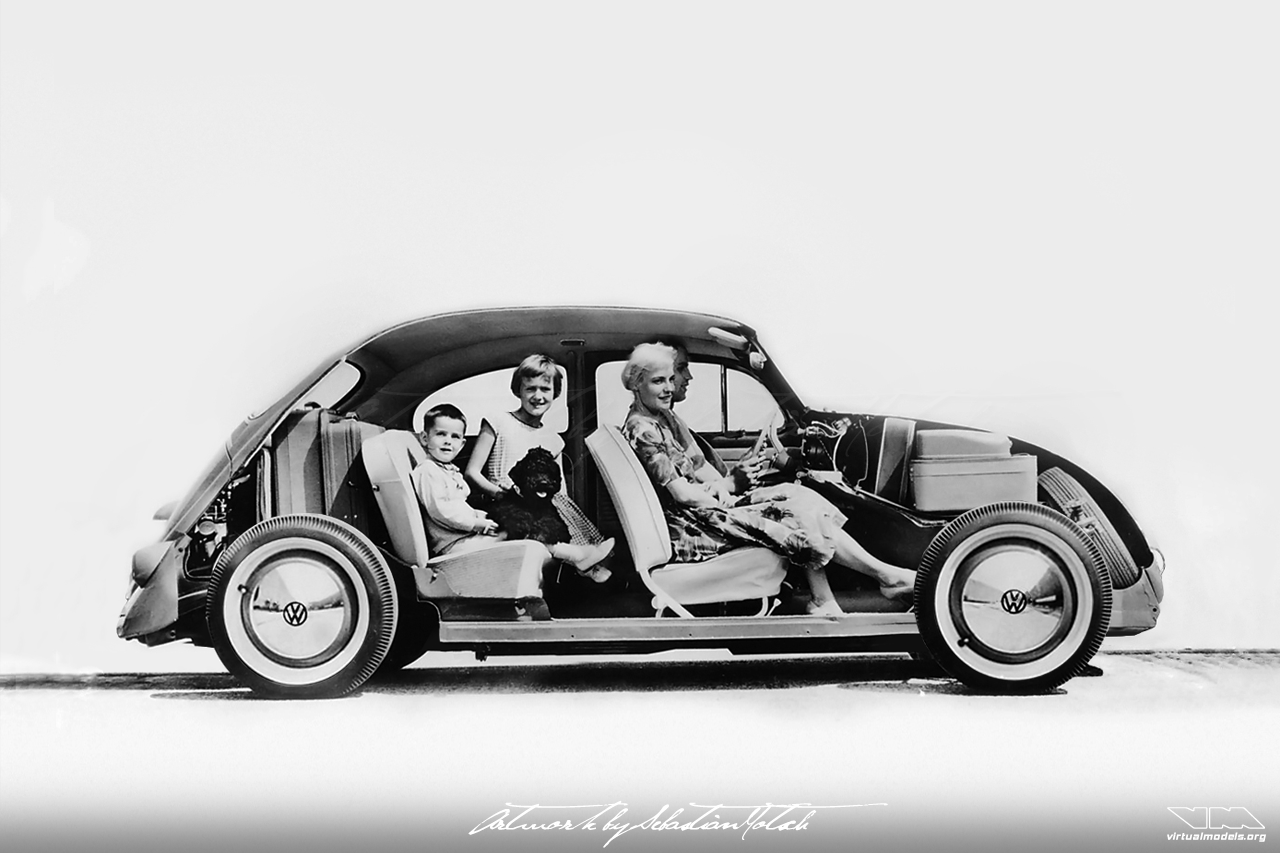 Volkswagen Beetles in Bangkok
Drive-by Snapshots | Published on Speedhunters.com
Read More

»

Volkswagen Golf Mk2 Rallye
1:24 Scale Model | ScaleProduction | Built by Sebastian Motsch
Read More

»

Being busy all weekend, I only had time to stop by briefly at the 2012 Buggy and Beetle Meeting in Sulzthal/Rhön to snap a few pictures. With quite a few classic car meetings in the area, the meeting wasn't really overflowing with cars. But nonetheless, I found quite a few cool Buggies, Beetles and other vintage Volkswagen vehicles.
Read More

»

Car Meeting in Muizenberg
15.04.2012 | Day 05 | Muizenberg
---
Read More

»

14th International Air-Cooled Volkswagen Meeting Aidhausen
Automotive Photography | Drive-by Snapshots
Read More

»

Volkswagen Scirocco Mk3
1:24 Diecast | Welly | Modified by Sebastian Motsch
Read More

»

Volkswagen T2b | This is not an abandoned vehicle
This was one of those 'by chance' finds. While trying to find a good vantage point to take a few pictures of Biarritz, I turned into one of those dead-end alleys you often find near the beach. Out of curiosity I followed the tiny road around a bend – and found this Fuchs equipped Volkswagen T2 hiding there. Quite clever actually: park where it's free of charge, grab your surfboard and head for one of the famous surfing spots. I really like the sticker on the windscreen, because it somehow fits the overall theme of the van.
Read More

»
Volkswagen T3 Syncro | The perfect travel companion
The perfect travel companion? Should be able to go anywhere while carrying all the things you might need there. Oh… and providing ample sleeping space and a fridge to keep the drinks cool wouldn't hurt either. This immaculate Volkswagen T3 Syncro Westfalia camper ticks all the right boxes and comes quite close to being the perfect travel companion, doesn't it?
Read More

»
From my archive of drawings and renderings: Volkswagen T1 split-window DoKa Crew Cab Surfvan, designed in 2003.
Read More

»